Sunday brought news that Precision Drilling Trust (NYSE:PDS) would make another attempt to acquire Grey Wolf, Inc. (GW) for approximately $2 billion. There have been a flurry of rumors and bids for Grey Wolf since it put itself up for sale. Having already rejected three previous bids from Precision Drilling, why would GW shareholders accept this deal which offers only a 4.8% premium to the Aug. 22nd closing price and is $1 per share lower than the last rejected offer? The terms of the latest offer are $5 per share in cash and .1883 PDS trust unit per share of GW common. PDS trades currently at $20.19. The total value of the offer before Monday's drop in the value of PDS was $1.12 billion in cash and 42 million PDS trust units worth nearly $900 million. So, the offer equates to $9.02 per GW share before any dilution and the already more than 5% drop in PDS units.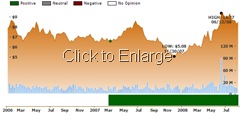 The offer comes on the heels of Grey Wolf's $1.4 billion offer for Basic Energy Services (NYSE:BAS) that was rejected by GW shareholders. Interestingly, if PDS's recent offer does in fact go through, BAS will stand to earn a breakup fee of $30 million.
Back to the current deal with PDS, that company's previous offer was rejected and that deal entailed a higher offer price. Even as gas futures have fallen 43% since their high back in early July, it is reasonable to assume that Grey Wolf is looking for a bid of at least $10 per share. Ockham believes that, under the circumstances, $10 per share is more appropriate. We have GW rated a Buy at current price levels, and based on what the market has historically been willing to pay on a price-to-sales and price-to-cash flow basis, the stock should fetch at least $10.61 given current sales and cash flow. This is at the low end of its historical range; we have a rationally expected high price for GW shares of nearly $15. According to Google Finance, 95% of Grey Wolf is owned by institutional investors, so you had best believe that they understand that PDS's latest offer is underwhelming.
Based on our methodology, we believe that PDS's latest bid undervalues Grey Wolf's stock. It would not surprise us to see Grey Wolf spurn PDS once again and continue to hunt for another merger partner. The stock traded down about one percent Monday and is six percent below the offered price which suggests that we are not alone in thinking that this won't pass the shareholder vote. We think that Grey Wolf is attractive enough that some other suitor will come along. If not, GW might as well stay independent a while longer. Currently, coverage on GW will be available for free for the next two weeks on our web site, as for PDS and BAS we have enabled readers to see our content but we do not rate either of them because of a lack of historical data.