Introduction
Over the past 100 years, the Ford Motor Company (NYSE:F) has fended off threats from Enzo Ferrari and the fuel crisis of the 1970s, Japanese imports and most recently, a failing economy. So why exactly is the company's stock none the better than the bruised, battered and government aided General Motors (NYSE:GM)?
Company Profile
Most famous for its F-150 truck, the Ford Motor Company is a producer of cars and trucks on a global scale. Its operations span from North America to China and almost everywhere in between. In September, the company continued its dominance in North America, as total U.S. sales accounted for 174,976 vehicles. However, the company faces stiff competition from car makers in Asia and economic slowdown problems in Europe. In China, competition from already established brands such as Hyundai, General Motors and Volkswagen VW is a massive barrier for Ford. In Europe, structural changes in the automotive market are forcing the car manufacturer to cut down on production. As of September, Ford had a 14.7% market share in the United States, headed only by GM. Furthermore, Forbes ranks Ford 23rd in sales, which goes to show the company's wide reach.
Tracking Financials
The company undoubtedly suffered as a result of the economic crisis of 2009 but still managed to hold its own, unlike its American competitors. As it introduced new car models, sales and revenues have not picked up as expected, however. For Q2 2012, Ford reported revenue of $33.2 billion compared to $35.5 billion in Q2 2011, a year-on-year decrease of 6.5%. The EPS for Q2 2012 stood at $0.27, down from $0.63 in Q2 2011, while the ttm EPS is $4.40. The gloomy financials continue with cash flow - the company's Q2 2012 cash from operations was $5.9 billion compared to $6.2 billion in Q2 2011. Free cash flow also witnessed a decline: in Q2 2012 it stood at $3.6 billion compared to $4.2 billion in Q2 2011.
As of October 16, 2012, Ford's ttm P/E ratio is 2.3 compared to the industry average of 7.6. The 52-week range is from $8.82 to $13.05. The company's ttm ROE of 158.4 is eleven times as high as the industry average of 14.4. However, Ford's extremely risky debt/equity ratio of 4.2 seems like an Achilles' heel for the automotive giant. In order to reduce the debt, the company has to look towards greener pastures and introduce innovative products before the competition.
Stock Performance
At the time of this writing, Ford's stock price was about $10 and its market capitalization stood at $39 billion. The company's closest rivals are automotive giants General Motors Co and Toyota Motor Corp (NYSE:TM). The automotive industry is cyclical, with new models being released each year around specific time periods.
The chart below illustrates the Ford Motor Company's performance against the S&P 500 and the Dow Jones Industrial Average.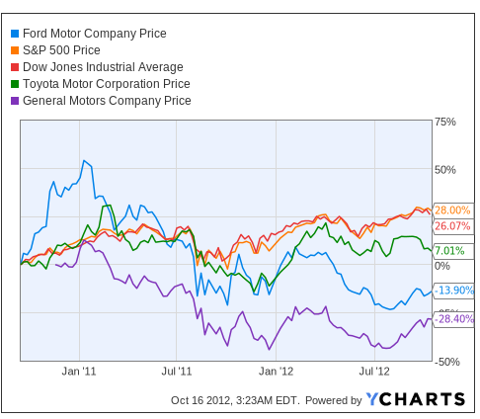 In 2012, the company's performance has slipped below the two indices due to weaker than expected generation of revenue and market share. The Detroit-based automotive giant has also slipped behind Toyota Motors, as the largest automobile manufacturer in the world has rolled out more innovative, consumer-friendly cars than Ford. While Ford's stronghold remains its trucks and SUVs, Toyota has the lead in the sedan category.
Ford currently provides a $0.05 quarterly dividend and a dividend yield of 1.48%, and if the company maintains this yield percentage for the coming years, it could well pick up momentum and improve its positioning on the stock market.
What does the future hold?
Alan Mulally, the company's CEO since 2006, is expected to retire soon and whoever is named as his successor will have a tough act to follow. Mulally took Ford from the doldrums and reinvented the brand which knocked on doors in Europe and China. Much investor confidence has been placed in Ford as a direct result of Mulally's record over the past 6 years. Will the next CEO be able to pick up where Mulally leaves off?
Ford gets 60% of its revenue from North America, but since 2009, the company has not capitalized on the failings of its competitors. With its domestic rivals going bankrupt and Japanese imports suffering quality control problems, Ford was expected to take a large chunk out of its market share, and to outperform its rivals as it introduced newer models for most of its cars. The Focus Electric, Flex, New Escape, Mustang V6 and Taurus are some such examples. More importantly, the company's flagship seller, the F-150, will be challenged by a newer model of Dodge Ram and Chevrolet Silverado trucks. The F-150 itself will be redesigned for 2014, which gives its competitors almost a year to forge their place in the market.
Another profitable venture worth exploring is hybrid technology. Ford is expected to launch its C-Max in 2013, which will take on the Toyota Prius and aim to defeat the already established legend in hybrid cars. While it would be absurd to expect the C-Max to outpace Prius's expected 150,000 units sale in U.S., the company is still expecting to sell 25,000 units of the C-Max. The Ford Fusion will also be pivotal to increasing the company's market share, as it will be the latest mid-sized car launched by Ford. In 2011, almost one in every five U.S. car sales was a mid-size car, i.e., approximately 2.3 million. This figure is expected to increase to 2.5 million this year, according to data from Autodata and WardsAuto. WardsAuto also forecasts that 36% of all automotive sales this year will come from mid-sized cars.
The company also aims to roll out new models in Europe and end their dismal performance on the continent, which provides 23% of the company's total revenue. The plan hinges on new products, with the SUV and commercial vehicle segments seen as areas of profitable growth. Approximately fifteen global vehicles will be available to European markets over the next 5 years. However, much of the recovery plans depend on traditional car sales such as the Fiesta, Kuga, Mondeo and Transit. Ford gets 7% of its total revenue from China and stands to gain an advantage over its Japanese rivals as massive anti-Japan protests continue.
Make or Break for Investors
Out of five analysts reviewing and rating Ford stock on Morningstar, four recommend a 'Buy,' and one prefers the neutral 'Hold' road. While waiting for the next quarter's results, a "Hold" position is indeed wise. However, Ford's future prospects still look better than its competitors.
Making my position, I keep in mind that the idea of buying cheap while the stock value rises is a straightforward concept that applies to Ford's stock. The critical aspect in this regard is timing the buy just before the stock begins its upturn. The discounted earnings plus equity model, developed by EFS Investment Partners and applied to Ford, suggests the following: at a price of about $10, Ford's stock is extremely undervalued. EFS's fair stock price valuation indicates that currently undervalued F stock has at least 264% upside potential to reach its fair value.
In the American car industry, Ford's competitors are restricted by the government's stipulations regarding the payout provided. By virtue of deduction, Ford becomes a most favorable investment as the company gets its European operations back on track as well. As far as the Japanese and European car makers are concerned, none come close to either Ford's market share or the wide range of cars on sale. Furthermore, expansion in the Asian region is expected to drive future growth of Ford stock.
Bottom Line
Ford's short-term prospects might not seem attractive enough to currently consider this company a buy option. However, with plans in place and cogs set in motion, I expect strength to be gained from the European and Asian markets in the long-term.
Disclosure: I have no positions in any stocks mentioned, and no plans to initiate any positions within the next 72 hours. I wrote this article myself, and it expresses my own opinions. I am not receiving compensation for it (other than from Seeking Alpha). I have no business relationship with any company whose stock is mentioned in this article.