The chart below is indicative of what has been happening for many years now as far as the way world GDP is shaping out. That is, emerging Asia and China now make up a bigger percentage of global GDP than they did many years ago.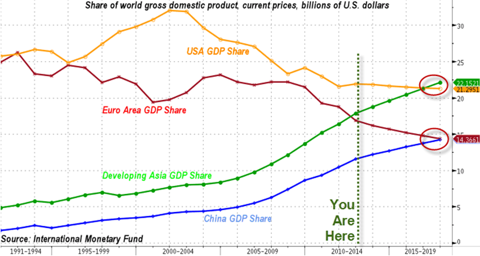 This does not mean that the Americas is becoming poorer, it just means that economic activity is rising at a much higher pace in Asia and China than in Europe or the US.
So the question is, where should one be invested in? Well, seeing GDP rising much faster in these regions, it's only natural that one might think that it would probably be better to have a bigger chunk of one's portfolio invested in Asia, right? Well not exactly.
The next chart below was made by me with data from the World Federation of Exchanges. As you can see, while indeed GDP (as indicated by the chart above) has been increasing at a faster pace in Asia than in Europe or the US, it does not mean that this GDP increase has translated into analogous investor profits, as indicated by the chart below.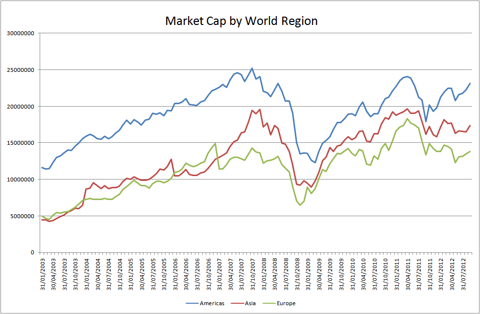 (figures are in dollars for all markets and not local currency)
The first observation is that the market cap of the Americas, Asia and Europe has been growing at a steady pace all this time.
Second observation is that Asia has surpassed Europe in market cap at the begging of 2007 and has kept that lead. One might also observe that the gap between Asia and Europe is widening. In fact, compared to ten years ago, Asia has outperformed Europe on a market cap basis.
Another observation is that the gap between the US and Asia is also shrinking. Chances are that in the next 20 years or so, Asia might have a higher market cap even than the US.
However, look at what has been going on the past two years or so in the chart above. Asia and Europe have lagged behind the US and are actually not much better off than they were in mid 2010. But look at what has been happening to the US. Over the last two years, it has clearly taken the market cap lead and is actually leading in terms of percentage gains y-o-y.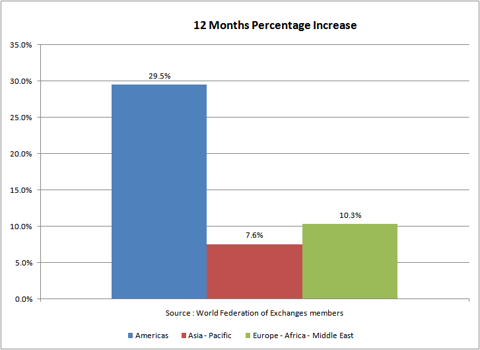 And as the above chart shows, the Americas has gained in capitalization a whopping 29% since September 2011 y-o-y.
That's not to say that it will always be like this, but this trend, as far as I am concerned, will not change soon.
While I will agree with many market observers that Asia's GDP will outpace Europe and the US, mainly because of demographic reasons, I am very hesitant to invest in Asia and try to capitalize on Asia's rising GDP for many reasons.
To begin with, US markets offer much greater transparency, the rule of law means something, securities legislation is unsurpassed (even Europe lags far behind) and the US has a far more stringent regulatory framework. Above all, most of the innovation in the world is still a US thing.
Also, while indeed consumers in Asia are finally getting a break and have at last a higher standard of living, it is Apple (NASDAQ:AAPL) who is the creator of the iPhone, Amazon (NASDAQ:AMZN) that has become the world's number one online retailer, and of course Wall Street that still makes most of the money.
In other words, yes Asia is gaining in GDP, but the profits associated with those GDP gains go to world class companies that are mostly in the US.
Yes, there are world class companies in Europe and Asia also, but what you don't have in Europe or Asia is the regulatory framework, the market volume, the number of market participants and the liquidity of US markets.
Bottom Line: For my money (and I live in Europe mind you), the US offers investors the best of all worlds and will probably continue to provide above average returns compared to other regions of the planet.
However, if you must invest in Asia, you can always do that via some kind of ETF. The iShares China 25 Index ETF (FXI), iShares Hong Kong ETF (EWH), SPDR S&P China ETF (GXC) and PowerShares Golden Dragon ETF (PGJ) are popular.
If you want to invest in Asia as a whole, the iShares MSCI All Country Asia ex Jpn Idx (NASDAQ:AAXJ) and the Vanguard Pacific Stock ETF (NYSEARCA:VPL) are also great choices.
If on the other hand you want to do some individual stock picking, you can probably find many good undiscovered companies in Asia that will produce fantastic above average returns, but you need to have a private jet and travel the world like Mark Mobius. Other than that, stick with US markets.
Disclosure: I have no positions in any stocks mentioned, and no plans to initiate any positions within the next 72 hours. I wrote this article myself, and it expresses my own opinions. I am not receiving compensation for it (other than from Seeking Alpha). I have no business relationship with any company whose stock is mentioned in this article.