Despite European headwinds, slow economic growth rate in China, a gloomy global macro economic situation, and rising tensions in the Middle East, OPEC has estimated a global oil demand growth of 800 thousand barrels per day in 2013. Looking forward, economic stimuli by policy makers are expected to bring improvement in the U.S, and Chinese economies. Non-OPEC oil supply is expected to increase to 0.9 million barrels per day in 2013 to cater to the expected increase in oil demand. Moreover, due to the start of the winter season, gasoline prices have already started showing an upward trend. In our opinion, if the government initiates drilling activities in North America, the country will become self sufficient in meeting its demand and it will reduce its dependence on Middle Eastern countries.
Oil Demand:
Oil demand has increased substantially, by more than 10 times in the U.S., over the course of the last one decade due to the focus on industrialized economies. The increase in public transportation is another important factor leading to the increase in oil demand. Investors are looking in to the oil commodity market, and into oil ETF's, to capitalize on this rising demand. There are a total of five oil exchange traded funds in the United States comprising United States Oil fund (NYSEARCA:USO), Goldman Sachs Crude Oil (NYSEARCA:OIL), Claymore MACRO Oil Down Tradable Trust, Powershares DB Oil Fund (NYSEARCA:DBO) and Claymore MACRO Oil Up Tradable Trust. These ETFs invest in the futures contract of WTI in the New York Mercantile Exchange. West Texas Intermediate's monthly oil price increased considerably from $82 per barrel in July 2012 to the current price of $91 per barrel, as depicted in the graph below. We believe crude oil prices will show a further upside in the coming period due to rising tensions between Turkey and Syria.
images

Source: Y-Charts
According to the annual energy outlook of different years shown in the chart below, we see the United States' increase in incremental demand. This is due to the rapidly growing population consumption needs and increase in industrial development.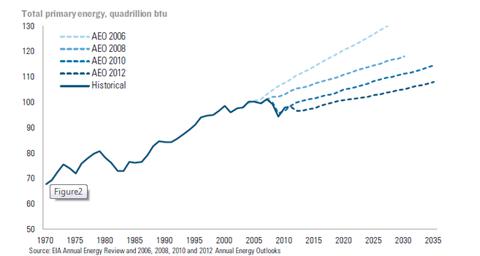 Figure Source: Rhodium Group
OPEC Oil Supply:
United States is the largest consumer of oil in the world, with consumption per day of more than 20 million barrels of oil. Out of these 20 million barrels, 11 million are imported; 4.5 million of these are imported from the OPEC. United States oil consumption is heavily dependent upon OPEC supply. In our opinion, the civil war in Syria and continuous tension in the Middle Eastern region can potentially disrupt oil supply. Therefore, we believe the government has to take appropriate measures to eliminate its dependence on the capricious oil supply from the Middle Eastern region. As proposed in our previous article on "Boone Pickens", oil prices can only get stable if the U.S takes the initiative of drilling in North America.
Non-OPEC oil supply:
Non-OPEC oil supply growth cut down to 0.6 million barrels of oil per day, from 0.7 million barrels per day in the current fiscal year. This decrease was primarily due to lower than anticipated supply of oil from Azerbaijan, Brazil, UK, China and Kazakhstan. But non-OPEC oil supply is estimated to be around 0.9 million barrels per day in 2013 due to the high growth that is anticipated from the United States, Sudan, Canada, Kazakhstan and Brazil. This reflects that the United States will continue increasing its oil drilling activities, which increased by 30 percent over the course of last one year.
Decreasing Oil Inventory level:
Due to the start of the winter season, the focus has shifted to heating fuel from transportation fuel. As can be seen in the figure below, United States Northeast distillate inventories have shown a downward trend due to the increase in consumption. United States Energy information estimates of retail heating price are $3.80 per gallon for the winter, which will be $0.07 more than last winter. The increases over the last one week in retail gasoline and residential gasoline heating prices by $0.05 and $0.02 per gallon, respectively, portray the rising consumption and lower distillate inventory level.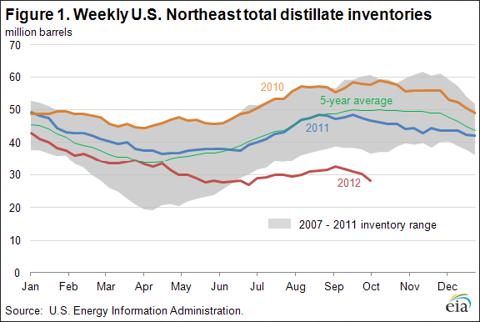 Source: EIA
Political Impact:
Energy investors are focused on the upcoming elections and are looking at how the Republican and Democratic political agendas would affect this industry. Romney has a vision of independent energy. He aims to increase drilling actives, primarily because it would create jobs in this sector, and also, it would increase our dependence on our own oil and gas resources. He is expected to bring a structural change from oil to gas based on the excess supply of natural gas and the large amount of its reserves in the country. On the other hand, Obama is focusing on alternative renewable energy sources. Therefore, oil and gas companies are in support of Romney due to his agenda of increased drilling.
Disclosure: I have no positions in any stocks mentioned, and no plans to initiate any positions within the next 72 hours.
Disclaimer: The article has been written by Qineqt's Energy Analyst. Qineqt is not receiving compensation for it (other than from Seeking Alpha). Qineqt has no business relationship with any company whose stock is mentioned in this article.