In the toy industry, growth doesn't necessarily come in a straight line since sales often depend on big "must have" hits with consumers. At the same time, toys offer relatively lower average price points when compared to other entertainment options. But this brings up the key economic question: Will a slowdown in the United States affect demand?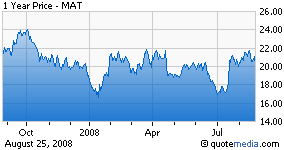 UBS analysts Robert Carroll and Robin Farley think the mature and highly-fragmented toy market is well positioned to offset any near-term economic weakness, making it an attractive alternative in the broader consumer space.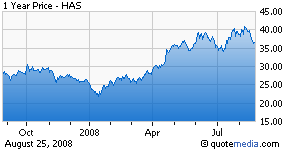 Together, Mattel Inc. (NASDAQ:MAT) and Hasbro Inc. (NASDAQ:HAS) have less than 40% of the market, which the analysts expect will grow at a compound rate of roughly 2% annually. Any growth rate above inflation will also depend on factors like birth rates, they said in a report initiating coverage on the traditional toy industry (excluding video games), which had $22.2-billion in retail sales in 2007.
They said:
When combined with increases in consumer spending levels per child, further integration of technology into toys resulting in rising average sale prices, and a continued shift in the retail environment toward large discount retailers we believe the industry should be able to counteract the negative forces of age compression (children getting older younger).
UBS expects Mattel and Hasbro will outpace the industry as a whole given that their size and scope allows them to be preferred suppliers for large retailers. (Wal-Mart (NYSE:WMT), Toys "R" Us, and Target (NYSE:TGT) account for nearly 50% of global industry sales). This means further market share gains. At the same time though, this dependency on large retail outlets makes inventory management even more important.
Another major issue the toy industry has had to confront recently is product safety. This was sparked by the wave of product recalls in the second half of 2007. So while companies put more focus on their higher margin core brands, UBS expects the positive margin implications from this shift will be offset by safety and quality testing, as well as higher costs for raw materials.
One major source of toy sales comes from Hollywood films and related product partnerships. Synergies with high-profile entertainment properties may be inconsistent given their unpredictable nature, but one thing toy companies can count on is who's doing the buying. Kids may have as much as 70% of the influence around purchases, UBS noted, but parents and grandparents have the cash.
The firm noted several demographic variables that are also playing a role: higher divorce rates, which are essentially giving children two sets of toys; more buying power per child as a result of two-income families; and the greater involvement grandparents have in kid's lives as a result of increasing life expectancy.
Finally, it terms of the performance of toy stocks, UBS said only 15% of their performance is linked to the broader market, versus more than 75% for consumer discretionary companies.
At a time when market volatility around oil and inflation concerns are high, we believe toy company shares may be appealing to investors seeking returns with performance uncorrelated to overall market performance.
UBS rates Mattel, "the Barbie company no more" at "neutral" with a $22 price target, and Hollywood-focused Hasbro "neutral" with a $40 target.