Introduction
For the past few months, existing home sales levels have been weaker than expected. The focus, however, should not be on the weakness of the headline numbers. In actuality, the softening in existing home sales is showcasing the potential for acceleration in new home sales.
The shift in trends should bolster homebuilder profitability and generate stronger GDP growth. That means companies like NVR Inc. (NYSE:NVR), D.R. Horton (NYSE:DHI), Toll Brothers (NYSE:TOL), Lennar (NYSE:LEN), PulteGroup (NYSE:PHM), M.D.C. Holdings (NYSE:MDC), KB Home (NYSE:KBH), Ryland Group (NYSE:RYL), Standard Pacific (SPF), Hovnanian Enterprises (NYSE:HOV), and Beazer Homes USA (NYSE:BZH) are positioned to outperform the S&P 500.
The key is where the unexpected slowdown in existing home sales is taking place.
If sales demand was suffering from broad-based demand declines across the existing home space, then the weak sales numbers would suggest a downturn in the new home sector would be coming soon as well.
The weakness, however, is coming from only one area of the existing home space: distressed properties.
Existing home sales are falling because investor demand has slowed. Non-investor demand has not wavered and has been showing double-digit growth.
Investor Fallout
Typically, a distressed property sells for about 20% less than a comparable existing home. The price differential has caused investors to become a key market group for existing home sales. Investor influence on the housing market, however, is beginning to wane.
Over the last several months, the increase in demand for distressed properties has led to shortages of desirable distressed inventories.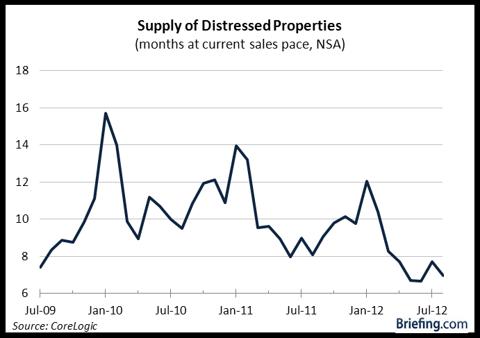 Consequently, sales of distressed properties as a percentage of total home sales have diminished greatly since January and are not expected to recover unless foreclosure rates suddenly worsen and supply/inventories return.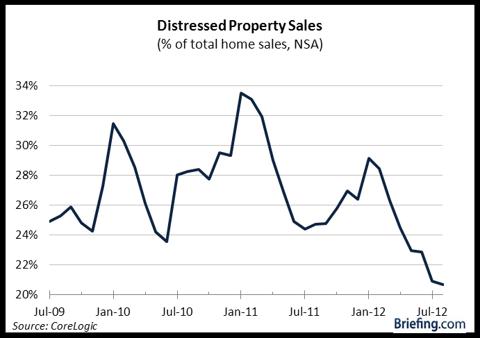 There is no reason to suspect a sudden acceleration in the number of available distressed properties anytime soon.
Foreclosure rates have declined precipitously since 2006. That decline has essentially choked off the incoming supply of distressed properties.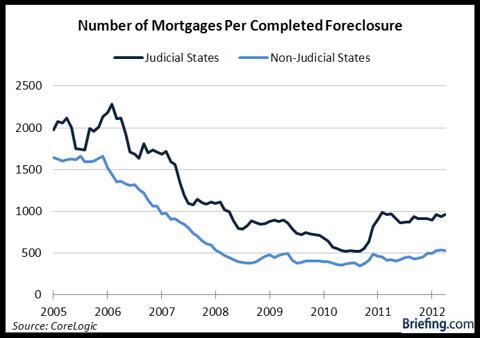 As a result, the number of shadow inventories - homes that are currently severely delinquent, in foreclosure, or held as real estate owned (REO) by mortgage servicers but not currently listed on the multiple listing services (MLS) - peaked in 2009 and have fallen at a fairly steady -10% y/y pace each month since early 2011.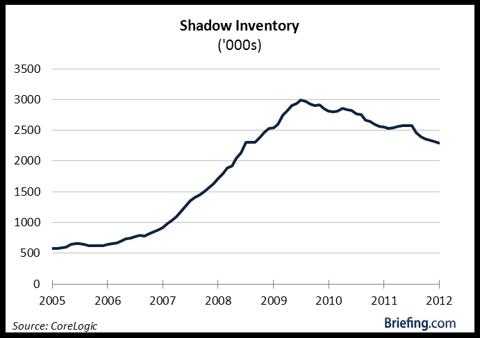 Absent another recession, a pullback in investor sales will likely drag on the overall home sales recovery. Non-investors, who are likely to purchase non-distressed properties, will have to provide the bulk of demand growth in order to keep home sales levels moving higher.
Non-Investors to the Rescue
Even though the economy is currently growing at a tepid pace, conditions are thankfully still ripe for non-investor demand to strengthen in the near term.
Household formation rates have returned to normal following an almost two-year collapse. The recent recovery, however, still leaves a sizable backlog of households that have not formed, but would have if the recession had not taken place. In other words, there is a tremendous amount of pent-up housing demand that should keep sales demand moving steadily higher.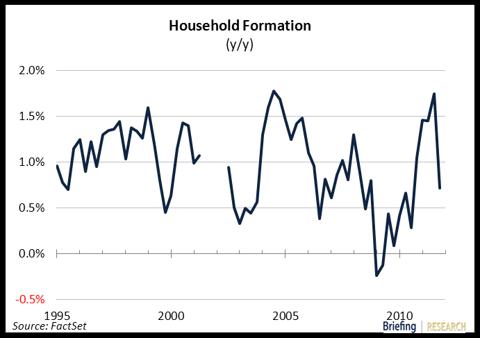 Furthermore, all-time low mortgage rates and depressed housing prices have driven home affordability levels to their highest point since data started being collected in the early 1990s.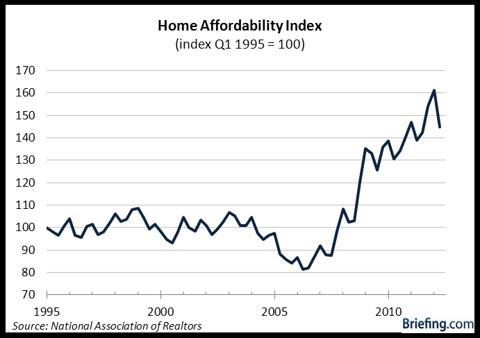 The conditions that helped elevate home affordability levels, along with strong pent-up demand, have caused sales of non-distressed home to grow more than 10% year-over-year.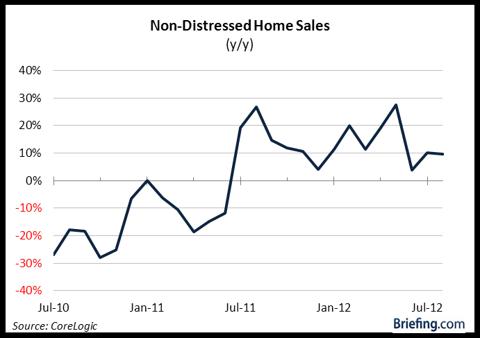 As long as the economy continues to expand - which we expect - non-distressed home sales growth should remain solidly positive.
Homebuilders to Reap the Benefits
Distressed properties tend to sell at about a 20% discount to comparable existing homes. Prior to the housing crash, new home prices were at a 10% premium to existing home prices.
As the housing market crashed, the massive influx of distressed properties caused existing home prices to plunge. New home prices, however, remained elevated as sunk costs prevented homebuilders from immediately dropping prices. The premium to buy a new home widened to more than 40% in early 2012.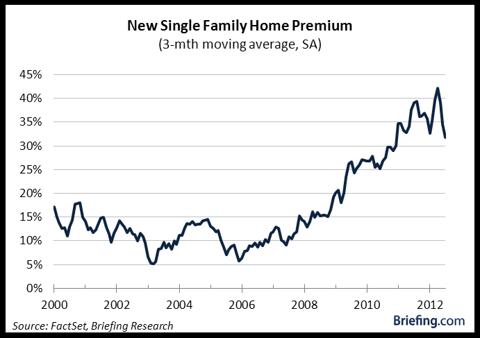 The extended markup - which was well above normal economic conditions - led to depressed sales conditions and eventually an exodus of buyers from the new home space to the existing home sector.
Now that inventories of distressed properties have fallen, their negative effect on overall existing home prices has lessened. Essentially, the combination of stronger demand for existing homes and low distressed sales should translate into upward trending home prices.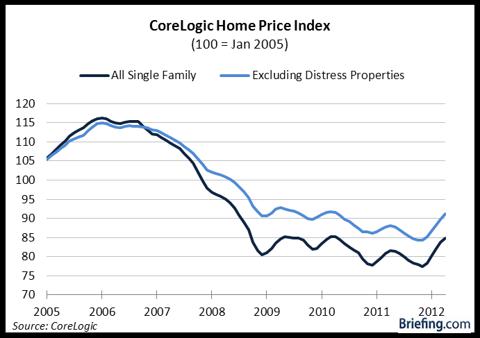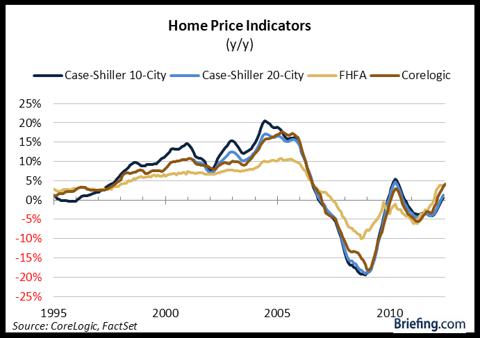 Higher existing home prices will eventually shrink the new home premium back to its pre-crisis levels and pull buyers from the existing home sector back into the new home sector.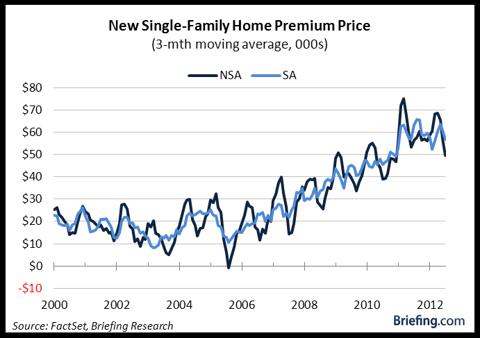 The premium for prices on new homes appears to be on the verge of becoming more attractive in relation to existing homes, which should be enough to push new home sales higher.
Stable Construction Growth Is Finally Here to Stay
With demand for new homes expected to increase, homebuilders will need to change their inventory management activities. Inventories of new homes available for sale are at their lowest level in the nearly 40 years that data have been available.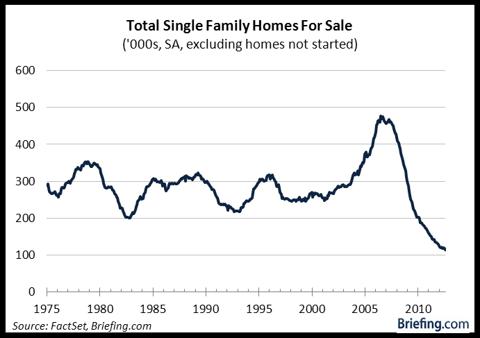 Even with the extraordinarily high new home price premium, the number of months of supply of available new homes has returned to its pre-housing crash norm.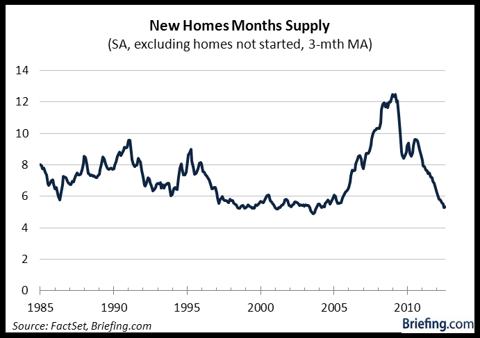 Any increase in new home sales from the current level will require construction growth or new home inventories to fall further below normal market levels. That means builders have an incentive to break ground on new homes or run the risk that low inventories will turn off potential homebuyers and drive them to the existing home space.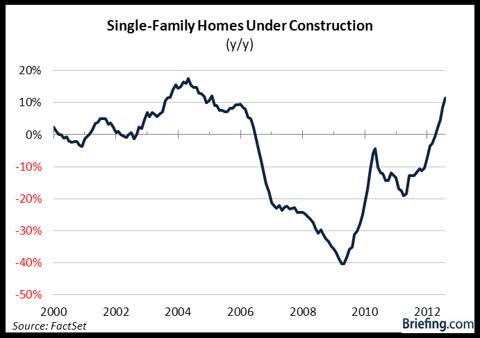 For the first time since 2006, the number of homes currently under construction has increased on a year-to-year basis. That means sales at large home improvement stores, such as Home Depot (NYSE:HD) and Lowe's (NYSE:LOW), should benefit over the next several quarters from increased demand from smaller private construction firms.
Furthermore, the pickup in construction was not limited to just one area. All four census regions saw year-over-year growth. The growth in homebuilding is happening across the entire country.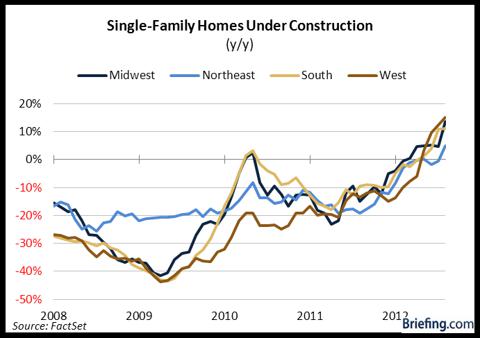 With demand expectations on the rise, the homebuilding sector should continue to expand on a stable, upward trend for the foreseeable future. As a result, the residential construction sector will likely be a leading contributor toward GDP growth over the next several quarters.
Conclusion
Sales in 2011 were buoyed by strong demand from investors for distressed properties. Available inventories of distressed properties have fallen in recent months, however, and investor demand has softened as a result.
The underlying trends - high affordability levels combined with a glut of pent-up demand - point toward a rise in non-investor sales that should be more than enough to offset the decline in investor sales.
The shift from investor to non-investor sales growth is expected to be a boon for homebuilders.
As homebuyers buy more non-distressed properties, the prices for existing homes will rise. In turn, the premium that is currently needed to buy a new home will shrink. Essentially, new homes will become more competitively priced in the coming months, which will lead to more new home sales.
New home inventory levels are at their all-time historic lows. Any increase in demand in the new home sector will require additional construction or homebuilders will risk not having enough inventories to support sales.
We expect builders will satiate the increase in demand by beginning new construction and actively adding to their inventories. As a result, the residential construction sector will likely be a leader for GDP growth over the next several quarters.
Disclosure: I have no positions in any stocks mentioned, and no plans to initiate any positions within the next 72 hours. I wrote this article myself, and it expresses my own opinions. I am not receiving compensation for it. I have no business relationship with any company whose stock is mentioned in this article.