Commodity and energy funds of all sorts have proliferated in this recent commodity cycle. There are so many and they are so diverse, it is difficult to keep them all in mind.
We put together this table of a variety of broad and narrow focus commodity and energy funds (and related funds) to provide some perspective.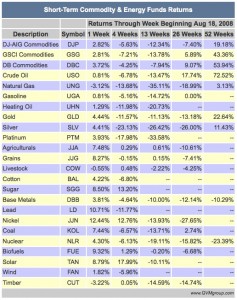 Commodities are a larger field than oil, natural gas, gold and corn which get most of the press. There is a lot going on in commodities that gets virtually no press coverage.
While natural was down 3+% last week, for example, lead and nickel were each up over 10% at the same time.
We will keep this returns table and several others up-to-date after the close of the markets each week.  You can access the tables on our website.
Those other charts include:
Key asset classes
US stock sectors
BRIC
Real estate
Bonds
Commodities
Currencies.
Staying on top of returns for a spectrum of index funds can help you develop and keep a mental map of the markets.  We hope you find the data helpful.