As an increasing number of firms enter the bond market to raise capital, financial institutions and other companies are forced to pay a higher price.  Investors are requiring a higher risk premium to buy companies debt, revealed by higher yields in the bond market, as worries about rising defaults and credit quality grow. 
Yesterday, Freddie Mac (FNM) successfully sold $2 billion of short-term debt and received increased demand compared to a similar sale last week, as reported by Bloomberg.  Shares of Freddie Mac closed 17 percent higher as investor confidence rose following the sale of bonds.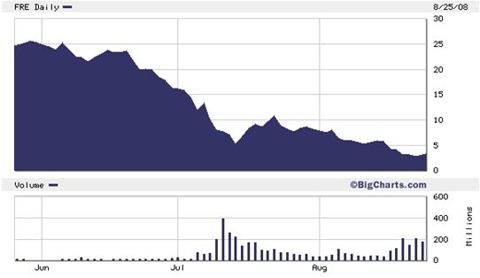 The successful sale of the short-term debt may be due to an increased risk premium compared to the similar sale of debt last week.  Freddie Mac sold $1 billion of three-month notes at a yield of 2.58 percent, and $1 billion of six-month debt at a yield of 2.858 percent.  The three-month notes represented roughly a 90 basis point premium to the similar U.S. Treasuries compared to a 63 basis point premium of the notes sold last week.  The six month debt sold yesterday represented a 92 basis point premium over Treasuries compared to an 80 basis point premium last week. 
Last week the debt yield spreads for Freddie Mac and Fannie Mae (FNM) five year bonds widened to the highest levels since JPMorgan Chase & Co (NYSE:JPM) announced their buyout of Bear Stearns for $2 per share.  A Financial Times article wrote that Kevin Murphy, a managing director for investment grade corporate debt at Putnam Investments said,
The topic du jour is Fannie and Freddie. Clearly, the market is looking for a solution that is permanent, clear and definitive. That dwarfs everything.
Risk premiums for investment grade debt have risen dramatically – not only in the United States, but in Europe and Asia as well.  Last Wednesday, the Lehman Brothers (LEH) Credit index for US investment grade companies represented a 270 basis point premium over US Treasuries, a record high risk premium not seen since the early 1990s.