Below we highlight our trading range charts for the S&P 500 and its ten sectors. For each chart, the light blue shading represents between one standard deviation above and below the sector's 50-day moving average (white line). The red zone represents between one and two standard deviations above the 50-day, and vice versa for the green zone. Moves into or above the red zone are considered overbought, while moves into or below the green zone are considered oversold.
As shown below, the S&P 500 bounced nicely off of its 50-day moving average today. The index is currently in a short-term downtrend that began back in mid-September, but its long-term uptrend remains in place as well. If the index can gain another percent or so and break this short-term downtrend, it should be smooth sailing to new highs. If the 50-day fails to hold in the coming days, however, all bets are off.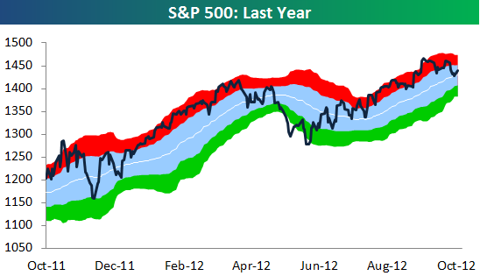 As you can see in the sector charts below, Technology and Telecom have been the weak links lately. Even after today's market gains, both of these sectors remain in oversold territory. Financials, Consumer Discretionary, Consumer Staples and Health Care, on the other hand, all look pretty good here.