Earnings momentum for Accenture (NYSE:ACN) has been on the rise since this management consulting company reported solid fourth-quarter 2012 results late last month, which included encouraging guidance for fiscal 2013. Furthermore, this Zacks No. 2 Rank (Buy) has a solid dividend yield of 2.30% after the customary dividend hike to $1.62 per share.
Accenture Reports Fourth Quarter
On Sept. 27, 2012, Accenture reported fourth-quarter earnings of 88 cents per share, which matched the Zacks Consensus Estimate. Revenue increased 2.2% year over year to $6.84 billion, supported by growth in the Financial Services and Health and Public Services segments, partially offset by lackluster growth in the Communications, Media and Technology segment.
During the quarter, solid growth in Outsourcing revenue mitigated the shortfall in Consulting revenue. Geographically, Asia-Pacific and the Americas performed well.
Positive Outlook for First Quarter and Fiscal 2013
After considering a 3.0% negative foreign-exchange impact, Accenture expects net revenue between $7.1 billion and $7.35 billion for its fiscal first quarter, reflecting a 3.8%-7.5% sequential increase. The company did not provide a first-quarter update on earnings per share.
For fiscal 2013, management expects net revenue to grow 5.0% to 8.0%. Diluted earnings per share (NYSEARCA:EPS) are expected between $4.22 and $4.30, compared to $3.84 recorded in fiscal 2012.
The Zacks Consensus Estimate rose over the last 30 days on the basis of the positive earnings guidance. Specifically, the Zacks Consensus Estimate for fiscal 2013 increased 3.4% to $4.27 per share, while the Zacks Consensus Estimate for fiscal 2014 advanced 2.6% to $4.67.
Dividend
Accenture's dividend yield of 2.30% is noteworthy. The company has been paying a dividend since October 2005. During the quarter, Accenture paid a semiannual dividend of 81 cents per share, reflecting a 20.0% increase over the prior semiannual payout of 67.5 cents. The current payout indicates a 170.0% increase over the 30 cents paid in October 2005.
Valuation
Accenture shares are currently trading at 16.2 times forward earnings, a discount of 7.8% to the industry average of 17.6 times. Accenture trades at a PEG ratio of 1.4, which is higher than the industry average of 1.3. Keeping in view the company's earnings growth potential and solid dividend yield, we believe that the valuation is justified.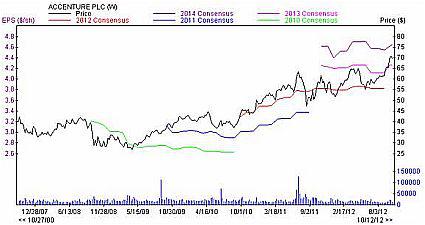 Accenture provides management consulting, technology services, and outsourcing services to each industrial sector across the world. With about 257,000 employees globally, the company delivers a wide range of consulting, technology and outsourcing services to its clients in industries such as communications, high tech, financial services, public service, products, and resources. Accenture has extensive relationships with the world's leading companies and governments and operates in over 120 countries. It seeks to deliver value to its clients by leveraging its industry knowledge, global delivery capability, and technology expertise. The company has a market cap of $44.16 billion.