Local Corporation (NASDAQ:LOCM) is an online local media company connecting local businesses to online customers with a network of 20,000 websites that reach 15 million viewers. This is done through digital marketing that includes business and product search functions, web hosting, SEO, social media, and mobile advertising.
The company has been providing a variety of digital media services to small and medium-sized businesses for years. Enabling these customers to reach consumers on the major search engines, LOCM generates revenue from performance ad units such as daily deals, pay-per-click, pay-per-call and lead generation, subscription ad units, and cost per thousand Impressions ad units, among others. Only recently have investors begun to notice that these consumer properties, which serve over 30 million consumers each month, may be generating revenues that had been undervalued by Wall Street.
Shares leapt 97% from a low of $1.46 in September to $2.88 last week. This was in response to company confidence in revenue growth for the third quarter, the subsequent release of record figures for the quarter's mobile and organic search traffic (a key performance indicator), and the launch of a new mobile app compatible with two leading smartphones as the company leverages its online business to monetize mobile consumers locally. Analysts believe this stock is greatly undervalued.
The firm generates its revenue and earns it as evidenced by click-throughs occurring on advertisers' sponsored listings, the display of a banner advertisement, the fulfillment of subscription listing obligations, the sale of "deal of the day" vouchers, or the delivery of exact match products to its customers. Some risk comes from the fact that most of these contracts are short term, do not contain multiple elements and can be cancelled at any time. Another level of risk involves the fact that the company depends on third-party billing partners to efficiently bill and collect monies through local telephone company billing agreements.
Still, from a technical perspective, we see that with consolidation in the $2.70 range over the last six trading sessions LOCM could easily break out on news as it moves toward the release of its third-quarter results. One strong catalyst to boost the stock would be closing of the sale of Rovion, its rich media display advertising platform, a great product that's not fully utilized by LOCM but perfect for a large media company with big clients. Closing the sale on Rovion would also firm up the balance sheet nicely.
Click to enlarge images.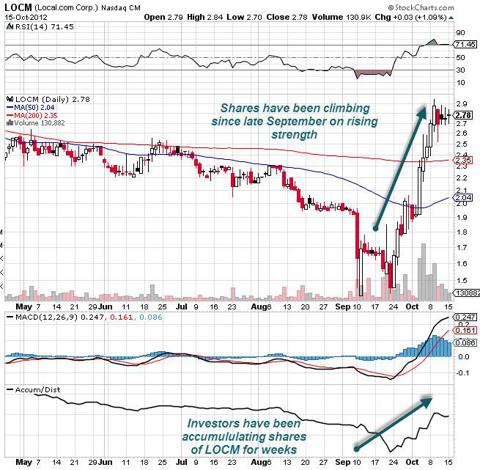 News on the progress of integrating Krillion, the company's local product search directory acquired last year, is another possible catalyst because a high expected revenue click rate from targeted traffic would boost gross margins considerably. An announcement of the completion of the first directory could happen within days.
Two other short-term drivers of the stock would be renewal of the Yahoo (YHOO) contract and actual third-quarter numbers that meet expectations, expected in early November. Obviously, as seen on the above charts, there are a reasonable number of shares being accumulated by investors -- certainly more than we have seen for some time. It appears to us that these actions are being driven by the upcoming catalysts.
Furthermore, the outlook for the firm's business looks promising. According to BIA/Kelsey, the U.S. online advertising market is an over $47 billion a year industry. Local search -- searches for products, services, and businesses within a specific geographic region -- is an increasingly significant segment of the online advertising industry. According to a May 2011 study, BIA/Kelsey estimates that the local search market in the United States will grow from $5.1 billion in 2010 to $8.2 billion by 2015. As a result, advertisers often pay a significant premium to place their ads in front of local searchers on websites like those powered by the consumer properties business, including LOCM or the firm's network partners' websites.
Disclosure: I have no positions in any stocks mentioned, and no plans to initiate any positions within the next 72 hours. I wrote this article myself, and it expresses my own opinions. I am not receiving compensation for it. I have no business relationship with any company whose stock is mentioned in this article.