Ultimately the performance of a stock will follow the underlying fundamentals of a firm. Stocks that are rising quickly usually represent firms which are executing well and have strong profit growth. On the other hand, stocks that are falling usually represent firms that are failing to grow earnings or whose fundamentals are declining.
Stocks which outperform the broad market have a few things in common:
Strong earnings growth
Affordable valuations
Improving industry fundamentals
A healthy balance sheets
Sound management
Most investors target these qualities and hope their stocks will do better than most, but I would suggest also doing the reverse. Look for stocks outperforming because their outperformance more often than not is due to the traits above. Stocks with strong earnings growth, affordable valuations, and healthy balance sheets can outperform for years.
If you are a value investor you may find a firm with all off the above and at some point Wall Street will realize the fundamentals and reward the shares. But who knows when this will be. Finding shares where investors are already realizing the firm's excellence can accelerate the process. This brings me to Relative Strength.
Relative Strength [RS] is an indexed based number which ranks how your stock is performing relative to the overall market over a given period of time. For example, if a stock has a relative strength of 80 it has outperformed 80% of the stocks over a specified period.
Combining RS with individual fundamentals can be an excellent beginning point for a stock screen.
The Screen
For this screen I took:
12-month return > 99% of all stocks
QoQ EPS Growth > 0
5 Yr. Avg. ROE > 0
I received the following results:

click to enlarge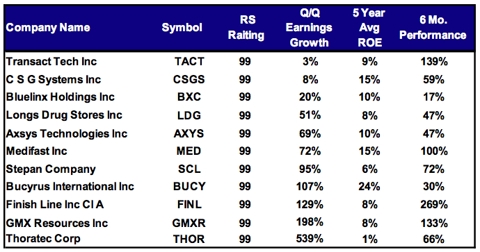 Clearly this screen produced stocks which have significantly outperformed the broader markets and it may represent an excellent starting point for further research. I will follow this post up in the next 30, 60, and 90 days with updates to see how they faired.
Disclosure: None