Gold and silver have been running since the announcement of QE3. Gold bulls contend that QE3 is highly inflationary. Further, there is precedent of precious metals running after QE1 and QE2.
In the hoopla of excitement about QE3, it was lost on gold and silver investors that QE3 is very different from QE1 and QE2.
In QE3, the Federal Reserve is buying mortgage backed securities (MBS). The Federal Reserve's buying of MBS is not the same as government spending. In this respect, the common connotation given to 'printing presses' is a misnomer. The common thinking is that the Federal Reserve creates money and gets nothing back of value in return, therefore the belief that it will cause inflation.
MBS purchases by the Federal Reserve are purchases of great value. An MBS is simply a pool of mortgages on real property.
In momentum investing, factual differences between QE3 and prior QE programs have been ignored. In prior programs, the Federal Reserve was primarily buying treasury securities.
In this up-leg, gold and silver have been under the control of the momo crowd. The momo crowd is quite different than, and is not to be confused with, gold bugs. The momo crowd has been emboldened by the momentum investing that surrounds QE3. The momo crowd simply chases momentum based on superficial notions that QE3 is highly inflationary. Unlike the momo crowd, gold bugs tend to be steeped in the monetary policy.
This morning, Consumer Price Index (NYSEARCA:CPI) was released. CPI came at 0.6% vs. 0.5% consensus. Core CPI, except food and energy, came at 0.1% vs. 0.2% consensus.
However, the most important data point for gold and silver investors since the announcement of QE3 is Core Producer Price Index (PPI). Historically, Core PPI is the leading indicator as well as a more reliable indicator of future inflation, whereas CPI lags and is more volatile.
Core PPI is the most important data point since QE3 for gold and silver because the premise behind the run up in precious metals is inflation. In QE1 and QE2 inflation showed up in Core PPI right away. This time it is different as shown in the table.
Gold and silver investors should take notice of how the metals reacted to the announcement of PPI data by the U.S. Bureau of Labor Statistics (BLS).
The BLS releases PPI separately for finished goods, intermediate goods, and crude goods. For each processing stage, the BLS releases data for total PPI, foods PPI, energy PPI, and PPI except foods and energy.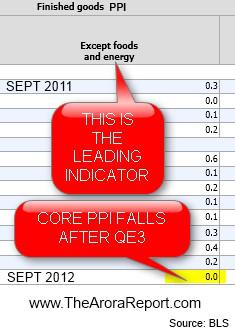 The table shows finished goods PPI, except foods and energy. In September 2012, finished goods PPI except foods and energy fell to 0.0% from 0.2% in August. The consensus of economists was 0.2%.
Finished goods PPI without foods and energy is also known as Core PPI. The reason Core PPI is considered one of the best indications of future inflation is that when producers are experiencing inflation, it ultimately spills into inflation for consumers. Further, both foods and energy PPI numbers are highly volatile and including these in the analysis causes distortions.
Yes, we all eat and travel; therefore it seems intuitive to include foods and energy in the analysis. However, the data in recent years shows that when analyzing an investment thesis, based on inflation outside of the foods and energy segments, it is best to use Core PPI.
The two traditional reasons behind buying gold and silver are, protection against inflation and catastrophic news.
Serious gold and silver investors would want to take notice of the data shown in the table and understand that core inflation is not rising enough to justify the big run in gold and silver.
Some will argue that it is not the present data, but the future inflation caused by money printing by the Federal Reserve, that is causing inflation. There is no doubt that this is the generally accepted folklore. However a closer look shows that QE3 is different from QE1 and QE2, and not likely to cause inflation of the proportion that gold and silver bulls anticipate. This fact was sinking in yesterday, leading to sharp drops in gold and silver. However, today an oversold bounce is expected as the momo crowd exerts itself and smart money backs off.
One of the secrets to making money in the markets is to understand early when the crowd may be wrong. History is replete with examples of the crowd being wrong and giving opportunities to astute investors. There was a great opportunity in buying gold and silver years ago when the crowd was not thinking of inflation. There are still reasons to buy gold and silver, but QE3 is not one of them.
On October 12, 2012, when the PPI data was first released at 8:30 AM ET, gold and silver started ticking up. Our algorithms detected buying by the momo crowd. Perhaps the momo crowd, as is their practice, jumped on the headline without digging deep into the data; or perhaps the momo crowd was continuing its recent bizarre behavior. The bizarre behavior is buying on news of low inflation and selling on the news of high inflation. This is contrary to what gold bugs and most investors do.
The buying by the momo crowd in the recent up-leg has been so strong that the smart money has typically not stepped in front of the momo crowd to sell. Smart money, in our parlance, is collective action of ultra-sophisticated investors who know more, who know early, and who have more analysis power.
Since the PPI data came out, smart money has been aggressive sellers of ETFs SPDR Gold Shares (NYSEARCA:GLD), iShares Silver Trust (NYSEARCA:SLV),Market Vectors Gold Miners ETF (NYSEARCA:GDX), and Market Vectors Junior Gold Miners ETF (NYSEARCA:GDXJ), as well as miners such as Silver Wheaton Corp (SLW), Hecla Mining (NYSE:HL), Barrick Gold Corp (NYSE:ABX), Pan American Silver Corp (NASDAQ:PAAS), Goldcorp (NYSE:GG), Coeur d'Alene Mines Corp (NYSE:CDE), and Newmont Mining Corp (NYSE:NEM).
Every astute investor should understand the true nature of QE3. The true nature of QE3 is not the same as the popular belief. History is replete with examples of astute investors making a killing when they were able to carefully study a phenomenon and conclude that the popular beliefs were wrong. The subject is of such utmost importance to investors that we have explored this topic in detail in an online seminar titled 'Gold and Silver Post QE3'.
Disclosure: We are following the insights covered in the online seminar 'Gold and Silver Post QE3' for our trades. We are long on PAAS and short on SLV, SLW, and HL. We may also go long on GLD. I wrote this article myself, and it expresses my own opinions. I am not receiving compensation for it (other than from Seeking Alpha). I have no business relationship with any company whose stock is mentioned in this article.