This article addresses the question of what effect news like the Foxconn riots has on Apple (NASDAQ:AAPL) stock. News like earnings guidance, management changes, M&As and product launches are all important for investors because they tell us how a stock might be priced under the influence of such news. However, this article claims that in our world, news related to business ethics and factory working conditions that are not directly about a company's fundamentals might still have a great impact on the stock's price. Therefore investors and corporations alike will ignore such news at their peril.
One of the fun things I do everyday is to check out Apple's stock chart. I like the way that stock moves upwards like there is no limit - it gives me hope in the American economy despite everything. Imagine my surprise, then, that on or around 26th November I saw this stock taking a plunge that would have brought lesser companies to a grinding halt. True, a short downward movement was visible as early as the 23rd, but the stock dropped by $35 on the 26th, from around $695 to right down to $660, a 5% drop that took out almost $30 billion out of the stock's market cap. Take a look at the chart.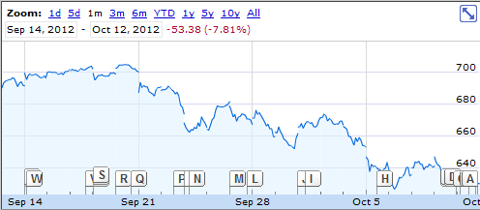 There are very large, very well known companies trading on the US exchanges that have lower market caps than what Apple lost in a single day. For example, a much admired company, Annaly Capital (NYSE:NLY), trades at a market cap of around $16 billion; Fedex (NYSE:FDX), Bank of New York (NYSE:BK), General Dynamics (NYSE:GD), Thermo Fisher (NYSE:TMO) all have market caps below $30 billion. Measured in that respect, what happened on that single day was catastrophic to Apple's stock.
Apple has never dropped by that much since around April 24, when it announced Q3 guidance below analyst estimates. That day, it dropped by around $20 or so, but quickly recovered and continued going up again. This time, though, it has dropped and continued dropping, ending at $634 right now. So obviously I looked around to see what might have caused such a drop in Apple, and I noticed Foxconn.
Of course, I had known about the riots at Foxconn's China and Mexico facilities in a peripheral way, as we usually look at much of the global news that doesn't directly affect us. But when I saw how on the 24th of September thousands of people rioted in the sprawling Foxconn facility in Taiyuan, China, and Apple stock fell within two days of that, I realized that the Foxconn riots must have been responsible for the stock's fall.
It might be claimed that the lower than expected technical performance of the iPhone 5 might have led to the fall. However, there are two things that goes against that theory. One, the iPhone 5 was released quite a few days before that day; and two, the iPhone 5, although it had technical flaws, did perform better than any other Apple product. So, since volume of sale is a better short term influence on a stock than minor/semi-minor technical flaws, we can rule out iPhone 5 as an immediate cause of the fall. What remains is Foxconn.
This was not an isolated incident. Check the following chart: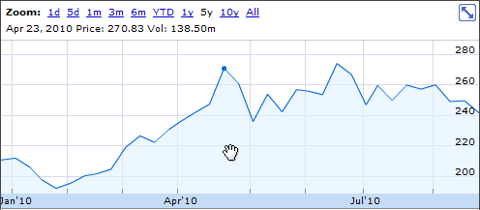 In or around May 2010, Apple's stock was on a steady rise, from which it had a stiff fall of about $30. Since Apple was trading in the $270 zone at that time, this was an even bigger percentage, say around 12%. This also wiped out a few tens of billions of dollars out of Apple's market cap.
Now check the following news item:
Protest at Chinese iPad maker Foxconn after 11th suicide attempt this year

Protestors made traditional Chinese funeral offerings to the dead at the headquarters of Foxconn, the manufacturer of Apple's iPad, after the 11th suicide attempt at the company's factories so far this year...

A spate of recent suicides at Foxconn has highlighted the concerns over working conditions inside the giant Longhua factory, where 300,000 workers assemble goods for clients including Apple, Sony, Nintendo, Dell and Nokia.

The deaths comes as Apple prepares to launch the iPad in the UK at the end of this week. Yesterday, Apple declined to comment on the situation.

Source: Telegraph May 25,2010
At least 12 people jumped out of upper story buildings at the Foxconn factory, protesting against various work environment related issues; at least 10 of these died. This was an ongoing problem at many Chinese factories; however, Foxconn is a known Apple vendor, and the news was widely covered in the American media around May, when the suicide toll reached 10. Right at that time, when Apple was about to launch the iPad and the stock was soaring, it jumped back down by a large margin.
I would like to believe that the major downward movement we see around mid-May 2010 was a result of news of the suicides. The Foxconn riots and suicides have illustrated something all American companies with factories in Asian countries should be strongly cautious about- that when American consumers realize that behind the iPads they use, behind the bright LCDs and LEDs, the Nike (NKE) shoes and the designer clothes they wear, that behind these there is an undernourished, underpaid, possibly underage laborer toiling away in some dank sweatshop in the foul underbelly of Southeast Asia - that understanding has an immediate effect on the stock of the responsible company. A company that resorts to, condones, or ignores such business practice from its contractors will get hurt where it matters most, its bottomline. Therefore it is sound financial astuteness to spend money on removing this sort of incidents from ever happening.
What Apple is Currently Doing About Vendor Ethics:
Shortly after the Foxconn suicides in 2010, an Apple-focused blog, MacStories, posted an email from an Apple user named Jay Yerex. Quoting media reports about the suicides, Jay wrote to Steve Jobs a single message:
"Steve, Apple can do better!

Sent from my iPhone."
The message was touching, since it called into question everything from Steve Jobs to the iPhone, and that too by a proclaimed iPhone user.
Jobs responded:
"Although every suicide is tragic, Foxconn"s rate is well below the China average. We are all over this."
Jay sent another message asking Jobs to clarify; Jobs sent him a link to Apple's Corporate Social Responsibility website and said: "You should educate yourself. We do more than any other company on the planet."
Jobs might have been right; Apple indeed did/does a lot. 5 years before this correspondence, in 2005, Apple took a variety of steps to ensure that its suppliers followed a humanitarian code of conduct. According to Apple's website, it now takes the following steps to ensure supplier responsibility:
In 2005, Apple created a detailed Supplier Code of Conduct which it aimed to enforce among vendors

It undertakes extensive auditing to ensure vendors adhere to this code

Typical audit: "Apple's auditing team reviews hundreds of records, conducts physical inspections of manufacturing facilities - including factory-managed dormitories and dining areas - and conducts interviews with the workers themselves. At the same time, we evaluate the facility's senior managers, including their policies and procedures, their roles and responsibilities, and the training programs they provide for workers, line supervisors, and managers. Our auditors then grade each facility's level of compliance with our Supplier Code of Conduct." (Source: Apple Supplier Responsibility)

Surprise audit: Almost similar to typical audit, except audits are a) unannounced, and b) must begin within an hour of auditor visit to vendor facility.

Core violations: Apple considers the most serious breach of compliance to be a core violation. These include instances of underage or involuntary labor, falsifications of audit materials, worker endangerment, intimidation or retaliation against workers participating in an audit, and significant environmental threats. All core violations must be remedied immediately. "If a violation is particularly egregious, or we determine that a supplier is incapable of preventing recurrence of a violation, we terminate the relationship."
What Needs to be Done Further:
That last statement is an extremely important step. While some of Apple's vendors are very large companies, Apple is the largest and probably most powerful company in the world in terms of its financial ability to have its say where principles are concerned. Since it provides business to millions of people and over a thousand different companies, it must have tremendous say with these vendor companies. Every year, hundreds of global companies come to Cupertino to get a coveted Apple contract. So if Apple shows real displeasure with how a particular vendor is acting, that is bound to have an effect.
Now, terminating a relationship profitable for a vendor is setting an example of the most stringent kind. If Apple has ever indeed really done that, I think the first step it needs to do is come out and say so - and name names. According to this report, it has terminated 15 suppliers since 2007, but that is out of a few hundred violations. As one former Apple executive with firsthand knowledge of the supplier responsibility group said: "Noncompliance is tolerated, as long as the suppliers promise to try harder next time. If we meant business, core violations would disappear."
Secondly, it should terminate relations with the likes of Foxconn - core violators who are multiple repeat offenders. That is easier said but less difficult to do than losing $24 billion in a day.
There are many such stringent steps it can take to better its situation. However, the bottom line is, money spent on these endeavors is also good for its financial bottom line. In the long run, I think the American consumer will show where its conscience truly lies, and Apple better be on the same page.
What Investors Should Be Aware Of Before Going Long On A Stock With Foreign Operations
Stock price is a sensitive thing; there are so many things that can influence it. In today's world, any sort of a hint of business malpractice of any kind will bring down a stock - even if, like in Apple's case, the company was not legally responsible for what happened at Foxconn. This is not a matter of responsibility; this is a matter of public perception and nothing harms public perception more than a company ignoring suicides, riots, low wages, underage labor or other such "core violations" at its overseas factories.
Such companies, therefore, should undertake a two-pronged strategy to moderate public perception; one, they should do as much good as possible in their overseas factories, and two, they should continuously strive to make the public aware of how much good they are doing. Apple's secretiveness about its vendors will actually harm the company if such matters as riots and suicides become public. Investors should be thoroughly aware of the effect of negative public perception especially about poor working conditions in overseas factories.
Disclosure: I have no positions in any stocks mentioned, and no plans to initiate any positions within the next 72 hours. I wrote this article myself, and it expresses my own opinions. I am not receiving compensation for it (other than from Seeking Alpha). I have no business relationship with any company whose stock is mentioned in this article.