click to enlarge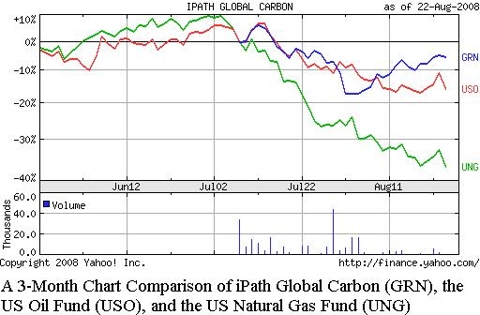 The accompanying three month chart comparison illustrates that carbon prices, as tracked by iPath Global Carbon (NYSEARCA:GRN), have continued to diverge and outperform both oil (NYSEARCA:USO) and natural gas (NYSEARCA:UNG) as reported in my original article two weeks ago.
In addition, the Central Appalachian Coal Futures near-month contract [NYMEX: QL] is up 11.8% over the last three months. Key factors in the demand for carbon credits include overall power demand and the relationship between natural gas and coal prices since burning gas results in the release of less than half of the greenhouse emissions versus coal.
Currently, the simplest way for power utilities to reduce greenhouse emissions is to convert from coal to gas. Since natural gas prices have declined in sympathy with oil while coal prices have remained at high levels, power companies in Europe have shifted to burning a larger percentage of gas to generate power -- resulting in less greenhouse emissions and thus less demand for carbon credits.
Since my original article, carbon allowance futures have begun trading in the United States at both the Chicago Climate Exchange and the NYMEX Green Exchange. However, these carbon allowances are priced much lower and are not easily accessible to retail investors, if at all; so the best choice for investors who are bullish on the price of carbon credits is to simply buy the iPath Global Carbon along with some of companies in my Global Carbon Trading Index. The iPath Global Carbon ETN provides exposure to the two most established and liquid proxies for carbon prices:
1) European Union Allowances or EUAs (which are tradable emission credits from the EU Emissions Trading Scheme providing the right to emit one ton of CO2, representing 82% of GRN).
2) Certified Emission Reductions or CERs (which are credits generated under Kyoto's Clean Development Mechanism for the reduction of greenhouse gas emissions equal to one ton of CO2-equivalents, representing the other 18% of GRN).