Retirement oriented investing needs to focus on three aspects - the investment must produce income, the investment must leave the capital untouched after inflation, and the investment must be liquid. Income is necessary because for many retired persons, this investment is aimed to replace the income they earned during their career. Using up capital - or what many writers call invasion of capital - is a bad thing because ordinary retirees are not expected to substantially add to their capital funds once they stop working. Liquidity is important for various reasons, one being emergency needs.
As the following graph shows, average dividend yield is declining over the years. This chart is more geared towards financial services and the utility sectors since a majority of the top companies comprising the Russell index come from this sector. However, it still gives a graphical illustration of the problems facing investors dependent on dividend yield.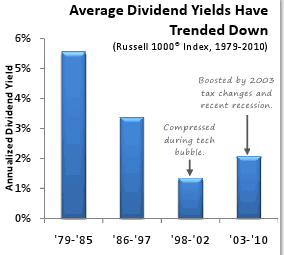 Moreover, investors should be cautious when choosing companies to invest in that have high dividend yields. As investors are aware, dividend is not always a good indication of the health of the company. Not only does it mean there's less funds to put back into the core business, but it might indicate other fundamental problems in a company.
Keeping all that in mind, we have made a list of 4 dividend yielding stocks from the energy sector that are otherwise healthy.
Seadrill Ltd. (NYSE:SDRL): This $18.67 billion company is engaged in the business of providing offshore drilling services to the oil and gas industry. SeaDrill is currently in news for the launch of an IPO of Seadrill Partners as well as for the news of resignation of its CEO Alf Thorkildsen. However, these developments are not likely to have much negative impact on the dividend declared by the company. Seadrill currently offers a dividend yield of 8.43 percent. The stock is currently trading at $40.10, up 0.58 percent from its previous close. It is also trading above its 20 days moving average price of $39.83 and $39.72, thus giving positive price momentum. The stock has traded in the range of $30.62 and $42.34 in the past 52 weeks and has gained about 21 percent in the year so far. Thus with this stock, you can not only expect good steady income in the form of dividend, but can also look forward to substantial capital gain.
Plains All American Pipeline LP (NYSE:PAA): The stock is hovering around its 52 weeks high price of $46.55. It is currently at $45.12, up 0.40 percent. Plains All American Pipeline is a midstream Energy Company and is engaged in the transportation, marketing and storage of various products including LPG and crude oil. With a dividend yield of 4.83 percent, the stock has also appreciated by about 23 percent this year. The company is also likely to benefit from the production boom in the energy sector. Plains All American Pipeline increased its dividend in 32 out of the past 34 quarters and I expect the momentum to continue. The company's market capitalization stands at $14.73 billion and it is on sound financial footing. It also recently announced a quarterly cash distribution of $0.5425 per unit for its outstanding limited partner units.
Magellan Midstream Partners LP (NYSE:MMP): The company recently hit its 52 weeks high price of $45.32 on the strength of QE3. It is based out of Oklahoma and engages in the transportation, storage and distribution of petroleum products. Its stock is trading at $44.34, up 0.09 percent from its previous close. The company offers you a reasonably well dividend yield of 4.3 percent and the stock has appreciated 28.72 percent this year. The company commands market capitalization of $10.03 billion and its stock is trading at Price Earnings ratio of 22.2. The stock is also trading above its 20 days moving average price of $43.61 and 50 days moving average price of $42.22 and is expected to continue the positive momentum. The company recently completed the two for one split of its limited partner units. The record date for the split was September 28, 2012.
Eni SpA (NYSE:E): The stock grew 12.24 percent this year so far and it gives you a dividend yield of 5.9 percent. This integrated oil company explores, produces, transports and markets oil and natural gas. Italy's state investment holding company, Cassa Deposite e Prestiti disposed off its 3.3 percent stake in Eni. The sales price amounted to $1.29 billion. Eni is looking forward to solid future growth. It recently made its first important oil discovery in Ghana. The company stock trades at Price Earnings ratio of 9.59 and has beta of 1.10. At $46.32, the stock is trading above its 20 days moving average price of $45.49 and 50 days moving average price of $45.01. Its positive momentum is likely to continue.
Disclosure: I have no positions in any stocks mentioned, and no plans to initiate any positions within the next 72 hours. I wrote this article myself, and it expresses my own opinions. I am not receiving compensation for it (other than from Seeking Alpha). I have no business relationship with any company whose stock is mentioned in this article.