To be able to forecast the future, one needs to understand the past. Therefore I have dug into the history of Starbuck's (NASDAQ:SBUX) Global Consumer Product Group. This is the group that sells coffee, tea, juice and ice cream to consumers through grocery stores. And therefore I will begin this article with a timeline which presents the highlights over the last twenty years of the group. If you are only interested in how I estimated the $1 billion figure you can skip the timeline, and read my analysis instead.
Timeline
1994: Starbucks and PepsiCo entered into a joint venture to form the North American Coffee Partnership (NACP) to bring cold coffee drinks to supermarkets
1996: Frappuccino exploded onto the scene and helped create a now billion dollar industry in the United States
1998: Given the early success of Starbucks's grocery store products, they began selling fresh beans and ground coffee through supermarkets, and they found a willing partner in Kraft Food, as they had the expertise and distribution reach to grow Starbucks presence in the US CPG market.
1999: Starbucks acquires the tea-manufacturer Tazo. Tazo Tea is being sold both in Starbucks own stores and in grocery stores.
2006: Kraft Foods launches the coffee pod machine "Tassimo" in Canada. The machines became very popular as Starbucks sold coffee pods to the machines.
2009: Starbucks launched VIA (instant coffee).
Spring 2010: Howard Schultz felt that Kraft Foods wasn't the correct partner for Starbucks, and according to Starbucks, they offered $500 million to end their partnership. But Kraft Foods and Starbucks couldn't agree to the terms and instead the decision went to court.
November 2010: Starbucks announced it would distribute its packaged coffee through the marketing firm Acosta.
February 2011: Court dismisses Kraft's claim.
May 2011: Starbucks announced a deal with Green Mountain Coffee Roasters (NASDAQ:GMCR), where Starbucks makes K-cups to GMCR's Keurig coffee machines.
May 2011: Starbucks partners with Arla Food to distribute Starbucks Bottled Frappuccino in Europe.
November 2011: Starbucks acquires the Evolution Fresh brand in an effort to capture its share of the estimated $3.4 billion juice-market. Evolution Fresh is being sold in stores as well as in grocery-stores.
January 2012: Starbucks introduces Blonde roast, which is a lighter blend aimed at reaching a wider consumer base.
September 2012: Starbucks launches Verismo Coffee machines. While management deny that this puts them in direct competition with their own partner (Green Mountain Coffee), as the Verismo is capable of brewing both single-cup coffee and espresso, investors disagree as the stock price of GMCR fell over 10% after the announcement.
So it should be somewhat clear that Starbucks has come a long way since the early 90's, and though Starbucks currently "only" has a 4% market share in the packaged coffee market, it is growing at a very high rate, and as I will argue in this article, I expect this group to be one of the primary growth contributors for Starbucks going forward.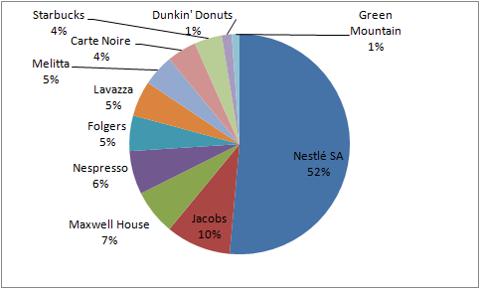 Source: Euromonitor.com
A Closer Look - VIA
Back in 2009, CEO Howard Schultz predicted that coffee lovers would incorporate instant coffee into their daily routine. Analysts, however weren't as optimistic as Mr. Schultz. In 2010, food industry analysts Phil Lempert made the following comment regarding the instant coffee product Via:
This is one of those products where the added convenience just does not make up for the taste. Inside one of these little packets is a secret recipe of instant and 'micro ground' coffee. But the first ingredient is not coffee -- it is actually sugar. No aroma, no real coffee flavor, and for about a buck each -- no sale!"
However, as you can see in the below table, the analyst was proved wrong. Via has become a success with a global market share of 0.65%. Howard Schultz was also correct in his prediction that coffee lovers would incorporate instant coffee into their daily routine, as the market size has increased over the last couple of years, and according to Euromonitor, the trend is expected to continue in the future.

Source: Euromonitor.com
So how come VIA had become such a success? Ì think there are three reasons:
Instant coffee satisfies a slightly different need than brewed coffee, as it is easier and cheaper to make. This means that a typical coffee users who previously drank 2-3 brewed coffee each day, now may supplement the brewed coffee with instant coffee once or twice or day.
VIA was a very careful and planned product, which took Starbucks 20 years to develop, and was followed with the most expensive marketing campaign Starbucks has ever done.
Starbucks used the brand presence of their regular line of coffee and dispatched baristas to retailers such as Target and Safeway stores to give free VIA samples to shoppers.
A Closer Look - Coffee Machines
In order to understand the market of coffee machines, I think it's important that we go back to 2002, where Green Mountain Coffee entered the singe-serve market by acquiring Keurig Inc., which made coffee brewing machines. Green Mountain sold the Keurig machines were sold at a reasonable price, and made most of their profit through K-cups, which only worked with the Keurig machines. Eventually Green Mountain partnered with coffee-brands such as Caribou Coffee, Folgers and Starbucks, that produced their own K-cups.
As the patents of K-cups and Keurig machines ran out for Green Mountain, management found it necessary to come up with something new. And therefore they introduced a new coffee machine back in February 2012: The Keurig Vue. Vue is priced at $230 and is therefore significantly more expensive than most other Keurig machines. Vue can produce tea, hot cocoa, coffee and iced beverages.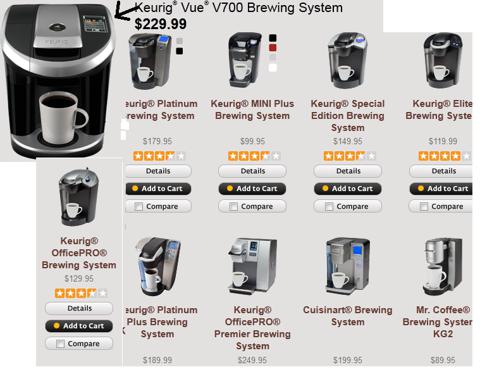 As you probably are aware of (if you read the timeline), Starbucks is now competing with Green Mountain through the Verismo machines. Despite that, Starbucks still supports the Vue systems, as CEO Howard Schultz argues that the Vue is different from the Verismo, as the Vue doesn't support Latte and Espresso.
Of other noticeable competitors worth mentioning, there is Kraft Food's Tassimo machine (which Starbucks previously supported), and the market leader in Europe, the Nespresso machine. The latter is capable of producing espressos, as Europeans are fonder of espressos than Americans.
Below I have compared the prices of the various models of Tassimo and Verismo. The Nespressos's are priced from $200 to $700, and is therefore slightly more expensive than the Verismo.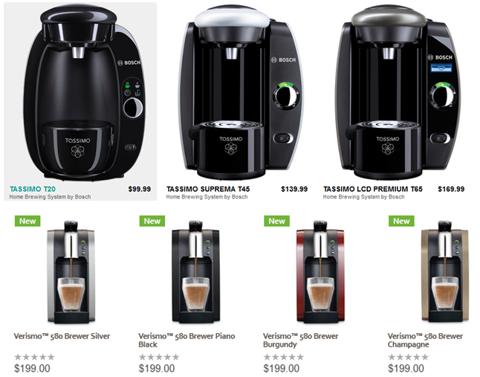 Given that Tassimo appeals to a slightly different type of customer, I think Starbucks should focus on acquiring Nespresso/Keurig customers. In 2011, sales of those coffee machines totaled $4.2 on a global basis.

Early sales report for the Verismo machines have been very positive, and over a couple of years I think Starbucks is capable of getting a double digit percentage in that market
A closer look - K-cups and coffee pods
In the below table you can see that the K-cup prices of Starbucks are above the level of their competitors.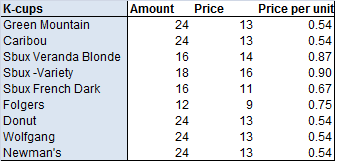 Despite being more expensive, Starbucks has been very successful with K-cups. At the earnings conference of Q1 2012, CEO of CPG, Jeff Hansbury made the following comment:
Now let me move to Starbucks K-Cups, where we are very pleased with the consumer excitement around our recent launch in the U.S. CPG channel. For the 2 months in the quarter in which Starbucks and Tazo K-Cup packs were available, over 100 million cups were shipped, and we have already reached an 11% value share in the premium single-cup market, with 66% ACV in the month of December. As we gained additional supply, we expect to see continued positive momentum in both of these areas.
Last quarter, CFO Troy Alstead followed up with this comment:
Starbucks K-Cups which continued to grow share and distribution were the largest driver of the year-over-year increase.
How Profitable Is K-cup For Starbucks?
Well, there is no easy answer to that, as Starbucks do not publish those numbers. However given a few reasonable assumptions and the spare information that is available, we can make a decent estimate.
What we know about K-cups:
We know the selling price to consumer. At Amazon you can buy 16 K-cups for 19$.
We know how much Starbucks pay for each gram of coffee.
We know that there are between 9 grams and 10 grams of coffee in each K-cup.
We know that Amazon keeps a small amount of every K-cup they sell as revenue.
We know that Starbucks and Green Mountain Coffee Roasters split the remaining earnings.
We know that they have sold 350 million cups from November 2011 to June 2012.
Assumptions we have to make:
I assume that Starbucks keeps 2/3 of the operating profit per K-cup sold, and GMCR receives the remaining (according to David Einhorn).
I assume that costs related to packaging, roasting and other fixed costs totals 37 cents per K-cup (according to David Einhorn).
I assume that Starbucks will sell a total of 600 million K-cups in 2012, which is equal to a market share of 5%.
Out of curiosity, I have compared the price of K-cups to other packaged coffee and coffee you can buy in Starbucks's store. As you can see, consumers pay 13 cents for one gram of K-cups coffee, compared to 2 cents of packaged coffee. So K-cups are almost seven times as expensive as "normal" coffee. Though K-cups are expensive, they are still roughly three times cheaper than non packaged coffee.

In the below table, I have estimated that Starbucks will earn roughly $155.4 on K-cups in 2012.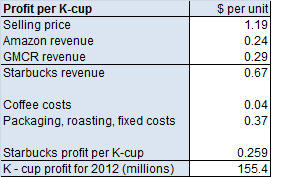 Earnings estimates for coffee pods
With the introduction of the Verismo and the Vue, Starbucks will probably sell fewer K-cups, but as they now support three systems, I expect their market share to increase, and combined with the expected increase in market size, Starbucks will earn roughly $466 million in 2016.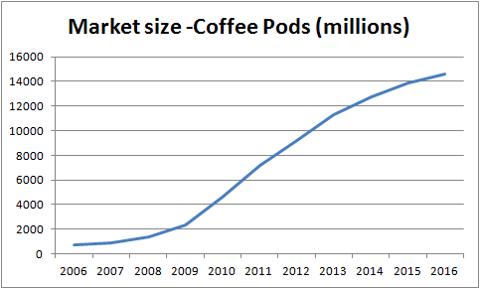 Source: Euromonitor.com
Below you can see my estimations.

Other packaged products
This article has mostly focused on coffee and instant coffee. But the Global Consumer Package group is also expanding in other areas, such as bottled "Frappucino" and the lighter blended "Blonde Roast" (the below picture). The majority of coffee from Starbucks is either roasted medium or dark, and by selling Blonde Roast, Starbucks can appeal to a slightly different consumer.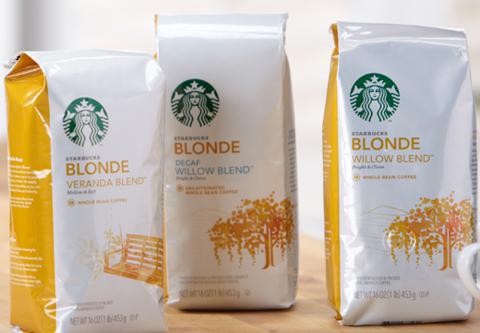 Future Expectations - Putting It All Together
In the below table, you can see my specific expectations for 2012-2022. I have tried to separate revenues and operating profit for each product, though this was a difficult process, as management does not report costs and revenue for each product.
I expect revenue growth and operating margin will top in 2013, and both metrics will decline gradually afterwards. By 2016 I estimate that operating profit will increase by roughly $1 billion to $1 billion, and therefore the GDP group will actually be a significant contributor to earnings growth. So while it may seem a bit weird that I use over 2,000 words (and 25+ hours) to on a segment that only contributed 270 million to income in 2011, I think it has been worth the time as this group is a hidden gem.

In my next article (which will be my last on Starbucks), I will sum up the expected future income of every Starbucks group (America, Europe, Asia etc.) and make a fair value estimate of Starbucks.
Disclosure: I am long SBUX. I wrote this article myself, and it expresses my own opinions. I am not receiving compensation for it (other than from Seeking Alpha). I have no business relationship with any company whose stock is mentioned in this article.