A year ago, we wrote a feature titled, "5 Energy Stocks Ready to Rise", listing five large and small cap energy stocks we thought would be good investments. All have performed exceptionally well over the past 12 months. Here's a breakdown of how each stock has fared, and what to expect in 2013 and beyond.
Exxon Mobil (NYSE:XOM)
Back on October 9, 2011, Exxon Mobile was trading at $76.28. Today, it's at $92.13, up 20.78%. It also yields a 2.50% dividend. What originally attracted us to XOM was the fact it is one of the best-run energy companies in the world, top to bottom. It holds the industry's most attractive asset mix and is, by far, one of the top plays on oil. Exxon has a strong book of business to go along with a solid dividend of 2.50%. The company continues to deliver profits, earning $440 billion in revenues and $180 billion in gross profit in 2012. That accounts for a 10.37% profit margin and 11.44% operating margin -- all strong indicators of effective management. It has returned 9.48% on assets and 29.02% on equity. XOM is a cash cow, currently holding $17.80 billion. This affords it a multitude of options for expansion and acquisitions. We originally pegged Exxon stock to hit $95 over a 12-month period and, while it fell short of our target by $2.87, it nevertheless has been a valuable, safe investment, netting an overall yield of 23.28%.
(click images to enlarge)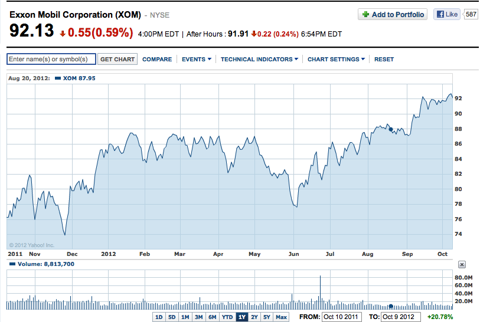 Chevron (NYSE:CVX)
Chevron has also performed similarly to Exxon, as we expected from the large cap oil plays. Chevron is a $200 billion dollar energy enterprise with operations all over the world. Since 2010, income increased 40%, and sales have continued to grow, riding on higher crude oil prices. Chevron invested $13.40 billion in 2011 in new projects, and those investments have paid off dearly. In 2012, CVX earned over $230 billion in revenues, for a total gross profit of $82.13 billion. Much like XOM, it is run like a fine-tuned machine top to bottom, and the numbers back up management's effectiveness: 11.55% profit margin, 16.47% operating margin, 11.27% ROA, and 21.59% ROE. Chevron is also a cash cow, holding $21.46 billion in the bank. Like Exxon, this offers Chevron many options if it wishes to expand or acquire another company. Analysts across Wall Street have a 77% Buy Rating for Chevron, and they expect the stock to continue to soar higher in the latter part of 2012 and into 2013. We originally expected Chevron to rise to $125 per share over a 12-month period, and it has almost reached our target, with a current price of $117.36. However, that doesn't take away from how valuable of an investment it has been -- up 19.51%, along with a 3.2% dividend yield.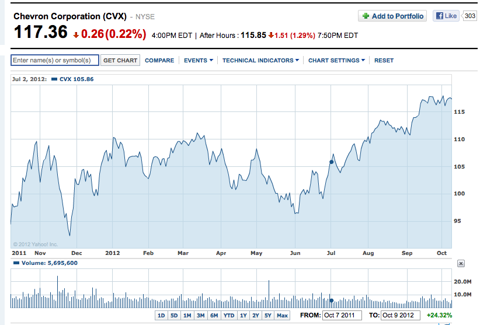 Complete Production Services (NYSE:CPX)
Complete Production Services was bought by Superior Energy Services (SPN] in a cash-and-stock deal for $2.7 billion. SPN paid out $0.945 shares of its stock and $7 in cash for each share of CPX, which was valued at $32.90 per share, representing a 61% premium overall and resulting in a great payout for CPX investors.
InterOil Corporation (NYSE:OC)
IOC is an independent energy company that operates in the upstream, midstream, and downstream business segments. Increasing revenues from 2010 to 2011, along with improved performance across the board, along with the signing of an enormous contract in Papua New Guinea, provided us with strong guidance heading into 2012. IOC also held an impressive 83% Buy Rating, and we expected the stock to rise significantly in 2012 and beyond. With a total market cap of $3.72 billion, IOC has been one of the top performing small cap energy plays in the past year, up 85% year-to-date -- another big win for investors.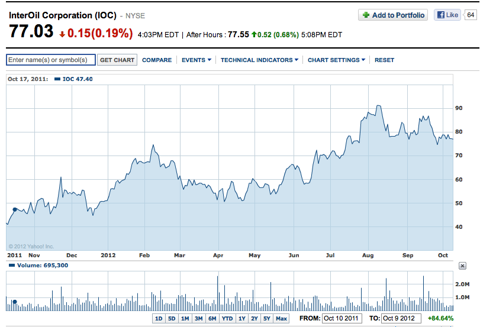 Energy XXI Bermuda (EXXI)
Much like IOC, EXXI is an independent oil and natural gas exploration and production company. The majority of itsbusiness is focused in the U.S. Gulf Coast and the Gulf of Mexico. EXXI's past acquisitions of certain Gulf of Mexico properties led to a significant increase in revenue, up to $1.3 billion in 2012, for a total gross profit of $976 million. The company's management team has been very effective, producing 25.77% Profit Margin, $37.08 Operating Margin, 10.19% ROA, and 28.55% ROE. Increased production and positive cash flows have gone a long way toward strengthening the company's balance sheet and reducing its debt, as EXXI has gone from being in the red to now having over $117 million in cash. The stock holds a strong PEG Ratio of 0.97, and a strong P/S Ratio of 1.97. On top of this, 11 of 12 analysts have a Buy Rating for EXXI. We thought the future looked bright for EXXI a year ago, and after a strong 2012 campaign, things look even brighter for 2013 and beyond. We originally expected EXXI to rise 35% over the next 12 months. Currently trading at $33.26, EXXI is up 33.25% -- right on target with our expectations. When you add a 0.98% dividend, EXXI has been a solid energy play for investors.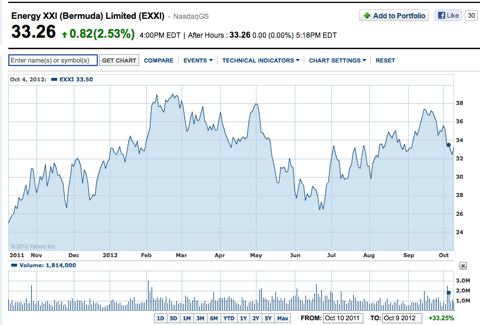 Disclosure: I have no positions in any stocks mentioned, and no plans to initiate any positions within the next 72 hours. I wrote this article myself, and it expresses my own opinions. I am not receiving compensation for it (other than from Seeking Alpha). I have no business relationship with any company whose stock is mentioned in this article.