On October 12th, 2012, we wrote Contrarian Ideas: Hedge Funds sell 15 stocks with buy ratings from UBS. Abercrombie & Fitch (NYSE:ANF) is part of this list. The stock trades around $33 versus its 52-week range of $28.64-$77.50, down more than 50% in the last year. It trades at a P/E multiple of 13 times versus its forward multiple of 11 times.
Consider the company's biggest competitors: American Eagle Outfitter's (NYSE:AEO) is trading at a P/E multiple of 16 times, and a forward P/E of 14 times. The stock has been up 90% in the last year. Aeropostale (NYSE:ARO) is trading at a P/E multiples of 13 times, and a forward P/E of 10 times. The stock has been down 2% in the last year.
On September 12th, CNBC reported that Abercrombie has retained Goldman Sachs as an advisor in response to activist pressure from Relational Investors. Top institutional holders of the stock as of June 29, 2012 are Wellington Management (9%), Vanguard Group (5%), Columbia Wanger Asset Management (5.75%), Relational Investors (4%), and BlackRock Institutional Trust (4%). Are the top holders justified?
Positive fundamentals going forward:
1.A new IT system now gives better visibility into margins by SKU. Overall, it will help the company allocate more effectively by store. Hence, also an improvement in inventory turnover.
2.A favorable, lower cost for cotton will be another positive driver for margins in the long-run
3.The company continues to be disciplined in store closings, which will be focused on Abercrombie & Fitch stores. This will help in further cutting SG&A. Stores being close were close to EBITDA breakeven.
4.A stock buy-back program was recently increased, which could provide further upside in the stock going forward. The company now has a capacity of $600 million in buybacks
5.Inventory turnover has finally improved in Q2-2012, which gives investors further confidence in the long-term story
Factors that make investors cautious:
1.The competitive landscape is getting stronger with American Eagle, and Aeropostale, resulting in negative US chain store comps. Although the company has made several improvements in product and technology, the focus is on a possible recovery.
2.As of July 30th, 2012, the company has cash and short-term investments of $330 million, which will be closely watched given the company's aggressive stock buy-back plans.
3.Given the various moving parts around the fundamentals of the company, and headlines around a possible leveraged buyout, the stock will continue to remain volatile until investors get closure on all issues.
In conclusion, there are positive and negative fundamentals that will get clearer with time. Abercrombie & Fitch stock is worth your radar screen given that the stock is trading close to its historic lows, and there are several fundamental factors that could turn the company around in the near future. Any improvement in the economic environment, and a pickup in consumer spending will also have a positive impact on the company
The chart below compares share performance over the past year. "E"s mark earnings reports.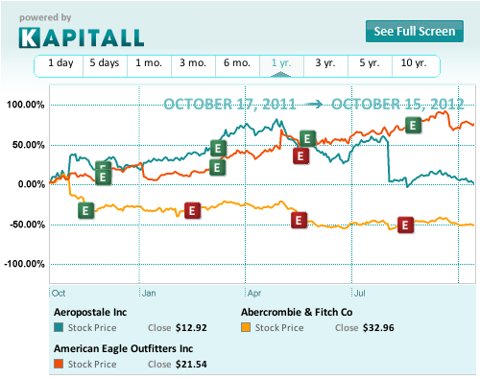 Written by Kapitall's Sabina Bhatia. Tool provided by Kapitall.
Disclosure: I have no positions in any stocks mentioned, and no plans to initiate any positions within the next 72 hours. I wrote this article myself, and it expresses my own opinions. I am not receiving compensation for it (other than from Seeking Alpha). I have no business relationship with any company whose stock is mentioned in this article.