Homebuilder stocks and exchange traded funds are in focus this week amid several key data points on the housing market that will let investors gauge the strength of the ongoing recovery. Builder ETFs are hovering around multiyear highs and have been one of the best-performing sectors in 2012.
SPDR S&P Homebuilders (NYSEARCA:XHB) has a year-to-date gain of about 46% and the Federal Reserve has launched another round of quantitative easing designed to support the mortgage market.
"Meanwhile, housing numbers should continue to be positive with the possibility of housing starts, due out on Wednesday, topping 800,000 annualized units for the first time in the expansion. The Home Builder Survey, due out Tuesday, could show a further gain following a long string of increases while Existing Home Sales should only see a modest decline following some nice recent gains," David Kelley of JP Morgan Funds wrote in a note.
"You get more benefit when people buy homes," Ben Bernanke, Federal Reserve Chairman, said recently. "It's the purchases of new homes that generate the construction activity, the furnishing, all those things that help the economy grow."
Improving housing data has helped push ETFs such as XHB and the iShares Dow Jones US Home Construction Index Fund (BATS:ITB) up to new highs. ITB has gained 66% in 2012. Recent reports have shown housing starts at a 28-month peak, existing-home sales at a 27-month best, home prices at new five year highs, with the average 30 year mortgage rate at around 3.36%, which all look positive for the sector, reports Schaffer's Investment Research on MinyanVille.
The Federal Reserve's latest plan to buy mortgage-backed securities is also bullish for the sector, putting residential real estate back in the spotlight. Investors are eyeing the housing starts reports set to be released Wednesday and the existing home sales due out on Friday.
"Through October 5, the S&P Building Products sub-industry index recorded a 40.0% gain, which far exceeded the 15.8% rise seen in the S&P 1500 Index during that period," S&P Capital wrote in a recent note.
The Homebuilder Confidence Index (Wells Fargo/NAHB) rose to new highs of 35 this summer, indicating that the outlook was improving. The index reached 40 in September, though any reading below 50 still indicates builders think sales conditions are poor, reports Jeff Clabaugh for Washington Business Journal.
SPDR S&P Homebuilders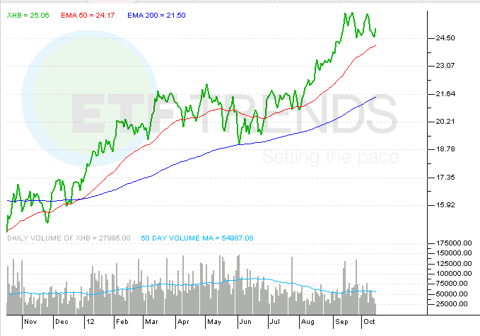 Tisha Guerrero contributed to this article.
Disclosure: I have no positions in any stocks mentioned, and no plans to initiate any positions within the next 72 hours. I wrote this article myself, and it expresses my own opinions. I am not receiving compensation for it. I have no business relationship with any company whose stock is mentioned in this article.