By Paul Baiocchi
A crumbling rand has real implications for investors holding gold miner funds.
A massive strike at platinum mines in South Africa has set off a domino effect, inspiring similar strikes at properties mining everything from gold to chromium. For investors holding gold mining ETFs, this should set off alarm bells.
That's because the labor unrest currently enveloping South African mining properties has sent South Africa's currency, the rand, into a tailspin. Last week, the currency hit a three-year low, and there's no bottom in sight.
Since a fair amount of the world's precious metals production comes from South Africa, investors in gold mining ETFs need to take a step back to re-evaluate how the currency risk will impact their portfolios moving forward.
Since March 1, the rand has fallen 16 percent against the U.S. dollar, and more than half of that loss has come in the past month alone.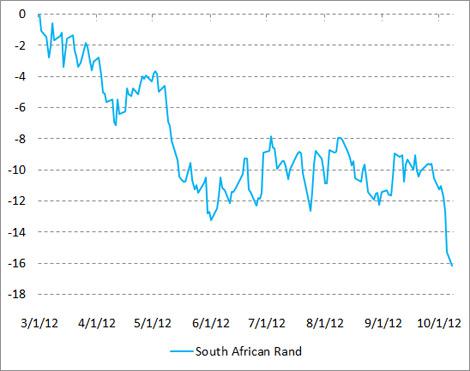 Six gold miner ETFs currently compete for investor dollars, with subtle differences among them that produce different portfolio exposures.
Of the six funds, only one-the Global X Gold Explorers ETF (NYSEArca: GLDX)-has no exposure to South Africa. Among the other five, only one-the Market Vectors Junior Gold Miners ETF (NYSEArca: GDXJ), has less than 10 percent of its portfolio in South Africa.

What separates GDXJ and GLDX from their competitors is the mandate each fund follows. GDXJ targets junior gold mining companies, the majority of which are still in the exploration phase and haven't begun producing. GLDX only targets exploration firms, hence the moniker "Gold Explorers."
Going back to the currency risk, these two funds also avoid exposure to the rand. But they take on the risk of holding firms in their infancy. In other words, you are trading one risk (currency), for another (viability).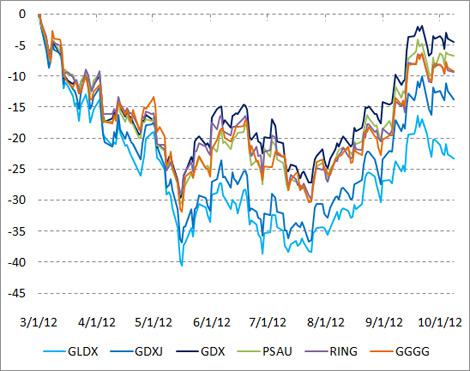 That trade-off hasn't been worthwhile, as GDXJ and GLDX were the two worst performers since March-even after accounting for the negative impact of the rand's free fall on the broader portfolios of funds like the Market Vectors Gold Miner ETF (NYSEArca: GDX) and the Global X Pure Gold Miners ETF (NYSEArca: GGGG).
Moving forward, it remains to be seen if there will be any resolution to the labor disputes in South Africa. If the negotiations and violence are protracted, the rand's sell-off could continue indefinitely.
Unfortunately, those looking to play a run-up in gold prices via the equity market will have little shelter from the storm unless they shift gears and buy the metal itself, or are comfortable making a higher-beta bet via the riskier, early-stage mining firms.
If only it were easier.