On Thursday, search giant Google (NASDAQ:GOOG) will report its fiscal third quarter results. The quarter's results will include Motorola Mobility results, so expectations may appear very high at first glance. Google has definitely transitioned in recent times, which means investors will need to realize things are changing. Certain numbers Google put up in the past won't be repeated. As Google approaches its earnings report, shares have soared in recent months, although they are off recent highs. But the huge rally means that investors will be expecting a lot, and Google will need to prove it is worth current prices. Here's a look at some things to expect on Thursday.
Past Results / Margins:
The first table I will present shows Google's GAAP and non-GAAP revenues and earnings for Q3, over the past three years. Remember, Google presents revenues on a GAAP basis, without deducting traffic acquisition costs. After subtracting those "TAC" as they are known, you are left with non-GAAP revenues.

As you can see, the Q3 results from 2011 were $7.51 billion in non-GAAP revenues and $9.72 in earnings per share. I referenced the non-GAAP numbers because analyst estimates are based on non-GAAP results. I cannot briefly explain why non-GAAP earnings are higher than GAAP earnings, as compared to the difference in revenues. For those looking for the explanation, I would suggest looking at the reconciliation Google provides in its earnings reports. Here's the third quarter of 2011 results.
The table below shows Google's Q3 margins over the past three years. As Google's income statement is presented on a GAAP basis, the margins below are GAAP margins.

Google's operating margins declined by 3.5 percentage points in Q3 of 2011 as the company saw large increases in R&D and sales and marketing expenses. Google's margins are expected to take a Q3 year over year hit when Google reports on Thursday. First, Google has launched its Nexus tablet. Tablet margins aren't large, as evidenced by the fact that Apple's (NASDAQ:AAPL) iPad has gross margins about half those of the iPhone. Apple's iPad gross margins have been in the high 20s to low 30s, percentage wise. If Google sells a few hundred thousand tablets, the impact on margins shouldn't be too much. However, should they sell a few million, the margins will be impacted a bit more.
The second issue with margins is the acquisition of Motorola Mobility. When I analyzed Google's Q2 results a few months ago, I mentioned that Google saw a year over year decline, before the addition of the Motorola results. When including Motorola results, Google's gross margins declined by nearly 5 full percentage points. Operating margins fell by more than five full percentage points. Google's margins are likely to see a similar contraction this quarter, but the question will be how much.
Google's Nexus has certainly heated up the tablet wars, as Apple is now expected to launch a mini-iPad during the next few weeks. The mini-iPad is expected to be priced higher than Google's Nexus and Amazon's (NASDAQ:AMZN) Kindle Fire HD. However, Apple sizing down the iPad will definitely put some heat on Google. Google might need to reduce the price of the Nexus, or increase its marketing expenses to sell more units. Either way, margins could see more contraction as Google aims to compete in this ever competitive space.
Q3 Expectations:
Analyst estimates are based on non-GAAP results. For the third quarter, analysts are expecting revenues to grow by 58.3% to $11.89 billion. The revenue range is from $10.8 billion to $12.94 billion. In terms of earnings per share, analysts are looking for $10.56, compared to the prior year period of $9.72. The range from analysts is $6.55 to $13.00.
Stock Price Rise:
It has certainly been a good ride for shareholders of Google. Three months ago, shares were trading at just $575. On Monday, Google closed just under $741, a rise of nearly 29% in three months. Google is also off its recent high around $775, so shares were even higher.
Google's rise has really pushed its valuation higher, especially when you compare it to Apple. Google is trading at 15 times forward (2013) earnings, compared to Apple, which is trading at under 11.9 times forward earnings (ending in September 2013). While Google is expected to show more forward revenue growth (26.7% non-GAAP) than Apple (23.9%), Apple is expected to show more forward earnings growth (20.3%) than Google is (16.3% non-GAAP). Also, remember that the valuation above is based on non-GAAP estimates for Google. Should you use GAAP earnings, the Google valuation would be even higher.
The valuation argument is even less in Google's favor when you also consider that Apple now pays a dividend, yielding 1.67%. Also, Apple is buying back some stock, not enough to get the share count down, but enough to offset some of the executive options dilution. Google is not paying a dividend, and is not buying back shares, so Google's share count is rising each quarter. That means that earnings per share are not growing as fast as net income is.
The huge rally means that investors will be looking for good results on Thursday, and Google must deliver. If Google can produce a good quarter, shares are likely to hold current gains and perhaps retest the $775 high and maybe even $800. But if Google's results don't come in as expected, a good chunk of this rally is probably wiped out. That probably means we go back below $700, with a potential bottom at either $650 or $675. More on Google's post-earnings move in the next section, and you might find the numbers surprising.
Post-Earnings / Potential Trades:
People always ask me how to trade earnings reports for every company I preview, so I'll have a brief discussion here. I'm not convinced that in Google's case playing it with equities is the best trade. First, you have to get the direction right. Secondly, with shares trading for $741 a share, it does take a bit of money to build a position.
So how about options? It's probably the best way to play Google earnings. If you have a strong opinion of which way the stock is going, then by all means buy calls or puts. That's not where I'm looking currently. I have a slightly different viewpoint.
Google does tend to have some pretty big post-earnings move, so buying a straddle might be the best way to play it (buying an equal number of calls and puts at the same strike). If Google moves enough in either direction, you make money. Before I explain how I would make the trade, I want to show you the last 10 post-earnings moves for Google.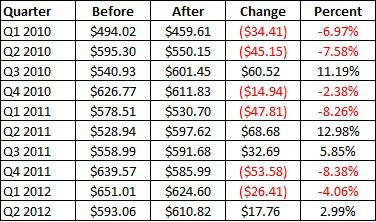 The average move for Google has been $40.20, or 7.06%. That's quite a big move, and consider that Google is now trading another $150 above where it was at Q2 earnings. If Google moves 7% this time, you are looking at a move of more than $50.
Currently, a $740 strike straddle (the closest strike to Google's close Monday) would cost about $41, for weekly options. That is a bit expensive, and would require a decent size move for profits. However, you will have a few factors changing things before Thursday. Obviously, the price will change. But you also will see the options become cheaper due to less of a time premium, and more expensive probably due to increased volatility into earnings.
That's why I would recommend a straddle on Google, but only if the weekly options at the strike come down in price. If it costs $40 or $50 for a straddle, it's probably not worth it given you only have one day for things to move. But if the price comes down to $25-$30 range, or even slightly above that, it might be worth a look.
Final Thoughts:
The recent rise in Google shares means the company has a lot to prove on Thursday. We will see a nice rise in revenues as the Motorola Mobility acquisition is factored in. However, margins are expected to come down due to the Nexus table and Motorola. Google shares currently trade at a rich premium to Apple, and it will need to justify that premium with good results. Those looking to trade Google through earnings might want to go with options, depending on prices.
Disclosure: I am long AAPL. I wrote this article myself, and it expresses my own opinions. I am not receiving compensation for it (other than from Seeking Alpha). I have no business relationship with any company whose stock is mentioned in this article.
Additional disclosure: Author may sell out of AAPL position within next 72 hours. Additionally, author may initiate a long or short position on GOOG over the next week.