As a dividend growth investor, I am interested in the stocks of companies that have track records of paying uninterrupted and increasing dividends for many years. When I see that companies such as Coca-Cola (NYSE:KO) and Johnson & Johnson (NYSE:JNJ) have increased their dividends every year for the past 50 years, I interpret those dividend growth streaks as signs that the companies have established long-term, shareholder-friendly dividend policies. As long as their revenue and earnings continue to grow at steady rates, these companies are likely to continue growing their dividends. Many investors desire this kind of predictability and stability, especially retirees who depend on dividends to supplement their incomes. As a result, there is often a special focus on companies with long dividend growth streaks, which are referred to as Dividend Champions or Aristocrats.
Of course, the length of the dividend growth streak is not the only criterion by which dividend growth investors assess a company. Another important factor is the dividend growth rate, abbreviated DGR. Many investors seek companies with DGRs that beat inflation, thereby preventing their dividends from losing purchasing power over time. In a previous article I showed that past DGRs (from 1991-2001) were modestly predictive of future DGRs (from 2001-2011), with the caveat that companies with relatively high past DGRs were generally unable to maintain them at such high levels in the future. This raises an interesting question: Is there an overall trend for DGRs to decline as dividend growth streaks become longer? The purpose of the present article is to answer this question by examining the relationship between DGR and length of the dividend growth streak.
Dividend Growth Analysis
My analysis used data from the latest version of the Dividend Champions, Contenders, and Challengers spreadsheets maintained by David Fish and available online. The spreadsheets track companies that have dividend growth streaks of at least 5 years. I extracted two key pieces of information for each company: the length of its dividend growth streak (in either fiscal or calendar years, whichever was longer) and its 5-year DGR (from 2006 to 2011). Note that I excluded 38 stocks among the Dividend Challengers that did not start paying dividends until after 2006. I ended up with a total of 432 companies, each of which has its 5-year DGR plotted against the length of its dividend growth streak in the figure below.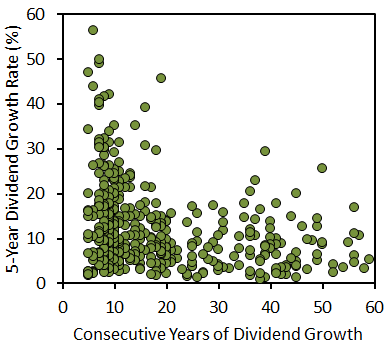 It is evident that there are more companies with relatively short dividend growth streaks (less than 15 years) than long streaks. However, 105 companies (the Dividend Champions) have streaks of at least 25 years. Only a few of the Dividend Champions have 5-year DGRs above 20%, whereas several companies with shorter dividend growth streaks do. Overall, there appears to be a modest trend for DGRs to get lower as dividend growth streaks get longer. This observation is supported by a negative correlation of -.27 between the variables, which is statistically significant (t-test: p < .001). The trend is easier to see in the next figure, which plots the average 5-year DGRs when the companies are partitioned into 5-year groups based on the lengths of their dividend growth streaks. (The numbers above the x-axis indicate how many companies are in each group.)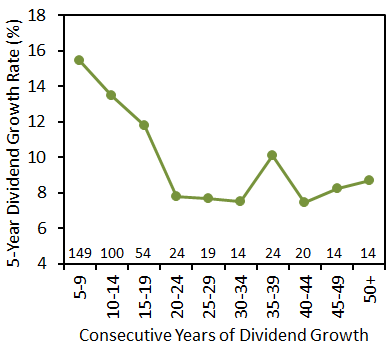 The figure shows that the average DGRs are highest for the companies with the shortest dividend growth streaks. As the streaks increase from 5 to 20 years, there is a decline from double-digit to single-digit DGRs. However, as the streaks increase beyond 20 years, DGRs tend to remain in the high single-digits. Thus, to answer the question posed earlier, there does indeed appear to be an overall trend for DGRs to decline as dividend growth streaks get longer, but once a streak extends at least 20 years, there is no evidence of a continued decline.
Additional Considerations
When thinking about the results, it is important to consider the following points:
The overall trend may not be representative of individual companies. For example, utilities may exhibit low but steady dividend growth for decades. Companies in cyclical industries may vacillate between periods of weak and strong dividend growth that mirror volatility in earnings growth. A company that has had modest dividend growth for several years may undergo restructuring that results in a more profitable business and higher dividend growth going forward. Thus, one should bear in mind each company's unique circumstances and how its long-term prospects might affect its future dividend growth.
The length of a company's dividend growth streak should not be confused with how long the company has been paying dividends. This point is particularly relevant for short dividend growth streaks. For example, General Mills (NYSE:GIS) and Intel (NASDAQ:INTC) both have 9-year dividend growth streaks. However, General Mills has paid dividends without interruption or reduction for 113 years, whereas Intel has been paying dividends for only 20 years. There are dozens of companies that have long dividend payment streaks but short dividend growth streaks due to occasional dividend cuts or freezes.
The preceding points suggest one possible explanation for the higher average DGRs among companies with shorter dividend growth streaks: After a period of weak or null earnings growth during which the dividend was cut or frozen, a company may "right the ship" and experience a substantial and sustained improvement in earnings that permits a period of strong dividend growth. After a few years, this would result in a short dividend growth streak with a high DGR. However, earnings cannot grow at a strong clip indefinitely, so there would eventually be some attenuation. After a few decades, this could result in a long dividend growth streak with a more modest DGR. While this explanation may apply to some companies, it is probably not the entire story behind the trend shown in the figures.
Conclusion
The results of this analysis indicate that DGRs tend to decline as dividend growth streaks get longer, but once a streak goes beyond 20 years, there is no evidence of a continued decline. Of course, even after decades of dividend growth, there is no guarantee that the streak will be extended. Longtime investors in Bank of America (NYSE:BAC) and General Electric (NYSE:GE) are all too aware of that reality. For that reason, regardless of the length of a dividend growth streak, I recommend that investors always perform their due diligence to assess whether a streak is likely to continue and whether future dividend growth is likely to occur at a satisfactory rate.
Disclosure: I am long GIS, INTC, JNJ, KO. I wrote this article myself, and it expresses my own opinions. I am not receiving compensation for it (other than from Seeking Alpha). I have no business relationship with any company whose stock is mentioned in this article.