We continue to look for high-quality dividend growth ideas in a low-interest rate environment. Today we will analyze Microchip Technology (NASDAQ:MCHP) and determine if this is a quality dividend idea for your portfolio. Microchip is expected to report third-quarter earnings on November 11, 2012.
A Quick Look At Microchip Technology Stock
The stock trades at around $32, versus its 52-week range of $30.23-$38.87. It trades at a P/E multiple of 15.7 times and a forward P/E of 13 times. The stock yields 4.4% compared with other stocks in its peer group such as Linear Technology (NASDAQ:LLTC), which yields 3%, Intel (NASDAQ:INTC), which yields 4%, and Analog Devices (NASDAQ:ADI), which yields 3.2%.
Fundamentals That Support a Strong Dividend Growth Story
Microchip has a strong balance sheet with $780 million in cash and cash equivalents, and long-term debt of $357 million in the form of Junior Convertibles due 2037. Additionally, the company has a $750 million credit facility, which remains unused as of June 30, 2012.
As per management, the SMSC integration is expected to accrete $0.32 in 2013. The synergies are expected to have a positive impact on top line growth.
The company's 16-bit and 32-bit businesses have shown quarter/quarter growth, positioning itself to capture market share
Microchip has continued to grow its dividend per share through the years with a current payout of 35.1 cents
Microchip has a history of generating strong cash flow. During the announcement of Q1-2013 results, management stated that net cash generation during the September quarter will be approximately $100 million prior to dividends and acquisition activities.
We conclude by saying that Microchip Technology has several long-term positive catalysts, which support a dividend growth story. Additionally, a strong balance sheet, and cash flow generation provide a floor for the stock. The risk in investing in Microchip remains acquisition integration issues, continued macro weakness, and loss of market share.
To find additional dividend ideas for your portfolio, look here.
The chart below compares share performance over the past year. The letter "D"s mark dividends paid.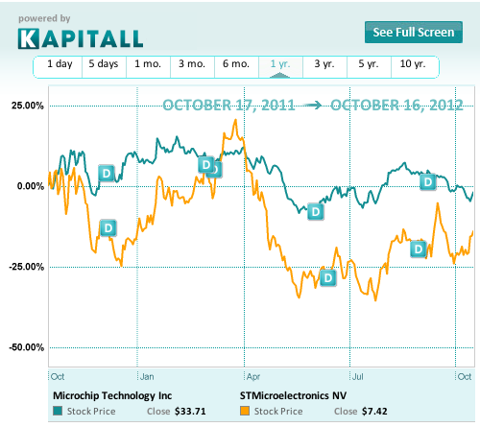 Written by Kapitall's Sabina Bhatia. Tool provided by Kapitall.
Disclosure: I have no positions in any stocks mentioned, and no plans to initiate any positions within the next 72 hours.
Business relationship disclosure: Business relationship disclosure: Kapitall is a team of analysts. This article was written by Sabina Bhatia, one of our writers. We did not receive compensation for this article (other than from Seeking Alpha), and we have no business relationship with any company whose stock is mentioned in this article.