1/15/13 Author's Note: This article was originally titled "Amherst College: Aaa Rating + Negative Outlook = Monthly Coupon." At the time of publication, through mid-November several brokerages were supplied an incorrect listing for the bonds.
Today I spoke to Amherst's treasury, a broker and the organization that may have filed the incorrect listing. The broker got down to the bottom of the erroneous Amherst College bond information:
Checked with our vendor, they use a vendor for product description. The first month or so was showing monthly pay, up until sometime in November, then it was changed to semiannual. The vendor they use had it wrong at first… chalk it up to human error.
The listing agency said they are not handling these bonds any more. Amherst's treasury did not realize an error had been made, they explained the College does issue some monthly coupon muni. bonds.
No, I hadn't heard anything about that… We have some weekly and daily traded bonds that have monthly coupons, they are tax-exempt...
This article has been updated accordingly, mention of 'monthly coupon' has been replaced with the accurate semiannual coupon information. The example, and consideration of a minimum allocation to these bonds remains the same.
Amherst College Series 2012A
Amherst College issued $100M in taxable Corp. bonds on October 2, 2012, their first coupon payment is November 1, 2012. These callable bonds are currently trading slightly under par on the secondary bond market. They have a sinking fund and begin redemption in 2033:
| | |
| --- | --- |
| Date | Price |
| 11/01/2033 | 100.000 |
| 11/01/2034 | 100.000 |
| 11/01/2035 | 100.000 |
| 11/01/2036 | 100.000 |
| 11/01/2037 | 100.000 |
Last month, it was reported that S&P cut Amherst's credit rating to AA+. Moody's took Amherst off of a possible downgrade watchlist and maintained a negative outlook and Aaa rating.
The Amherst bonds have a minimum purchase requirement of five bonds. Let's compare the new Amherst bonds to callable Harvard taxable bonds and zero coupon US treasuries. I am also adding Ford (F) and Goldman Sachs (GS) bonds for yield, though they carry more risk:
| | | | |
| --- | --- | --- | --- |
| | credit rating | price | yield |
| Amherst College Tax Bd-2012A 3.794% 2042, Sink 11/01/33@Par, Make Whole Call (cusip: 898361AM2) callable, sinking fund | Aaa/AA+ | 99.75 | 3.80% |
| President&Fellow Harvard Coll Txbl Bd-10C 4.875% 10/15/2040, (cusip: 740816AH6) callable, sinking fund protection | Aaa/AAA | 124.54 | 3.54% |
| U S Treas Sec Stripped Int Pmt Tint 0.00000% 11/15/2040 (cusip: 912834JH2) | Aaa/AA+ | 42.26 | 3.09% |
| U S Treas Sec Stripped Int Pmt Tints 05/15/2042 (cusip: 912834LK2) | Aaa/AA+ | 40.10 | 3.11% |
| Goldman Sachs Grp Inc MTN Be Fr 5.75% 11/15/31, Survivor Option, Monthly Cpn (cusip: 38141ES67) call protected, sinking fund protection | A3/A- | 109.86 | 4.95% |
| Ford Motor Credit Co LLC* Nt 5.875% 2021 (cusip: 345397VU4) call protected, sinking fund protection | Baa3/BB+ | 116.53 | 3.65% |
*Note the Ford Motor Credit Co. bonds are currently on the market with a minimum of 200 bonds. Here is a list of recent trades on the Ford bonds.
Going Long Amherst
Today, when I reviewed the secondary market the Amherst bonds stood out, and I bought some of them. I used profit from stocks to offset Amherst's low yield. This seems to be the only way to make the low yield and risk that the bond's price will fall worth while.
For instance if 30-yr. interest rates go back to 4.5% a 3.79% bond will fall out of favor. However 3.79% today is appealing because the 30-yr treasury rate is 2.83% (note zero coupons yield more.)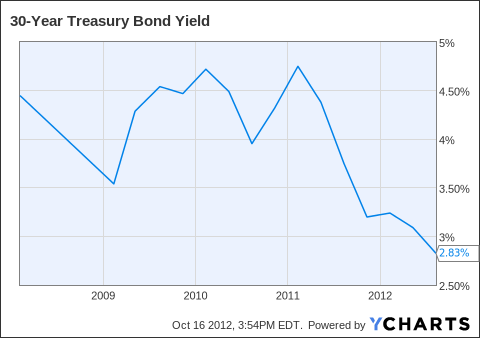 30-Year Treasury Bond Yield data by YCharts
Amherst College's 2011 financial report shows a $2.1B increase in Amherst's total assets and $1.3B increase in endowment funds since 1991:
| | | |
| --- | --- | --- |
| | 2011 | 1991 |
| Total Assets | $2.46B | $362M |
| Endowment Funds at Market | $1.6B | $268M |
This is a nice increase in Amherst's endowment in 21 years in my opinion. The Bureau of Labor Statistics inflation calculator shows that $268M in 1991 has the same buying power as $455M today. Clearly Amherst has outpaced inflation, though past performance can not ensure future results.
IRA vs. non-retirement account
The Amherst College bonds may be a stronger component of an IRA, because the income is taxable. Five bonds will generate $189.70 a year until the sinking fund redemption begins in 2033. Given the current 28% income tax rate, married couples filing jointly, earning around $100,000 a year, would be taxed $47.42 on the Amherst income, in a non-retirement. This leaves $142.28 in income, or $71.14 semiannually.
An IRA not subject to income tax would retain the full amount of Amherst semiannual income. To put this in perspective, 5% of $5,000 would be $125 semiannually. (Remember the Amherst College bonds have a five bond minimum.)
Simply put, if I did not have profit to offset Amherst College's low yield, I would not have bought them. The Amherst College bonds yield more than the Harvard bonds, with no premium. They yield more than the zero coupon US treasuries, though the zeroes do not pay income. Currently it is easy to sell zero coupons if there is profit, however they too will go down when rates go up, relative to their date of maturity.
Terras Irradient: Amherst Centered Position
I'd like to underscore that the bonds should only be considered if $94.85 semiannually for 20 years is worth $5,000 locked in today, (keep in mind the sinking fund redemption.) For this example I will use $250,000 and $1M portfolios, where $5,000 is 2% and 0.5% of the total portfolio. I will also include zero coupons, Goldman Sachs and Ford Motor Credit Co. bonds.
| | | | | | |
| --- | --- | --- | --- | --- | --- |
| | Amherst College 3.79% 2040 | Goldman Sachs 5.75% 2031 | Ford Motor Credit Co. 5.87% 2021 | US Treasury 0% 2040 | Total / % |
| $250,000 | $5,000 | $2,250 | $2,380 | $860 | $10,490 / 4.1% |
| $1M | $5,000 | $5,625 | $5,950 | $1,720 | $18,295/ 1.8% |
*These amounts are allowing some room for commissions and interest.
You will notice the allocation to Amherst College remains at the minimum for the two examples. There are two zero coupons in the $250,000 portfolio and four in the $1M. This example attempts to balance quality and yield; the allocations are meant to be conservative considering interest rate uncertainty and low yields.
For now Amherst's bonds are noteworthy because they yield 33% more than the current 2.83% 30-yr treasury bond yield. Keep in mind if Moody's joins S&P and downgrades Amherst the price of the Amherst bonds should fall further. However, it is a good sign that Moody's left Amherst's Aaa rating in place for now.
If you have any thoughts regarding Amherst College's new bonds please comment below.
Disclosure: I am long F, and I am long Ford, Goldman, Harvard and Amherst Corp. bonds. I wrote this article myself, and it expresses my own opinions. I am not receiving compensation for it (other than from Seeking Alpha). I have no business relationship with any company whose stock is mentioned in this article.
Additional disclosure: This article is not a recommendation to buy or sell. Please consult a financial adviser to determine proper allocations, if any, to meet your own objectives.