Facebook (NASDAQ:FB) investors need to brace themselves for a historic flood -- of shares -- that will become tradable over the next three months. There are three lock-up expirations before year-end that will unleash an additional 1.2 billion shares on the market. This represents a 89% increase in float from today's level. Economics 101 (supply & demand) suggests that the stock price will come under pressure as the supply of shares available to trade balloons.
Here's a visual representation of the coming flood: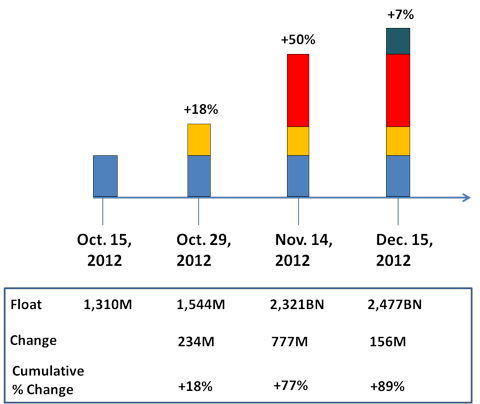 There are three expirations before year-end, October 29th, November 14th, and December 15th that will enable employees and venture capital investors to sell stock. The most important expiration is November 14 when 777 million shares unlock. This represents a 77% cumulative increase from today's float. Here's the SEC filing that lays out the details.
To put this in perspective, just the incremental 1.2 billion shares that become tradable through year-end is more that the total shares outstanding for Amazon (NASDAQ:AMZN), Google (NASDAQ:GOOG), Salesforce (NYSE:CRM), LinkedIn (LNKD) and Rackspace (NYSE:RAX) combined!
Another way to assess the sheer magnitude of Facebook's outstanding share count is to compare the company against other technology companies known for aggressive stock option issuances. Incredibly, Facebook's share count dwarfs some of the largest and most established technology companies in the world.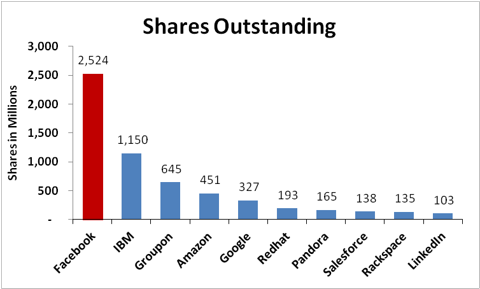 Not only does so many shares available to trade reduce the scarity value of the stock (implying a lower P/E), I argue that Facebook has abused to the concept of using stock options (or restricted stock units) to compensate employees. The cynic will contend that this is also a way for Facebook to show better margins by "hiding" operating costs in stock-based compensation. I think there is some validity to that claim and it behooves investors to conduct a deep-dive into a company's financials to get a better understanding of the true economics of the business model and fully understanding how many investors have "claim" to the equity value.
Regardless on your view of Facebook's use of stock option and RSUs, the fact remains the same: the company has an astonishingly high fully diluted share count.
My Approach to the Stock:
I will be avoiding this stock until early December, waiting for simple Econ 101 (supply & demand) to push the stock lower. Furthermore, with nearly everyone losing money in the stock this year (see below), I suspect there will be heavy tax-loss selling that will further depress the stock price heading into year-end. I'm likely to take a serious look at building a position into this pressure, and likely in the $16 range.
In my mind, employees will be eager to sell once the lock-up expires simply based on the trajectory of the stock. Looking at this stock chart, it's a rational thought process for employees that have a large percentage of their wealth tied up in company stock to lock in some profits, even at these low levels.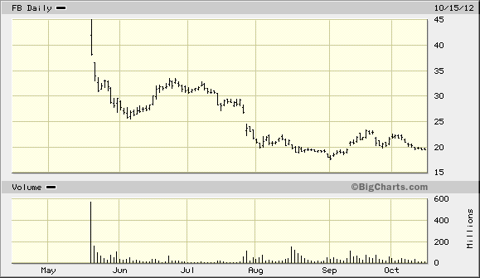 The Upside:
In the SEC filing, Mark Zuckerberg mentioned that he will not be selling any shares for at least the next 12 months. Additionally, if employees are more patient than I anticipate, there may not be as much selling pressure from the lock-up expiration.
It's also in management's best interest to post a strong Q3 in order to provide momentum for the stock heading into the "flood". By doing everything possible to impress Wall Street with its Q3 report, it would be like a white water rafting guide hitting a Class 5 rapid with speed to control the direction of the raft. Hence, a strong quarter (and guidance) will help minimize the selling pressure.
Disclosure: I am long RAX. I wrote this article myself, and it expresses my own opinions. I am not receiving compensation for it (other than from Seeking Alpha). I have no business relationship with any company whose stock is mentioned in this article.