Silver Wheaton (SLW) provides a great investment opportunity for those cautious investors who want to gain exposure in silver but do not want to invest in spot silver (because of silver's volatility). SLW has both upside potential and downside protection with long term contracts to buy silver at low fixed prices (reducing the risks associated with silver miners), and additional supply coming from recent acquisition of HudBay's (NYSE:HBM) mines.
Silver was the star performer in Q3'12 among the precious metals' basket, gaining as much as 25 percent in the third quarter. YTD the commodity is up by 20 per cent, against 11 per cent in Q3 and 8 per cent YTD gains in gold (NYSEARCA:GLD).
In the current quantitative easing infinity (QE3) environment, silver is well positioned to outperform, and as silver outpaces gold, we expect the key gold / silver ratio, one of the most followed indicators for silver prices for investors, to drop further.
As you can see from the graph below, silver outperformed gold substantially between mid-August and mid-September. In anticipation of a fresh monetary stimulus in US and Europe, the prices of most asset classes increased, including silver and gold.

Source: Kitco
The gold / silver ratio in mid-September fell to its lowest level since early April, highlighting silver's outperformance in QE3.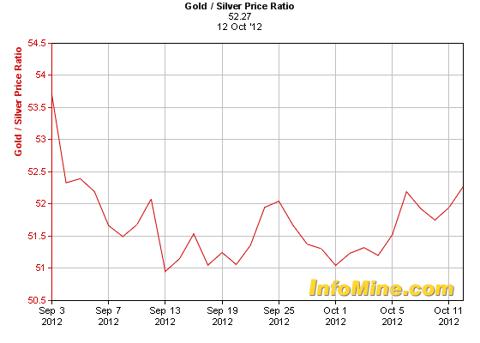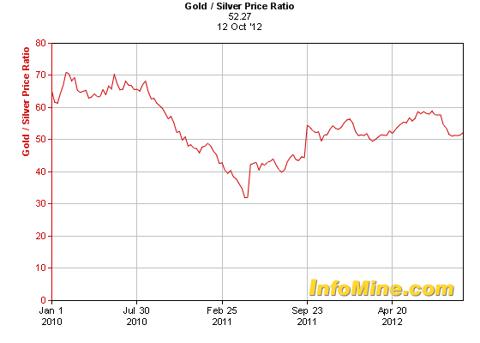 One month Gold / Silver Price Ratio (Source: Infomine) 2 years Gold / Silver Price Ratio. (Source: Infomine)
Speculative trading and violent price swings of 2011 damaged silver's appeal for investors. Many still remain cautious due to the recent surge, and the prospects for further upside has attracted some investor interest, with buying seen in silver ETF (NYSEARCA:SLV), which rose as much as 20 per cent in the last 2 months. However, prices retreated a little in the last few days.

SLV's last three months performance (Source: Yahoo Finance)
The recent decline in price can be attributed to the upbeat U.S. data with consumer confidence index at its five-year high. Combined with the continuous uncertainty due to the debt crisis in the euro zone, which helped the U.S. currency gain some strength, it put pressure on dollar-priced commodities, including spot silver, which dropped to $33.02, its lowest in one month.
Silver's Demand Sources:
Silver, unlike gold, derives its demand from both investment purposes and industrial use. According to The Silver Institute, almost half of the silver demand comes from industrial use. The remaining half is divided into jewelry and physical demand which takes up as much as 31 per cent. Photography and silverware takes up rest of the silver demand.
Silver's investment demand has improved but industrial demand remains on the lower side amid a weak global economic outlook, especially, slower than expected economic growth in China and the euro zone debt crisis. With subdued growth, silver's industrial demand would face challenges and it can put downward pressure on prices. However, Silver Wheaton has gained much in these good times.
Silver Wheaton:
Silver Wheaton , with more silver reserves than any other company, is the largest silver streaming company in the world. The company does not own or operate any mines; rather, it finances capital expenditure on the front end and then buys the precious metal at fixed low cost through long term contracts with different mining companies. With 16 separate streaming agreements in place, silver equivalent production is expected to grow substantially over the next few years as the silver production from Goldcorp's Penasquito and Barrick's Pascua Lama mines increases. Silver Wheaton's shares are listed on both the Toronto and New York stock exchanges under the symbol SLW.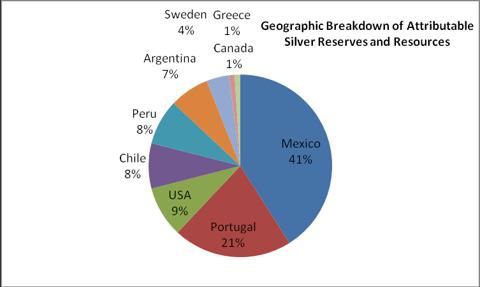 SLW reported second quarter EPS of $0.40, and given the higher average of silver prices, we expect Q3 earnings to be sequentially higher. With rising silver prices, SLW gained as much as 48 per cent in the past three months and more than 25 per cent YTD.
Part of the recent surge in share prices can be attributed to the positive reaction of the market to the recent acquisition of Hudbay Minerals. Silver Wheaton closed the deal worth $750m on 28th September 2012.
Silver Wheaton is now entitled to the entire production of two of the HBM's mines. With additional availability of the precious metal, SLW can now take further advantage of the prevailing high prices of silver. Since SLW purchases silver at low fixed prices and has long term contracts, this deal provides it with both upside potential and downside protection.
Financials
| | | | | | |
| --- | --- | --- | --- | --- | --- |
| Comp Sheet | Silver Wheaton | Pan American Silver (NASDAQ:PAAS) | Silver Standard Resources (NASDAQ:SSRI) | Endeavour Silver Corp. (NYSE:EXK) | Bear Creek Mining Corp. |
| Forward P/E (1 year) | 17.01 | 10.84 | 22.62 | 10.14 | N/A |
| PEG ratio (5 year expected) | 1 | 1.5 | 0.13 | N/A | -0.38 |
| Long-term earnings growth rate | 23.10% | 11.00% | 425.00% |   | 71.00% |
| EV/EBITDA (TTM) | 16.34 | 6.96 | 90.39 | 10.8 | -7.37 |
| Dividend yield | 1.00% | 0.90% | N/A | N/A | N/A |
| Payout Ratio | 19.00% | 4.00% | N/A | N/A | N/A |
| Share price Performance (YTD) | 25.82% | -8.01% | -3.32% | -11.19% | -3.54% |
| Profit Margin : | 73.05% | 2.01% | 47.71% | 19.61% | N/A |
| Operating Margin : | 74.97% | 36.10% | -11.30% | 33.93% | N/A |
Source: Yahoo Finance
SLW has a strong balance sheet and liquidity position with $1.10B in cash against total debt of $64.34m. It reported a profit margin and an operating profit margin of 73 per cent and 75 per cent, respectively, far exceeding its peers.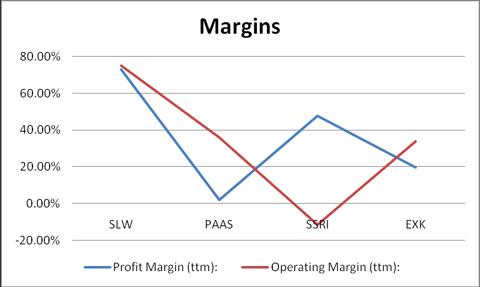 Source: Yahoo Finance
It is trading at a forward P/E of 17x. It has a significant long term earnings growth rate of 23 per cent, offers a decent dividend yield of 1 per cent and a healthy payout ratio of 19 per cent. Moreover, SLW has outperformed SLV on YTD basis by more than 15 per cent (see chart below). The only downside risk to our thesis is the weakening global economic outlook resulting in subdued industrial demand which will put downward pressure on the stock. However, for long term investors we see great potential in SLW.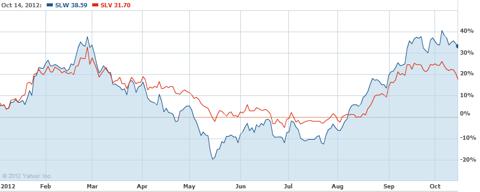 Source: Yahoo Finance
Disclosure: I have no positions in any stocks mentioned, and no plans to initiate any positions within the next 72 hours.
Business relationship disclosure: The article has been written by Qineqt's Basic Material Analyst. Qineqt is not receiving compensation for it (other than from Seeking Alpha). Qineqt has no business relationship with any company whose stock is mentioned in this article.