Stocks To Trade
Today, we are looking at an earnings trade in AOL (NYSE:AOL), longs in Mastercard (NYSE:MA) and Starbucks (NASDAQ:SBUX), and shorts in Fifth Third (NASDAQ:FITB) and Coca-Cola (NYSE:KO).
For an earnings trade, we are looking at AOL today. AOL was one of our top picks for earnings season as we believe the company has good value combined with great growth prospects for the quarter. The story in AOL is all about the turnaround led by CEO Tim Armstrong, and we believe that the stock is looking good to continue higher from here. First off, the company has transformed its image. What was once a membership internet portal is now being shifted to a news/informatino portal that is funded by internet advertising. The company has seen revenue declines drop dramatically, and they may actually see those revenues increase in 2013. Additionally, AOL looks solid due to the fact that they are going to see EPS increase from -0.02 to 0.20 in this quarter despite lower sales. The company is making money while losing sales, which is a great sign of things are moving in the right direction here. We expect a move over 40 by earnings, but we offer a more conservative way to play the stock.
Trade: AOL, Nov17, 35/33 Bull Put Spread
Max Gain: 11%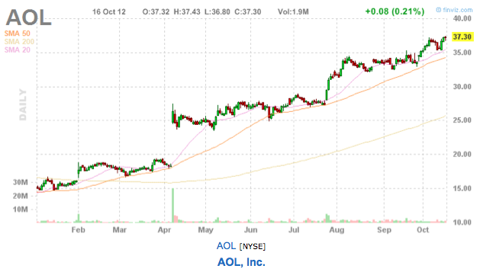 For longs, we like the looks of Mastercard and Starbucks. Mastercard is looking very solid in the midst of a strong upward channel. The company recently got a weight lifted off its back with the conclusion of a lawsuit from a group of retailers as the $6B fee was less than expected. Since that news broke, the stock has been moving higher, and it was testing previous resistance at 482 today. We believe a break of that level will be very strong for the stock. They have earnings at the end of the month, and given great results from Discover (NYSE:DFS) and expected sales/earnings growth of around 6%, we do not see any reason to expect major weakness. Watch that level to buy. SBUX is also looking strong. The company has been up and down a lot as of late with different catalysts moving it all over. Right now, we believe the company looks very strong. They are reporting that Verismo sales are ahead of expectations, coffee prices have not soared, and the company is expanding in a lot of great ways with juices, alcohol and more. We believe that the stock has shown a multiple bottom in 2012 at 44, and we like that level for forming a Jan2013 bull put spread.
Stock Trade: Long, MA
Breakout Point: 482.00
Options Trade: SBUX, Jan19, 44/43 Bull Put Spread
Max Gain: 25%
For shorts, we like the looks of Fifth Third Bank and Coca-Cola. Fifth Third has earnings on Thursday and we believe it could see another drop tomorrow. The stock was toying with $15 support today, and the company did not break it, but we would be shorting on that move. The company is not expected to show much growth in sales and in fact show a 5% drop in EPS YoY. Further, they have been recently downgraded for valuation. The stock has made quite a move over the past two months, and any signs of weakness is going to see lots of investors/traders pulling gains off the table. Finally, it was not a great report for KO. The company met expectations, but that is really just not good enough in this market. The stock lost its $38 support, and it is not looking strong right now. $40 has been a top for the stock, and we believe that level should hold moving forward.
Stock Trade: FITB, Short
Breakout point: 15.00
Options Trade: KO, Jan19, 40/41.25 Bear Call Spread
Max Gain: 11%
Tomorrow's Outlook:
The market has looked solid over the past two days, but as we have returned most of the recent losses back to the market...where do we go next? We still believe each day is going to depend on that day's reports. The market is very fickle right now and trends are not lasting long. The key right now is earnings and data. Tomorrow morning, we will get data from the housing market that will be interesting to watch. Housing Starts/Building Permits will really be key to the market tomorrow. Last month, housing data slowed, and if it shows another slowdown, it could suggest that the housing recovery is slowing and would give the market some weakness. Earnings to watch are IBM (NYSE:IBM) and Intel (NASDAQ:INTC) tonight along with Abbot Labs (NYSE:ABT), Halliburton (NYSE:HAL), and Pepsico (NYSE:PEP) tomorrow. It's a big slate of reports with key companies reporting, and that will have a big impact on tomorrow.
Our Moves/Holdings:
We had a nice day in the market as we were able to lock in a 2% gain on our trade in McKesson (NYSE:MCK). We also were able to lock in a 33% gain in an investment we held in our long-term portfolio in Domino's Pizza (NYSE:DPZ). We added a long in Visa (NYSE:V) to our Short-Term Equity as well as a long in Northern Oil & Gas (NYSEMKT:NOG) to our Earnings Alpha portfolio.
We have the following positions:
In our Short-Term Equity Portfolio we are long Visa.
In our Options Portfolio, we are long Discover, Intuit (NASDAQ:INTU), Williams-Sonoma (NYSE:WSM), Wal-Mart (NYSE:WMT) and ExxonMobil (NYSE:XOM). We are short United States Oil (NYSEARCA:USO).
In our Earnings Alpha Portfolio, we are long Northern Oil & Gas, Allstate (NYSE:ALL), Michael Kors (NYSE:KORS), Starbucks, Disney (NYSE:DIS) Travelers (NYSE:TRV), Alexion (NASDAQ:ALXN), Costco (NASDAQ:COST), Polaris (NYSE:PII), Crocs (NASDAQ:CROX), Continental Resources (NYSE:CLR). We are short Polo Ralph Lauren (NYSE:RL).
In our Goldman Sachs Up/Down Paper Portfolio, we are long Teradata (NYSE:TDC), Host Hotels (NYSE:HST), BHP Billiton (NYSE:BHP), and Netsuite (NYSE:N). We are short Mechel (NYSE:MTL).
Chart courtesy of finviz.com.
Disclosure: I have no positions in any stocks mentioned, and no plans to initiate any positions within the next 72 hours.
Business relationship disclosure: The Oxen Group is a team of analysts. This article was written by David Ristau, one of our writers. We did not receive compensation for this article (other than from Seeking Alpha), and we have no business relationship with any company whose stock is mentioned in this article.