Investors in Herbalife Ltd (NYSE:HLF) may have reservations when looking at the current state of the US consumer. After all, the economy appears to be entering a recession, housing prices have taken out a significant source of funding, and employment numbers are beginning to look less attractive. So one might assume that with a declining environment that consumers would be less likely to spend discretionary income on dietary supplements.
However, there is another factor at work which is strongly benefiting this multi-level marketing corporation. As people become less comfortable with their standard of living - or face the prospect of losing full time employment, many are looking for creative opportunities to increase their personal income. Herbalife is capitalizing on this entrepreneurial shift and recruiting individuals to serve as a growing salesforce for the company's products.
The multi-level marketing arrangement basically allows Herbalife to expand its salesforce with no up-front cost and all the benefit of this stronger selling team.  Since sellers are recruited as individual representatives of the company and are paid only based on their production, there is no cost to Herbalife unless there is also associated revenue along with the expense.  This variable expense format allows costs to stay under control regardless of business activity and creates much less risk for the overall corporation.
Looking at the most recent quarterly results, revenues beat expectations by a significant margin.  The company reported revenue of $640 million and adjusted EPS of $1.03.  Strength was attributed both to domestic sales (United States revenue was up 18%) as well as to international activity.  Of particular note, China revenue was up 125% and this was the third consecutive quarter that China has grown at a triple digit rate.  Another strong region was South America which saw sales of $94 million, good for a 47% increase.  This was due both to strong recruitment of new representatives as well as favorable currency trends.
The geographic diversification helps HLF offset risk of any particular country experiencing exceptional weakness.  Currency issues also become an important part of the stability of revenues.  Since revenues come from so many different countries, strength in one currency is usually offset by weakness in another currency; thereby creating more stable long-term trends.
During the conference call, management increased its guidance for 2008 to expected revenue of 2.47-2.51 billion and EPS to 3.64 to 93.69.  Wedbush Morgan has taken that strength and increased their 2009 expectations to revenues of $2.879 billion and earnings of $4.30 per share.  Several analysts have commented on how HLF management is typically conservative with its guidance, so investors may be relatively confident that future earnings will come in at or above guidance.
HLF has a strong balance sheet with a modest amount of debt.  Over the last several quarters, management has decided to use lines of credit to re-purchase shares, thereby reducing the share count.  This is one way many companies indirectly pay their shareholders because earnings are now spread across a smaller number of shares, making each share more valuable.  There is some speculation that the dividend will also be raised in coming quarters as the company attempts to reward shareholders.  Currently the stock trades at about 12.7 times expected earnings for this year.  That multiple is a good bit smaller when compared to expectations for next year, which implies a relatively attractive opportunity for investors.
Herbalife is a great example of a company that may look unattractive at first glance, but after peering behind the curtain and understanding its unique business model, the prospects may be better than originally expected.  The stock is trading in a relatively attractive pattern although there has been plenty of past volatility.  Still it seems worth considering when looking for companies with strong prospects for growth and a relatively low amount of risk.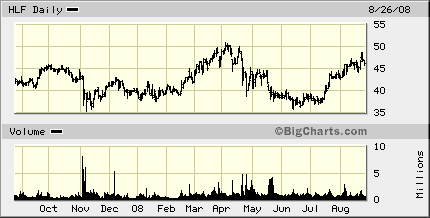 FD: Author does not have a position in HLF.