In the first article of this three part series on BBVA (NYSE:BBVA), I have already established that despite the ongoing issues in Spain and an overall decline in the quality of loans in Spain nationally, BBVA has weathered this remarkably. All of the bank's key risk indicators with regard to asset quality, along with its capital adequacy and loan-to-deposit ratio, are well within acceptable parameters. Furthermore, these clearly indicate that BBVA is well positioned to continue delivering surprisingly strong financial results as it did in the second quarter of 2012.
In this, the second part, the analysis will focus on BBVA's performance indicators and growth prospects to determine whether it currently offers any value for investors. This is because BBVA has been extremely effective in efficiently growing revenue and converting it into strong returns for shareholders, particularly through its strong, geographically diverse franchise. But it is currently unclear whether this is still the case.
Solid performance metrics despite the difficult operating environment
Despite the difficult operating environment, BBVA's consistent focus on cost control is enhancing the bank's ability to efficiently grow revenue and improve profitability. The bank has historically delivered an outstanding efficiency ratio, which despite deteriorating since the second quarter of 2011, has started to improve as the bank has renewed its focus on costs. The chart below illustrates this point.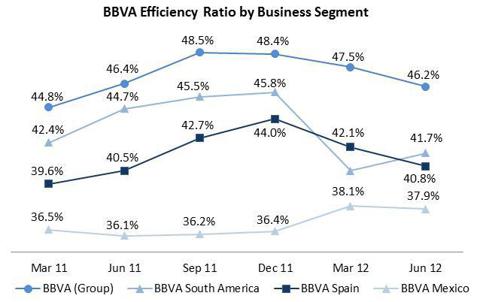 Source data: BBVA Quarterly Report January - June 2012.
Surprisingly, BBVA's Spanish business, despite the significant economic headwinds and increased costs associated with the rising provisions and loan defaults, is delivering a particularly strong efficiency ratio of around 41%. Further to this, the bank's Latin American operations are operating very efficiently, in particular its Mexican business, BBVA Bancomer, which has a comparatively low efficiency ratio of almost 38%.
BBVA's efficiency ratio also compares favorably to its key competitors, as the chart below illustrates. This can be explained by a renewed focus on cost control, particularly as a result of the ongoing economic crisis in Spain. In addition, the bank operates in a number of low cost markets including Latin America.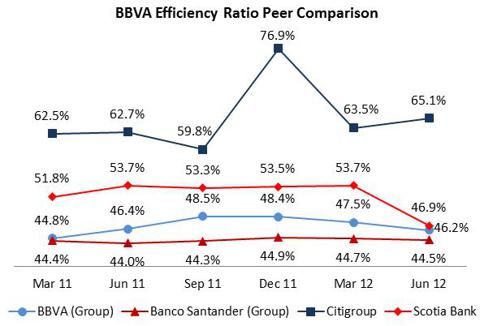 Source data: BBVA, Scotia Bank, Citigroup, Banco Santander Quarterly Reports March 2011 to July 2012.
This renewed focus on costs is also assisting BBVA in the company's mission to continue to deliver solid profitability, despite the ongoing global and Spanish economic headwinds. Despite these headwinds, the bank has still been able to deliver a moderately reasonable return-on-equity (ROE) of 7.4%, which as the chart illustrates is superior to its key international competitors in Latin America, Banco Santander and Citibank, but more than three times lower than Scotia Bank.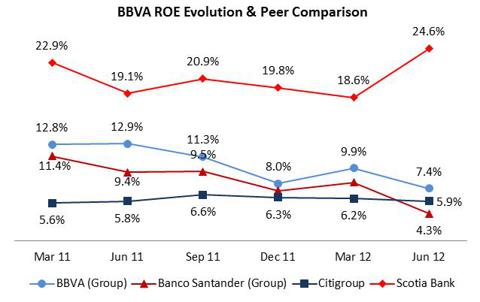 Source data: BBVA, Scotia Bank, Citigroup, Banco Santander Quarterly Reports March 2011 to July 2012.
Overall, this can be attributed to the bank's prudent risk management systems, which have allowed it to maintain high asset quality across the majority of its operations and maintain an acceptable level of quality in Spain despite the financial crisis.
The macro environment and market outlook is mixed
The macro outlook for BBVA is mixed, primarily because of its significant exposure to the Spanish economy, which contributes 32% of its revenue and 18% of its net attributable profit. Furthermore, the bank receives similar levels of revenue and attributable profit from its other European operations, which have all to some degree been affected by the European financial crisis. This has seen a number of European economies contract over the last two successive quarters as the chart below shows.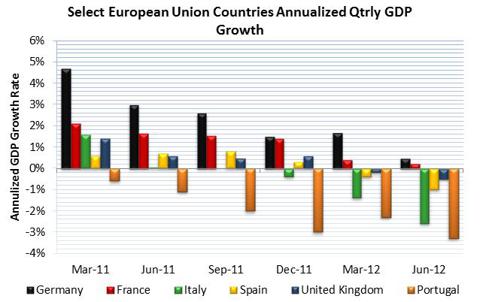 Source data: International Monetary Fund.
Obviously, this is having a direct impact on revenues, particularly in those economies that have contracted, such as Italy, Spain, and the United Kingdom. Furthermore, the deepening economic crisis and austerity measures are only serving to further reduce consumption and business activity, which along with an aggressive deleveraging process and lower risk tolerance, is significantly reducing the demand for credit across these economies.
This doesn't bode well for BBVA's revenue and profitability derived from its businesses operating in the region. Furthermore, I would expect this impact to continue for some time, with the World Bank's Chief Economist Kaushik Basu recently stating that he expects the European financial crisis and its fallout to continue for some time.
However, much of Latin America, with the exception of Brazil, has been experiencing strong economic growth despite the global economic headwinds, as the chart below illustrates.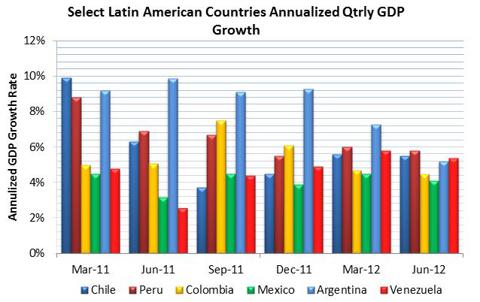 Source data: Chile, Peru, Colombia, Mexico, Argentina & Venezuela central banks.
NB: Argentina's data is unreliable and has been found to be inaccurate by the IMF.
It is also expected that the region, again with the exception of Brazil, will continue to experience higher rates of economic growth despite the global headwinds caused by Europe's financial crisis and China's economic slowdown. This is illustrated by the IMF economic growth estimates set out in the table below.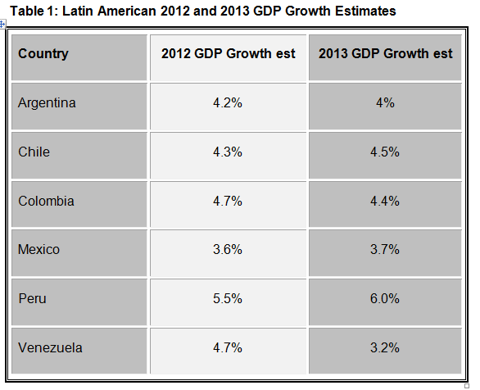 Source data: International Monetary Fund 'World Economic Outlook', April 2012.
Obviously, this bodes well for BBVA's continued growth in the region and its ongoing profitability. It also clearly illustrates the benefits BBVA is deriving from being a geographically diverse global banking operation along with the risk mitigation this delivers for both the bank and its investors.
There is still room for banking growth in Latin America, whereas the European markets are saturated
Another benefit that comes from BBVA's extensive Latin American business is that the region is significantly underbanked, particularly in comparison to the developed economies of Europe, providing significant opportunities for further growth particularly in lower cost basic deposit and credit products.
The low banking penetration in Latin America is illustrated by the chart below, which sets out the ratio of private credit to the domestic sector as a portion of GDP. It then compares that ratio for those Latin American countries where BBVA operates to its European markets.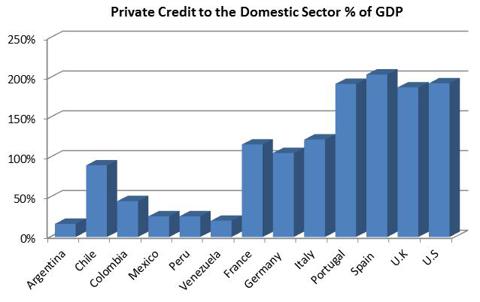 Source data: World Bank.
As the chart shows, this ratio is between 105% and 204% for the major economies in Europe as well as the U.S, whereas for Latin America the ratio is from 16% to 45%. Furthermore, it is arguable that with this ratio approaching or exceeding 200% for the developed markets, those markets are saturated and present little if any significant growth opportunities for banks in the area of traditional banking products.
This may explain the increased focus of banks on lower margin, higher cost wealth management and high risk derivatives trading activities in those markets. As a result, I would expect to see the rate of banking penetration increase in those Latin American economies like Colombia, Chile, Mexico and Peru which are continuing to experience strong economic growth that is supporting the expansion of the middle class.
Another indicator of the maturity of an economy and its financial services sector is the mortgage-to-GDP ratio. This ratio is representative of the depth of the housing market and shows the total national value of mortgages as a percentage of national GDP. A higher ratio indicates faster and deeper financial innovations in the mortgage market and more liberal financial markets.
As the chart below illustrates all of the countries in which BBVA operates in Latin America have very low mortgage to GDP ratios particularly in comparison to more developed economies such as the UK, Germany, Spain and the U.S.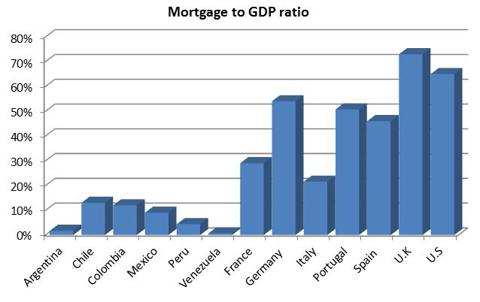 Source Data: Central Banks' financial stability and banking supervision data.
While indicating significant potential opportunities for expansion in the residential mortgage market, it also indicates the high degree of income inequality and poverty in those markets. These factors act as a partial cap on the potential development of the mortgage market in those countries and will do so until there is further growth in incomes and a broader middle class. Conversely, the higher rates seen in the U.K, Portugal, Spain and the U.S are indicative of a saturated market where financial institutions are hard-pressed to further expand market share while maintaining credit quality.
However, it is also important to note that the majority of countries in Latin America in which BBVA operates have a relatively high degree of income inequality. This is also coupled with low average monthly incomes, which obviously caps the demand for credit, increases the risk of default, and also caps the funds available for deposits. As the chart below illustrates, those countries include Peru, Colombia, Brazil, and Mexico.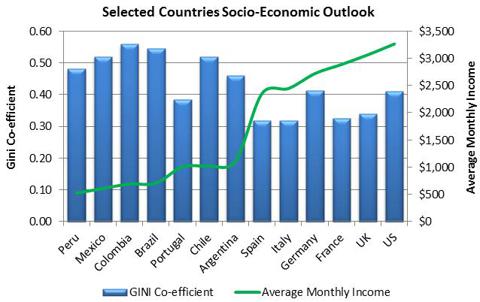 Source data: World Bank, International Labor Organization.
The chart also illustrates the correlation between lower degrees of income inequality and higher average monthly incomes, which can be attributed to those economies being more economically advanced with a broad based middle-class and an economy driven by domestic consumption rather than exports. All of which leaves those emerging economies more susceptible to economic shocks from a changing global macro environment.
Overall, I believe that all of these factors bode well for further expansion of banking and financial services in Latin America, which leaves BBVA well positioned to capitalize on that potential. This is particularly the case when the bank's solid cost control, along with its acceptable asset quality, is taken into account.
However, as the final and third part of this article will show, there are still considerable risks that could affect BBVA, particularly with regard to growing its Latin American businesses. In that article I will also value BBVA with a view to demonstrating that at its current price, despite these risks and the ongoing negative sentiment being driven by its connection with Spain, the bank is currently unfairly valued by the market.
>>> Click Here for Part 3
Disclosure: I am long SAN. I wrote this article myself, and it expresses my own opinions. I am not receiving compensation for it (other than from Seeking Alpha). I have no business relationship with any company whose stock is mentioned in this article.
Additional disclosure: I currently have no position in BBVA, but may initiate a long position in BBVA over the next 72 hours.