This is the final part of my three piece article (see part 1 and part 2) exploring whether Spanish bank BBVA (NYSE:BBVA) represents a value investment opportunity for investors. In the first two parts, I have established that despite the significant international economic headwinds in combination with the economic crisis in Spain, BBVA has been able to ensure that the quality of its assets as well as its risk indicators are well within acceptable parameters. I have also demonstrated that BBVA has continued to perform admirably, particularly when these headwinds are taken into account - unlike many of its Spanish and European peers. This includes the bank's focus on controlling costs and continuing to maximize the profitability of its credit and deposit books. In this final piece, I will outline the key risks, along with their likelihood and impact. In addition, I will also examine the bank's shareholder remuneration plan and indicative valuation in details, so as to demonstrate the significant potential upside and benefits for investors.
Despite substantial growth opportunities, the risks are still high
It is clear that BBVA is uniquely positioned to build upon its geographical diversification, which will continue to support its profitability. Despite this, there are a number of risks that still have the potential to affect the bank. The key ones: the ongoing economic crisis in Spain, increasing political risk in Latin America, and an overall lower global risk appetite with regard to the use of credit. This lower appetite for risk is the main element driving the current deleveraging process that is taking place globally across economies, financial institutions, and businesses, as well as making credit markets more expensive and difficult to tap.
The reduction in the risk appetite towards the use of credit can be primarily attributed to the ongoing European financial crisis, a series of burst credit bubbles around the globe, and the near collapse of Spain's banking system. This near collapse, like many of the now burst credit bubbles, was caused by the over-aggressive extension of credit by Spain's largely unregulated Cajas. This aggressive extension of credit was fueled by and in turn helped to fuel a speculative property development bubble in Spain, which eventually collapsed in 2007.
Spanish economic outlook is exceptional poor
The collapse of this property bubble brought many of Spain's Cajas and regional banks to the brink of collapse, and has continued to drive a growing economic crisis. This has created a significant risk in the further deterioration of BBVA's profitability, because the bank derives 8% of its attributable profit from Spain.
As discussed earlier, the Spanish economy has contracted over the first half of 2012 and this, along with further austerity measures, has seen key economic indicators worsen. These include the unemployment rate, which in August of this year was reported as being just over 25%, with youth unemployment more than double. Business and consumer confidence has also fallen to new lows and it is looking more and more like Spain will experience a lost decade economically, along with all of the social and economic consequences related to it.
This certainly doesn't bode well for the ongoing state of Spain's banking system and in particular indicates that loan defaults will continue to rise. Already this year, Spain's national non-performing loan (NPL) ratio has risen by 1.6% since the end of 2011 to a new high of 9.4% at the end of the second quarter 2012. For all of the reasons discussed, I expect this to worsen over the short to medium term, particularly as austerity measures are implemented and bite deeper.
However, I don't expect this to have a significant impact on the quality of BBVA's Spanish loan book. This is because BBVA, along with Banco Santander, was recently identified as one of the Spanish banks that did not require any additional capital even under the most adverse circumstances. The IMF's recent Financial Stability Assessment of Spain also supports this view, with both BBVA and Banco Santander passing its economic stress tests, with no need for further capital identified.
European Sovereign Debt Exposure
In light of the ongoing European financial crisis, another risk faced by BBVA is its exposure to European sovereign debt. Since my last article on BBVA, I have been unable to determine whether this exposure has changed, but reiterate that BBVA has around $85 billion in European sovereign debt. Of this, it has a total of $81 billion exposed to the PIIGS.
This exposure, while appearing to be quite large, only makes up 11% of BBVA's total assets. This, along with what appears to be a decreasing risk of default, primarily because of ongoing measures implemented by the European Central Bank (ECB) to reduce this risk, leads me to believe that it does not possess a high likelihood of occurring. However, investors need to be cognizant that the risk still exists and obviously in the event of a default by one or more sovereign nations, there will be a significant impact on the bank's profitability.
Political risk in Latin America is high
The other key risk for BBVA is the growing political risk and economic nationalism currently being witnessed in Latin America. Much of this increase in risk can be attributed to a resurgence in resource nationalism and overly interventionist economic policy combined with cultural issues relating to corruption and bureaucracy. The only real exception to this in the region is Chile. This is emphasized by the chart below from the Transparency International 2011 Corruption Perception Index, which illustrates that Chile has a lower degree of corruption than all of the other Latin American countries in which BBVA operates. Surprisingly, Chile also has a lower rating than the U.S. as well.
Transparency International: Corruption Perceptions Index 2011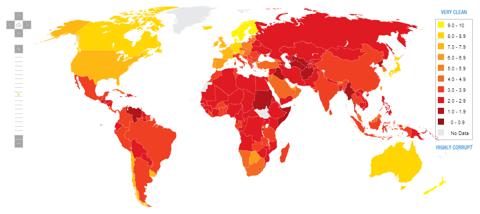 Source: Transparency International Corruption Perception Index 2011
Out of all of the Latin American countries in which BBVA operates, the highest risk countries are Venezuela, Argentina and Mexico. This is supported by the chart, which rates these countries in the moderately high to highly corrupt categories.
General risks continue to grow with a falling global risk appetite
There are also a number of general risks that have the potential to affect BBVA and its profitability. These include:
Growing regulatory risk due to a lower global tolerance for risk in banking, which is driving increased regulation and the associated cost impacts that come with it. This has in particular seen governments in Europe and Latin America become increasingly focused on ensuring their regulatory frameworks comply with international standards, all of which will more than likely increase the regulatory burden for banks operating in the region.
Any investments in emerging markets and now the eurozone as a result of the ongoing financial crisis typically carry with them a higher degree of currency risk than investments in more developed and/or stable markets.
In summary, the risks faced by BBVA are wide and varied but with the exception of the risks posed by Spain's financial crisis, they are similar to those faced by most global banks operating in emerging markets. I also believe that BBVA is managing those risks well and as we have already seen in the case of Spain, has been able to significantly mitigate the impact of the risk through strong risk management systems.
Shareholder remuneration
BBVA has a generous shareholder remuneration program in place, and has established a dividend floor of 54 cents per share or American Depositary Share (ADS). This, based on BBVA's share price at the time of writing of around $8, gives the bank a healthy dividend yield of 7%. Admittedly, this yield is not as high as Banco Santander's 8.5%, but it is superior to Scotia Bank's yield of around 4.5% and Citigroup's 0.1%.
This dividend is made of four quarterly installments, with the payment going ex-dividend on 10th July 2012 for a 7.9 cents per share net of tax. Furthermore, as the chart below illustrates, BBVA has a strong record of dividend growth, paying a steadily increasing the dividend since 2001.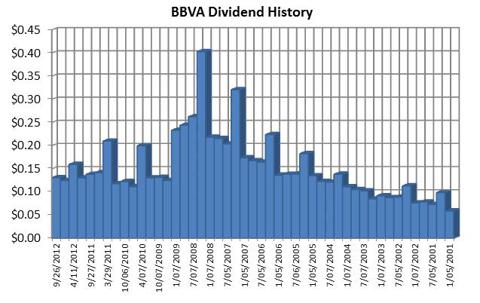 Source data: BBVA Investor Relations, New York Stock Exchange
All of these factors make BBVA in my view, a particularly attractive international banking stock for income hungry investors. But foreign investors should be aware that when investing in a Spanish company they are subject to a 21% withholding tax on dividend payments. However, BBVA offers a scrip dividend payment plan which allows foreign investors to avoid the 21% withholding tax if they purchase further ADS with their dividend or sell the right to that purchase on the market for cash.
Future outlook and valuation
The European financial crisis, along with the deepening economic crisis in Spain in conjunction with Spain's banking solvency crisis, has obviously affected the valuation of Spain's banks. This has created significant negative sentiment among investors that has impacted on the valuation of Spanish companies. However, as explained earlier in this article, all of BBVA's risk indicators with regard to its asset quality, capital adequacy and liquidity are within acceptable parameters. In addition to this, the bank's geographic diversification will continue to drive solid financial results. All of this leads me to believe that BBVA is currently unfairly valued by the market and as such represents a value investment opportunity for investors.
At the time of writing, BBVA is trading with a trailing twelve month price-to-earnings (P/E) ratio of almost 13, which makes it appear expensive in comparison to Citigroup and Scotia bank, which have TTM P/Es of 10 and 11 respectively. But this is lower than Banco Santander's TTM P/E of around 15. Despite this, BBVA is trading at a 33% discount to its book value, which, although not as high as Citigroup's discount of 45%, is commensurate to Banco Santander's 35%. It is also superior to Scotia Bank, which is trading at a premium of 84% to its book value per share.
I believe this indicates there is significant value for investors, but I am not a fan of solely valuing a business on its financial ratios alone. I have taken this view because those financial ratios are backward looking by nature and do not give a forward looking indication as to the state of the business. With this in mind, I have conducted two valuations for BBVA using two different methodologies in an attempt to find its true indicative value.
The first valuation methodology that I have applied is an excess return model. This uses BBVA's tangible book value plus retained earnings to determine the bank's true value over a ten year period, along with an indefinite future period using a discounted terminal value. For the second valuation, I have used the dividend discount model, which is generally the more accepted and popular model for valuing a bank. I have then used these valuations to form a view as to BBVA's indicative fair value.
Excess return method valuation
Using the excess earnings valuation, I have determined an indicative fair value per share of almost $17, which along with the key assumptions is set out in the chart below.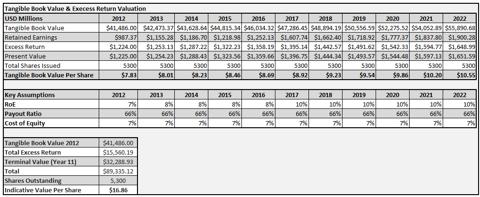 Based on this indicative fair value, with BBVA trading at the time of writing at around $8, there is a potential upside of just over 100%. It also shows that BBVA is trading at a 54% discount to its indicative fair value, which is over the margin of error typically sought when investing on the basis of this valuation methodology.
Dividend discount method valuation
The second methodology I have used to calculate an indicative fair value for BBVA is the dividend discount model. This is generally accepted as the preferred model to be used for valuing a bank. Using this method I have calculated an indicative fair value of around $15, with the calculations and key assumptions set out in the chart below.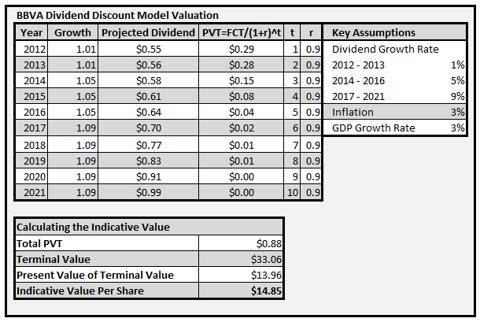 Based on this methodology, with BBVA trading at around $8, the indicative fair value represents just over a 90% upside. This can also be interpreted as the current share price being a 48% discount on BBVA's fair value. This again is close to the preferred margin of error of 50%, which means that there is still considerable upside available even if some of the assumptions used are a touch too optimistic.
However, when performing both valuations, I have used conservative assumptions for the various rates of growth and when determining the discount value. I have taken this approach in order to allow for the continued economic headwinds being created by the European financial crisis and the impact of Spain's economic crisis. Despite these conservative assumptions, it is clear that BBVA is currently trading at a substantial discount to its indicative fair value.
Bottom line
For all of the reasons discussed, it is clear that BBVA, despite rising by 46% in value from its 52 week low at the height of the Spanish banking crisis, is still a value investment opportunity. Not only are the bank's risk indicators and asset quality well within acceptable parameters, but it has adequate capital, high liquidity and ongoing opportunities for growth. Furthermore, the bank has an attractive dividend yield of around 7%, with a consistent long-term dividend payment history. This, I believe, makes quite an appealing investment for this reason alone, particularly for those investors seeking a stable income stream from a geographically diversified global financial institutions. But when this is combined with two indicative fair values derived from two different methodologies in the range of $15 to $17, which represents around a 100% upside for investors, it becomes a particularly compelling value investment.
Disclosure: I am long SAN. I wrote this article myself, and it expresses my own opinions. I am not receiving compensation for it (other than from Seeking Alpha). I have no business relationship with any company whose stock is mentioned in this article.
Additional disclosure: I currently have no position in BBVA, but I may initiate a long position in BBVA over the next 72 hours.