Zug, Switzerland-based offshore drilling contractor Noble Corp. (NYSE:NE) is scheduled to announce its third quarter earnings results on October 17. These earnings results will almost certainly be negatively impacted by a few events that have occurred over the course of the quarter. These events, which were one time occurrences, will most likely cause Noble's third quarter results to be somewhat worse than the second quarter results.
During a presentation (PDF) given on September 6 at the Barclay's CEO Conference, Noble stated that it has suffered downtime on seven rigs during the third quarter. The company specifically named these rigs:

Source: Noble Corp.
In addition to downtime suffered on these rigs, Noble also stated in the presentation that Hurricane Isaac resulted in the company suffering some downtime on its rigs that operate in the Gulf of Mexico. Hurricane Isaac swept through the Gulf of Mexico in late August, prompting advance shutdowns of several offshore drilling rigs operating in the Gulf including ones owned by Noble. Noble had eleven rigs operating in the Gulf of Mexico during the third quarter (the Noble Max Smith has since been moved to Brazil). However, the fleet status report makes no mention of downtime suffered from or as a direct result of Hurricane Isaac. Here are the rigs that Noble has in the Gulf of Mexico: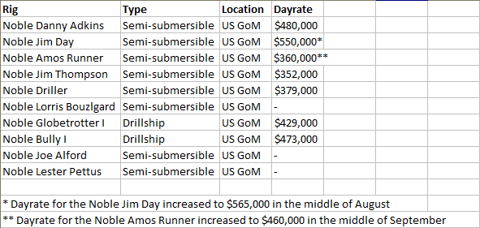 Source: Noble Corp., International Hedges
As this chart shows, Noble earns approximately $3 million per day from the rigs in the Gulf of Mexico. Therefore, downtime resulting from a shutdown of all the rigs in the region should result in lost revenue of around that level. However, in this case, Noble was still earning revenues from these rigs. Under the terms of its contracts with its customers in the Gulf, Noble collected dayrates of 90-95% of the full contract dayrate on each of these rigs during this period of downtime. The company makes no mention of this on the fleet status report however, which is odd because Noble tends to be quite thorough with that report. Noble did provide an estimate of the effect that this would have on its third quarter results, though. During the Barclay's CEO Conference, Noble stated that the total impact of maintenance downtime on the seven listed rigs and the downtime due to Hurricane Isaac is approximately $50 million of revenue.
As investors, we tend to be much more focused on earnings and cash flow than revenues and for good reason. After all, a company can be bringing in all the money in the world but if it is spent just as quickly then there is nothing left over for the stockholders. An analyst at Barclay's Capital calculated that the negative impact to earnings from this downtime is $0.10 per share this quarter. Barclay's lowered its earnings estimates accordingly, dropping from $2.90 per share to $2.80 per share. Analysts at Tudor Pickering, meanwhile, estimate a negative earnings impact of $0.08 to $0.12 per share from this downtime. Barclay's estimate is right in that range. An estimate of $0.08 to $0.12 per share seems pretty solid then.
On October 4, Noble announced that downtime has affected two additional rigs in the third quarter that were not discussed in the Barclay's conference. The details on this downtime can be found in the company's updated fleet status report which is linked to above. One of these two rigs is the drillship Noble Bully I. The Noble Bully I experienced eighteen days of downtime during the third quarter in order to complete a thruster seal replacement. The rig collected no dayrate during this downtime. Considering that the rig has a contract dayrate of $473,000, this represents approximately $8.5 million that the rig could have collected had it been operational. The other rig that experienced some downtime in the third quarter is the Noble Scott Marks. The Noble Scott Marks experienced 21 days of downtime in the third quarter. The rig collected no dayrate during that time. The Noble Scott Marks has a contract dayrate of $237,000 so this downtime has a negative impact of approximately $4.98 million that the rig would have earned had it been operational during those 21 days.
Noble's stock fell immediately following the downtime announcement. The stock has rallied somewhat over the past week or two but still remains well below the levels where it was trading back in August.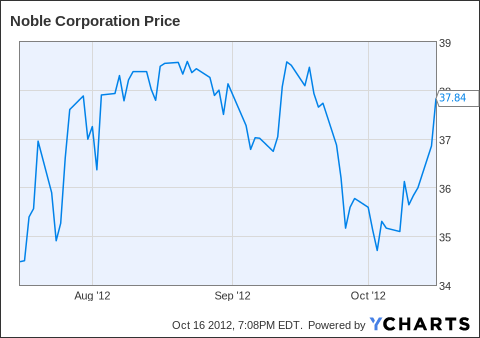 The stock could still prove to be a good buy even at these levels, however. As the Rigzone article linked above states, Barclay's Capital increased its 2013 earnings estimate to $4.35 per share. This estimate increase was largely due to news that Shell extended its contract for the Noble Hans Deul premium jack-up for an additional eighteen months. This extension period has a significantly higher dayrate than what the rig is currently employed at. Beginning in February 2013, the Noble Hans Deul will be collecting a dayrate of $242,500. This is an increase of 38.6% from the rig's current dayrate of $175,000. At current prices, the stock sells for 8.69 times 2013 earnings estimates. Noble has the potential to deliver even higher earnings in 2014 due to the company's newbuild program.
Although the stock does not look like a bad buy now at the current price, more conservative investors may want to wait and buy in on dips in order to improve their margin of safety.
Disclosure: I have no positions in any stocks mentioned, and no plans to initiate any positions within the next 72 hours. I wrote this article myself, and it expresses my own opinions. I am not receiving compensation for it (other than from Seeking Alpha). I have no business relationship with any company whose stock is mentioned in this article.