Consumption In Chile Feeds the Economy and ETF
Chile experienced rapid growth during the second quarter that could give room for its ETF to flourish, and giving the Central Bank room to raise interest rates in an effort to stave off inflation.
Chile's GDP grew 4.3% during the second quarter, higher than the anticipated 3.3%. This growth was fueled by an 11% increase in demand, and this is giving policy makers room to raise interest rates if need be.
Private consumption in Chile rose 5.9% during the second quarter, as Chileans spent 15% more on durable goods. Fixed capital also went up 23% from one year earlier due to investment in machinery and equipment.
Sebastian Lloyd for Bloomberg reports that the central bank raised the interest rate by 1.25% so far this year, to a nine-year high of 7.75%.
A quarter-point increase is expected around September when the central bank meets again.
Chile benefits from a rich supply of natural resources, including copper. The country produces one-third of the world's supply. It also trades fish, wine, pulp and paper products, fruit and chemicals.
iShares MSCI Chile Index (BATS:ECH) is down 9.2% year-to-date.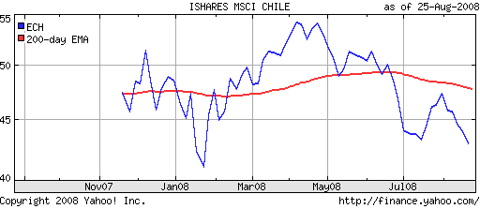 Bad News for Global Economy Is Good News for the Dollar, ETFs
The global economy is putting on the brakes, leading to a surge in the dollar and its ETFs.
The greenback is at a six-month high against the euro on speculation that as the global economy cools off, our currency will heat up, report Ye Xie and Gavin Finch for Bloomberg.
The dollar is on track for its biggest one-month gain since the euro debuted in 1999, and is at an 11-month high against the Australian dollar. It's also making gains against the New Zealand Dollar, the British Pound sterling and the Swedish krona.
The sharpest advance this month is against the Australian dollar, by 10.1%, while the slowest was 1.4% against the Mexican peso.
The PowerShares DB US Dollar Index Bullish (NYSEARCA:UUP) is up 0.3% year-to-date, and 5.2% in the last month.
ETFs that could be muscled aside by a stronger dollar include: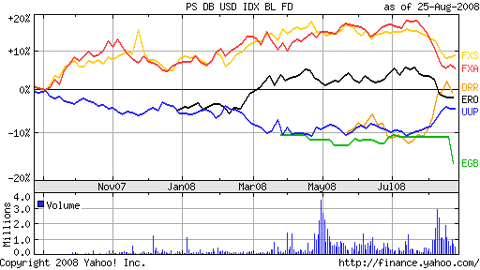 For full disclosure, some of Tom Lydon's clients own shares of UUP.
Low Demand Puts Brakes on Trucking Sector, But Transportation ETF Should Survive
Transportation stocks are having trouble truckin' on, as demand is low, but the Dow Jones Transportation Average (BATS:IYT) ETF's low concentration in trucking should insulate it.
Wachovia Corp. cut its ratings on the sector on the possibility that demand is slowing, reports Jeff Kearns for Bloomberg. The downgrade is telling, as one analyst notes that we're entering what would ordinarily be the peak shipping season.
Werner (NASDAQ:WERN), a leading trucking and logistics company in North America and China, along with Knight (NYSE:KNX), were lowered to "market perform" from "outperform," while the overall industry's rating has been reduced to "market weight" from "overweight".
Meanwhile, the S&P trucking index fell 3.9% Monday after gaining 13% this year.
Ryder System, Inc. (R), the country's largest truck-leasing company, lost the most in a month. The company is 4.8% of IYT. UPS (UPS) is also facing some woes: last month it announced a 21% drop in profit along with a hiring freeze. Rising fuel costs and reduced consumer spending are blamed for many of the troubles. UPS is 6.8% of IYT.
Fortunately for IYT, the fund isn't heavily weighted in the trucking segment of the transportation sector. However, trucking's woes could be the railroads' gain, especially since locomotives get more mileage out of a gallon of diesel than trucks do. Railroads make up much of the top holdings in the fund, including Burlington Northern Santa Fe (BNI), 11.4%; Union Pacific (UNP), 9.8%; and CSX (CSX), 5.4%.
IYT is up 10.2% year-to-date.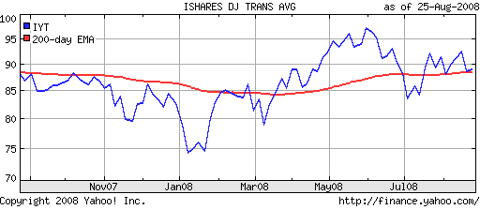 For full disclosure, some of Tom Lydon's clients own shares of IYT.