I'll be the first to admit that in the last couple of weeks my technical analysis has been all over the map in terms of near-term market direction. My long-term is solid, the markets look good after Labor Day and in the coming months. But today put a little shiver in me, even with the ultra low volume. We are at the precipice of a major breakdown in the markets. I'm not saying we will break down, I'm saying we're peering over the edge.
My most recent analysis from Sunday evening (August 24) pointed to an uptrend was likely, particularly with Apple (NASDAQ:AAPL) and the Nasdaq (QQQQ), but Monday a confluence of market nasties has nearly wiped clean that optimism. So in times like these I revert to my mantra, my time honored and trusted philosophy:
Capital Preservation First, Maximum Profits Second
Here's what I saw Monday (August 25). It started with futures slightly down, then when the market opened a wave of pessimism penetrated throughout, fueled by the continuing credit woes. We gapped down, successfully backtesting the rising wedge we broke out of last week, and we never looked back for the rest of the session, a solid red candle. 
The good Housing report had little to no affect, with any gains it produced quickly sold off. Market internals were dismal too, with Decliners pummeling Advancers by more than 3 to 1 on both the NYSE and the Nasdaq. The S&P 500 hovered above critical support at 1260, the Naz skated across thin ice near 2360, and AAPL just kept stepping down showing no leadership among the Tech heavyweights. If we lost these levels, there would be massive breakdown. The Bulls would crawl into their carapace and the Bears would have full control.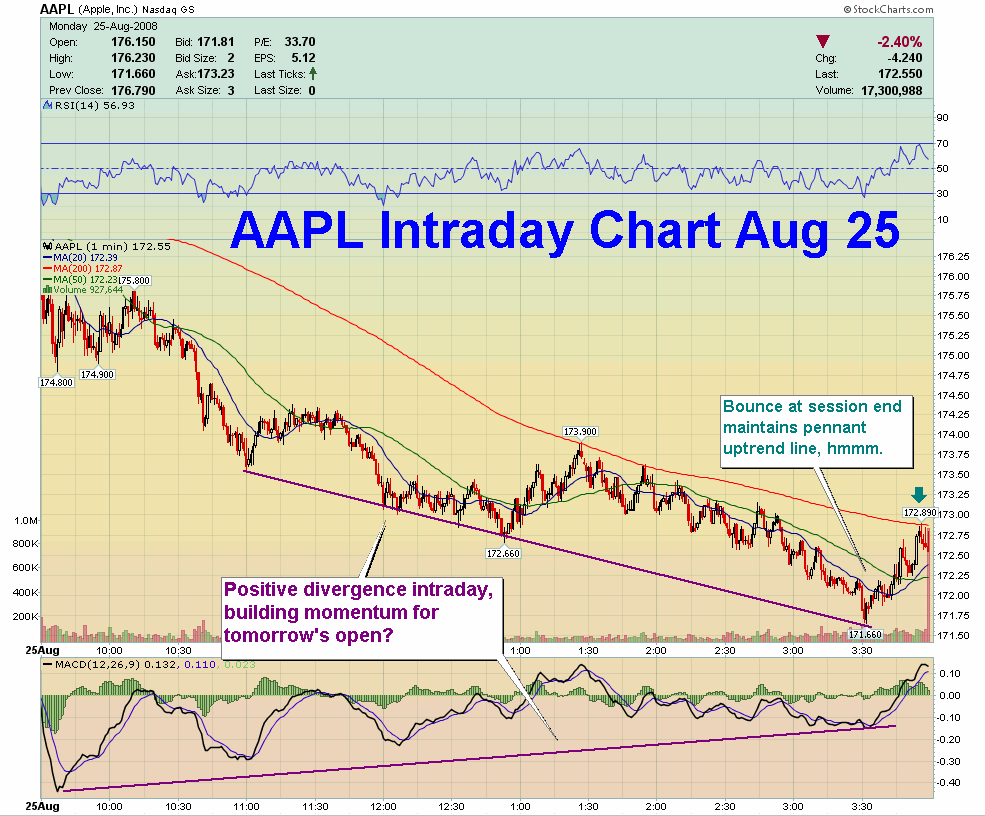 So what do you do if you've taken long positions? You set very tight stops, buy protective puts, maybe straddle your position, or simply get out entirely until the market decides which direction it's heading. I expect a small bounce in the morning, we'll see what the futures hold, so there should be ample time to take defensive measures. Hopefully this storm will pass, but until it does… Capital Preservation First, Maximum Profits Second.
EDIT: Oil futures down big Tuesday morning as of 8:31 AM EST, looks like disaster may be avoided. I would still take the defensive measures that I have recommended. 

Stock position: Long.