Just over 1 year ago Sirius XM (NASDAQ:SIRI) shares touched an intra day low price of $1.27 per share. Were you one of the lucky ones who purchased shares there, as of Tuesday's closing price of $2.84 your year over year gain was 124%. Not too shabby. Actually that's being far too modest. If you're sitting on a 124% year over year gain then WAY TO GO!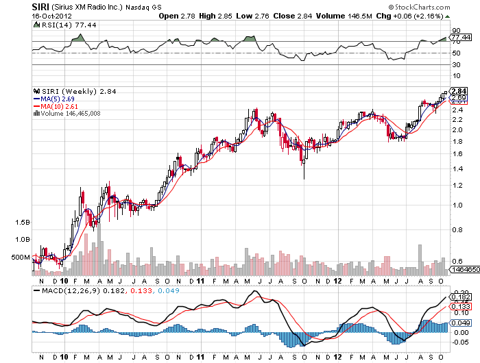 To be fair, how many were so lucky to buy the bottom? Not many. But the majority of long purchases over the past year in the $1.80s to $2.20s are sitting pretty as well and celebration continues to be in order as the stock just keeps on hitting new multi year high after new multi year high.
As the stock bounces around $2.85, many investors are wondering if the consistent appreciation in share price can continue. Consider Seeking Alpha user bassfisher3k's comment Tuesday in my article here:
SF - did we just close at $2.84? someone pinch me when I wake up on the floor!
Many investors may be sharing bass' disbelief. When they wake up, should they take the money and run?
I'd say "not so fast" here. I just don't see any indication quite yet that this run is over. While it is true that Sirius XM's share price has seen its share of run ups and dips over the past few years, I believe this time it's a bit different, and here are the reasons why.
First and foremost, Liberty Media's (LMCA) purchases of hundreds of millions of shares of Sirius XM this year have effectively removed those hundreds of millions of shares from weak handed ex-longs and traders alike. This massive infusion of capital on the buy side of Sirius XM all the way up into the $2.50's has created a serious barrier of resistance to share prices falling below that level any time soon. With the bottom raised for Sirius XM, barring any major correction or disaster in the overall markets, downside is certainly limited.
Those guys sitting on the stock just waiting for it to hit $2.50 to get out at their magic price point? Gone. Instead of these shares sitting there waiting to be sold when Sirius XM's price reaches the next target, they are locked away in the Liberty vault and won't be sold. Potential selling pressure is much lower because of these purchases, and thus potential downside is lower as well.
Second, Sirius XM is absolutely killing it as a business. Forget about the share price for a moment. Check out the past year's worth of conference calls starting in Q4 of 2011. Consider this year's initial guidance of 1.3 million net subscriber additions have already been met and guidance has been raised not once, but twice, to 1.8 million. Even that number stands to be beaten. A modest price increase has been well received, and churn has remained stable at 1.9%. The competition that was supposed to destroy Sirius XM in short order? Pandora (NYSE:P) fell off the horse and is now complaining to congress because it can't turn a profit.
Time and again I have said mobile data is simply not there yet to present viable competition to satellite radio, and I don't foresee 2013 to be the year it rears its ugly head. When one considers Sirius XM's target is car owners, 2013 will allow a competitive advantage for Sirius XM to increase IP presence at the same time as offering satellite service all in one package. It's this sort of transition that will be extremely important and differentiate Sirius XM from IP only solutions. A hybrid system available anywhere and everywhere should handily beat out services that are unavailable in the absence of a mobile data connection, and this will carry Sirius XM at least through 2013 with a premium competitive advantage that no competition can match.
Third, the expectations of share buybacks further reduces downside potential of the share price of Sirius XM. Spencer Osborne had an excellent article on this here. Consider his statement:
Essentially the buyback program will start as soon as Q4 2012 and continue for several months as the company strategically buys shares at opportune times. Let's not forget that the goal of a share buyback program is to buy back as many shares as possible for the most reasonable price.

The great news about this is that unlike in the past, when the equity starts to stumble, there is a safety net in Sirius XM buying shares. This offers stability to the equity that simply did not exist before. Think about that for a moment. In the past when Sirius XM would run up, it would become a natural point for stock sales, and even short traders to hop into the market. If Sirius XM is standing there ready, willing, and able to buy up shares, it will effectively limit any substantial move to the down-side. The share buyback, when announced, offers longs some stability and protection.
Downside protection is of the utmost importance especially after such a large increase in share price over the past year. Investors want protection, and a share buyback provides a very serious cushion.
Fourth, money flows. Money flow can be measured by how many trades go for the ask, versus going for the bid. The more trades which go for the higher asking price at a given moment represent positive money flow and a bullish stance. Take a visit to AVAFIN and click the trade flow and block trades tabs. You'll notice Sirius XM has had tens of millions of positive cash flow on a daily basis for weeks now with very few days of letting off steam. It's indication that the share price increase is justified with large inflows of buying pressure. If I had to wager a bet, I would not be surprised to find that institutions are increasing their stake in Sirius XM in anticipation of the aforementioned share buyback and price appreciation that will come with it.
Can most investors cash out here at a profit and smile? Sure. Me? I'm smiling, but I'm holding. I continue to see current pricing as a buy for longer term gains and see the distinct possibility of $3 being hit before Sirius XM's Q3 call. I don't see significantly lower pricing presenting itself in the near term unless Sirius XM somehow does not deliver on this call on October 30th. As the date approaches, investors should be aware of street expectations on numbers as they start to become available. Watch for street meets and beats. This is of utmost importance. The street controls the share price, and appreciation (or depreciation) will depend on whether or not these expectations are met.
Disclosure: I am long SIRI. I wrote this article myself, and it expresses my own opinions. I am not receiving compensation for it (other than from Seeking Alpha). I have no business relationship with any company whose stock is mentioned in this article.