Consol Energy (NYSE:CNX) is the U.S.'s largest producer of coal from underground mines. CNX also has 3.7 trillion cubic feet of net proved reserves of gas and operates over 12,500 net gas wells. With a market cap of $7.92B, CNX is valued at just 1.4 times sales and 2.0 times book value, although forward P/E is 24.0. The stock has been getting cheaper since a post-recession peak and double-top in 2011. Shorts have climbed to 14% of float.
However, on October 9th, it crossed its 200-day moving average for the first time since the stock collapsed in July 2011. This milestone marked the end of a 15-month primary downtrend. The charts below show how CNX recently broke out and how it has traded relative to its QE2 and QE3 prices (the price of the stock right before quantitative easing was announced - in CNX's case, these price coincidentally are the same).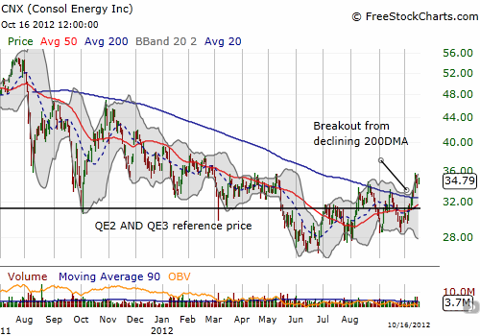 CNX breaks out from primary downtrend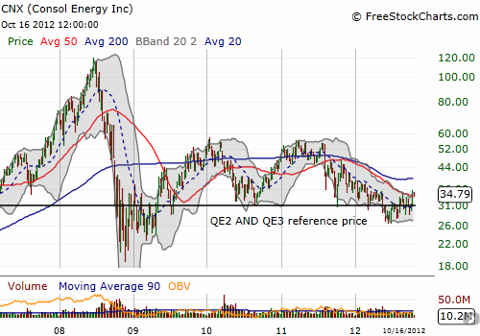 CNX is well off its pre-recession highs but QE2 and now QE3 appear to be contributing to an approximate floor in the stock
Source: FreeStockCharts.com
Since the June lows, CNX has steadily churned higher with higher lows along the way. During this time, CNX extended worker vacations, idled mines, and even experienced operational failures. The last announcement of idled production came on September 4th when CNX temporarily idled its Buchanan Mine that produces metallurgical coal and partially idled its Amonate Mining Complex. CNX cited weak global market conditions for steel. Yet, through all this, CNX has managed to rally around 34% from its lows.
So, it is probably no surprise then that the stock suffered so little when the company officially announced on October 15th that it expects to announce a loss in its report on third quarter earnings:
The company expects to report a net loss for the quarter, due to a combination of marketing and operational issues. While precise figures are not yet available, it is clear that the company's previously announced planned and unplanned mine idlings took their toll on third quarter earnings.
The stock closed down around 2% and easily maintained the breakout shown above. Added together, these dynamics add up to an increased potential for a lasting bottom in CNX's stock.
I found two notes of encouragement in CNX's announcement:
A confirmation that the company has plenty of liquidity to get it through the current downturn in the coal business: "cash of $231 million, no short term debt, and $2.3 billion of capacity under [its] credit facilities."
A rapid rationalization in production to respond to market conditions rather than forcing product onto the market at very low prices:
CONSOL's total coal inventory decreased during the quarter by 0.7 million tons to 1.7 million tons as of September 30, 2012. Thermal coal inventory decreased by 0.8 million tons during the quarter, as sales outpaced the scaled-back production. Low-vol and mid-vol coal inventory increased by 0.1 million tons during the quarter, to 0.4 million tons…

CONSOL's strong liquidity gives it the flexibility to respond to weak markets by voluntarily curtailing production. The company believes it is counterproductive to sell into certain markets that are going through a de-stocking phase.
This operational discipline bodes well for CNX's future resilience. It is no accident then that based on trading action relative to its QE2 price, I was able to pick out CNX as the best pick of beaten up met coal plays (see "The QE2 Reference Price Identifies the Strongest Iron Ore and Metallurgical Coal Plays" from last month).
However, note that none of these dynamics has won over shorts. Short interest in CNX soared starting in the first half of March. During that time, CNX adjusted sales guidance downward and temporarily idled longwall mining at its Buchanan Mine. The stock fell as much as 10% that day before quickly rebounding to close directly above its QE2 (and now QE3) price. That support finally gave way two months later during the stock market's May swoon. CNX now trades exactly at its close March 1st, right before shorts ramped up positions.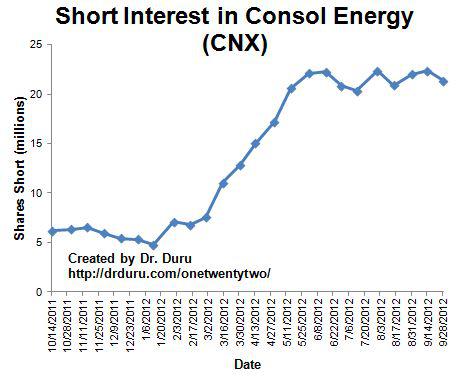 Short interest has remained steady even as CNX has steadily risen off its bottom
Source: NASDAQ.com short interest for CNX
I am guessing that if CNX's business remains resilient, the next dynamic for the stock may be a mild short squeeze as losing positions finally start closing. However, a lot of uncertainty looms over the global economy, so bears will have plenty of reason to remain resilient as well.
Be careful out there!
Disclosure: I am long CNX. I wrote this article myself, and it expresses my own opinions. I am not receiving compensation for it (other than from Seeking Alpha). I have no business relationship with any company whose stock is mentioned in this article.
Additional disclosure: Long CNX through call options.