The long time followers of the high yielding Mortgage REIT companies have been "treated" to a general correction in this marketplace in the last few days:
(click to enlarge)

As of this afternoon, most of these stocks are down roughly 4% for the period after a chaotic day yesterday in which American Capital Agency (NASDAQ:AGNC) was upgraded, resulting in a rally.
The underlying cause of the correction has been attributed to the ongoing decline in mortgage rates. This situation has been going on for at least the last 18 months, and we foreshadowed some of what is happening right now in this article in July.
So the question of the day is: What to do if you are a holder of any of these mREITs? As always, there are alternatives:
1. Stay and Collect Dividends
The underlying reason you got into these stocks in the first place is to collect the series of high dividends. A lot depends on when you entered the investment, but, for example, if you had entered AGNC at 34 a few days ago, with the current dividend of $1.25 per share, you're still looking at a 3.6% quarterly dividend yield at the current rate, and in a couple of quarters, you will still be positive on your investment at the current pricing of about $32 per share.
Of course that assumes that the current dividend payment is secure, and that the "current pricing", which as of this morning looks a little firmer is solid for another couple of quarters.
2. Roll into the Preferred Stocks
Most of these mREITs have been issuing preferred stock for the last few months, with a nominal coupon value somewhere between 7 and 8%.
The value of these stocks has remained pretty solid, per the graph below, which includes the Annaly Capital Management Preferred Class (NYSE:NLY).
(click to enlarge)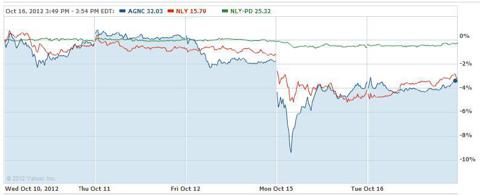 There are two reasons for this stability: The preferred stocks by their nature have precedence over the common stock from a dividend distribution standpoint, therefore they are less risky. The problem is that nominally the preferred stocks of these companies are in the 7-8% range, so the tradeoff is lower dividends in exchange for dividend security.
3. Roll into mREITS with a Larger Spread
Over the last quarter, we have identified hybrid and commercial mREITs which have a higher interest rate spread than the mREITs like AGNC and NLY that feature government backed residential mortgages. The two we worked with in previous articles were Resource Capital Corporation (RSO), which had an interest rate spread of 3.27% as of last quarter, and New York Mortgage Trust (NASDAQ:NYMT), which had a spread of over 5%.
The idea would be that because these companies deal with commercial and non-government backed loans, their spreads are higher in the first place than AGNC and NLY, and also their prepayment rates will not be as high, both of which were ostensible excuses for the price correction in this group.
(click to enlarge)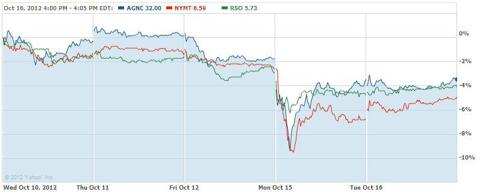 As you can see, the problem with this theory is that it would have failed to protect you from the price correction. These two stocks were beaten down just as much or more than AGNC. This suggests that the correction was more emotional than logical. Since we cannot totally rule out a return to some logical market, this may yet be an alternative.
4. Use this as an opportunity to go long.
As we all know, in many of these cases, the market up until now has been forgiving of the fact that the dividend rate on these stocks has declined over the last 18 months. AGNC has been the primary beneficiary of this benefit. Example: If you had gone long on AGNC when I did, back in March of 2011, with a price of $29.27 and a quarterly dividend of $1.40, you would have been "expecting" a forward dividend of over 19%. We all know in hindsight that never happened. The dividend was reduced to $1.25 per share which is where it is right now, at least temporarily. For the rate of return to be the same, the market "should have" reduced the stock in price down to about $26 in order to maintain the same yield.
But investors were so starved for yield that the price of this stock actually went up. It was still above $34 a few days ago, and today's "expected yield" is now 15.3%.
So the idea is: Once the emotional outburst we are going through right now subsides, the same thing will happen. The value of AGNC, or any of these other mREITs will shake out to be higher than it ought to be based on the previous expected yield.
Thought question: If you were a new investor, coming into the marketplace in a world where CD rates are paying less than 1% and the multi-year rate of return of the S&P 500 is essentially zero, what would you be willing to pay for a stock that pays $1 per quarter dividend? If you bought AGNC today at $32, you would be equally well off than the above two zero-returning investments even if the share price goes down to $28 at a dividend of $1 (given the conservative and fact-free assumption that the company will lower the dividend).
A plausible entry point might be about a month from now. We will have had the latest quarterly reports, we will be far enough ahead of the dividend so as not to have to pay the "pre-dividend premium" and we might know a little more about the future. Also, it will allow what is going on in the marketplace to settle down a little.
5. Exit the Sector
There are no guarantees on anything, as we are so fond of saying, and that especially includes the high dividend yield on these risky investments. I would not blame anybody for lightening up on the whole group until the housing market picks up. After all, if the flow of money into these funds stops, and housing demand starts up, would that not cause an increase in mortgage rates?
Do with these ideas what you will. As we said, there are no guarantees on anything.
Disclosure: I am long AGNC, MTGE, CYS, TWO, IVR, NYMT, ARR. I wrote this article myself, and it expresses my own opinions. I am not receiving compensation for it (other than from Seeking Alpha). I have no business relationship with any company whose stock is mentioned in this article.
Additional disclosure: I am waiting patiently for now to collect my next round of dividends.