Panera Bread Co. (NASDAQ:PNRA) trades around $170.75 versus its 52-week range of $104.28-$175.29, up 55% in the last 1 year. It trades at a P/E multiple of 30 times, and a forward P/E of 25 times. Its competitor Wendy's (NYSE:WEN) is trading at a P/E of 29 times and a forward P/E of 23 times. Also, Chipotle (NYSE:CMG) trades at a P/E multiple of 33 times, and a forward P/E of 27 times. Panera reports Q3-2012 earnings after market close on October 23rd, 2012. Historically, the company has given very conservative guidance, and the company has not reported less than 22% EPS growth in the last 10 years. Fundamentals that could trigger an upside in the stock performance are:
Panera Bread's earnings growth will have a positive impact from the 53rd week in 2013, which could add as much as 2% to EPS.
Panera is making a strong push towards better technology to drive top line growth during rush hour. The introduction of mobile/kiosk ordering will help in driving traffic going forward.
As of June 26, 2012, the company has $256 million in cash & cash equivalents, and $0 public debt. To add to the liquidity, the company has a $250 million revolver issued by Bank of America, which has $0 outstanding. This strong liquidity position supports the company in franchise acquisitions, and technology upgrade initiatives that the company expects to continue going into 2013.
Panera has been making a conservative push towards cable TV advertising, spending 1-1.5% of its revenues towards it. This spend will have greater benefits going into 2013 and beyond.
Lastly, the company thrives on a diverse customer base, and the diverse pricing on it's menu has contributed to its success.
Top institutional holders of the stock are T Rowe Price (10%), FMR LLC (8%), Vanguard Group (5%), Hussman Strategic Advisors (3%), and Barclays Global (2%)
The chart below compares share performance of Panera and it's competitors over the past year. "E"s mark earnings reports.
image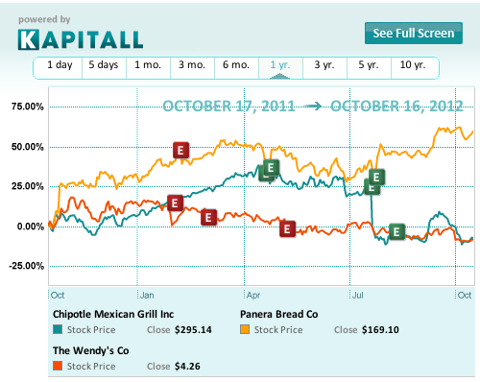 Conclusion:
Risks in investing in Panera include the a possible continuation in high unemployment, and higher commodity prices.
Written by Kapitall's Sabina Bhatia. Tool provided by Kapitall. To further analyze Panera, and its peer group, read our report.
Disclosure: I have no positions in any stocks mentioned, and no plans to initiate any positions within the next 72 hours.
Business relationship disclosure: Business relationship disclosure: Kapitall is a team of analysts. This article was written by Sabina Bhatia, one of our writers. We did not receive compensation for this article (other than from Seeking Alpha), and we have no business relationship with any company whose stock is mentioned in this article.