We were actually disappointed that Sprint Nextel (NYSE:S) agreed to a deal with Softbank (OTCPK:SFTBF) in which Softbank would acquire 70% of Sprint. We were wondering if Sprint's management did this deal in the wake of the T-Mobile USA/MetroPCS (PCS) tie-up. Sprint most certainly does not need Softbank to take on T-Mobile USA/MetroPCS. We are hoping that Sprint's management did not do this deal because it was displeased that the board deep-sixed its proposed acquisition of MetroPCS earlier this year. In our opinion, we felt that even without the proposed partnership between Sprint Nextel and Softbank, Sprint had positive momentum, which enabled it to better compete against AT&T (NYSE:T) and Verizon (NYSE:VZ). In our September 7 report on Sprint, we showed that Sprint represented the best value to wireless customers and the best value for wireless investors. In our August 16 report comparing Sprint versus T-Mobile USA, we concluded that Sprint was miles ahead of T-Mobile USA because Sprint sold Apple's (NASDAQ:AAPL) cutting edge iPhone smartphone device and T-Mobile USA had commercials mocking the iPhone. In this report, we will evaluate why Sprint need not fear the T-Mobile USA/MetroPCS merger and why we were disappointed that Sprint sold majority control to Softbank.
Sprint and MetroPCS:
When we heard about T-Mobile USA agreeing to merge with MetroPCS, we shrugged it off and we had very good reasons for doing so. We concede that we would have liked Sprint to have eventually acquired MetroPCS because both companies used the CDMA mobile access networks for legacy 3G operations and we felt that such a deal would have provided better synergies than the Sprint-Nextel deal. Sprint had even proposed a deal to acquire MetroPCS for $8B (which includes the assumption of PCS's debt) in February but the board shot it down. T-Mobile USA's deal with MetroPCS values MetroPCS at almost $9B and is structured as a reverse merger recapitalization. In this case, that means that the smaller, publicly traded company MetroPCS is acquiring the larger foreign non-public subsidiary T-Mobile USA, the company will take the T-Mobile brand name and Deutsche Telekom will own 74% of the combined company. The best part of this deal for Deutsche Telekom is that it can steadily reduce its position in the open market through the sale of T-Mobile's publicly traded shares. After further review, we're glad that Sprint has refrained from countering T-Mobile USA's bid to acquire MetroPCS because MetroPCS and Sprint use different spectrum for LTE, which would create a major network challenge. Both T-Mobile and MetroPCS are using 1700 MHz AWS spectrum for LTE; Sprint is currently using its 1900 MHz PCS spectrum. T-Mobile is refarming its own 1900 MHz spectrum for HSPA+ services.
Post-Merger Customer Base:
Total Customers: Even after the combination of T-Mobile USA and MetroPCS, the new T-Mobile USA will only have 42.5M customers as of Q2 2012 and both companies saw subscriber declines in the most recent quarter. Despite the fact that Sprint had faced headwinds in its pre-paid customer acquisition efforts and an acceleration of its Nextel customer run-off in the most recent quarter, it still pulled in 283K new customers while MetroPCS lost 186K customers and T-Mobile USA lost 205K customers. Without taking into account Softbank's wireless customer base, Sprint Nextel has 56.4M customers, which is more customers than T-Mobile USA and MetroPCS combined. Furthermore Sprint excluding Nextel has almost 52M customers, which is still more than T-Mobile USA/MetroPCS.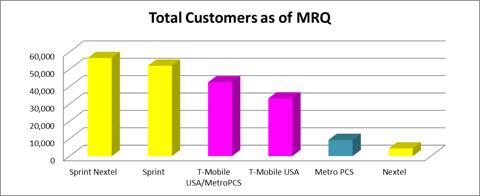 Source: MRQ Reports for Sprint, MetroPCS and T-Mobile USA
Post-Paid Customers: After analyzing the results of Sprint's post-paid customer base versus that of T-Mobile USA/MetroPCS, we have reinforced our thesis as to why we were not worried about this company competing against Sprint. T-Mobile USA is not adding any highly lucrative post-paid contract customers with this deal. Sprint had 32.6M post-paid contract customers as of the most recent quarter and T-Mobile USA had 24.1M and this will not change once T-Mobile USA merges with MetroPCS. Even when we exclude Sprint's Nextel run-off customers, we can see that Sprint alone has 29.4M post-paid customers, which is 5.3M more post-paid customers than T-Mobile USA. There are two reasons why we believe that Sprint provides stronger competition to AT&T Wireless and Verizon Wireless than T-Mobile USA, with or without the addition of MetroPCS. The first reason is that Sprint has Apple's iPhone and neither T-Mobile USA nor MetroPCS can offer that wildly popular, cutting-edge smartphone device. The second reason is that in 2009, the Sprint platform actually had less contract customers than T-Mobile USA at that time but not anymore. Although Sprint's post-paid customer growth has been slow since 2009 and has primarily come at the expense of its legacy Nextel operations, T-Mobile USA's post-paid customer base has been steadily sagging since 2009. In short, the AT&T/ Verizon duopoly need not fear T-Mobile USA/MetroPCS but it should keep its eyes peeled at Sprint.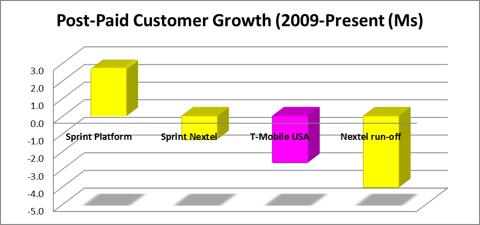 Sources: Sprint's 2011 Annual Report and Q2 2012 Results, Deutsche Telekom's 2009 Annual Report and T-Mobile's Q2 2012 report
Pre-Paid and Wholesale Customers: Finally, we come to an area in which the T-Mobile USA/MetroPCS combination may offer some competition to Sprint. Sprint has 15.4M retail prepaid customers and 8.4M wholesale and affiliate customers as of its most recent quarter. This compares favorably with T-Mobile USA and MetroPCS prepaid customer books. MetroPCS has 9.3M prepaid customers and it focuses on urban area customers. T-Mobile USA has 9.1M prepaid customers comprised of 5.3M retail prepaid customers and 3.8M wholesale MVNO prepaid customers. The Sprint platform's prepaid churn of 3.16% (3.53% if we include Nextel) compares favorably with the 3.4% churn at MetroPCS and the 6% achieved at T-Mobile USA. While T-Mobile USA would add significant pre-paid scale by merging with MetroPCS, Sprint still has 5.5M more prepaid customers.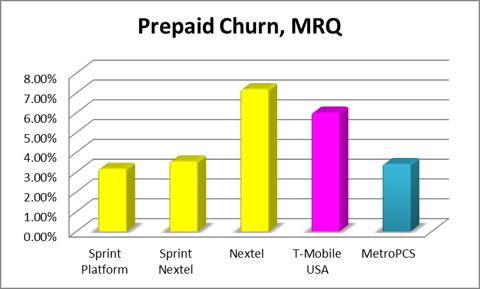 Source: MRQ Reports for Sprint, MetroPCS and T-Mobile USA
Conclusion:
In conclusion, we believe that Sprint did not need Softbank to come in and acquire 70% of the company for it to be a stronger company than T-Mobile, even though T-Mobile recently announced that it was merging with MetroPCS. We maintain that Sprint had been positioning itself to potentially provide headwinds to growth for the AT&T/Verizon wireless and we would have preferred to see an independent Sprint continue this journey rather than take the Roy Raymond route of selling out. We reiterate Sprint offers stronger absolute and risk adjusted investment prospects, as well as a better customer value experience and competitive prospects against AT&T/Verizon versus T-Mobile USA and MetroPCS for the following 6 reasons.
Sprint offers the iPhone from Apple for postpaid customers as well as prepaid customers through Virgin Mobile USA. T-Mobile has the iPhone only in Europe, and as such T-Mobile USA and MetroPCS do not have the iPhone at all.
Even though Sprint generated 10% of its revenues from its ailing Wireline operations, its consolidated corporate year-over-year revenue growth of 6.4% for Q2 2012 exceeded the -3.3% achieved at T-Mobile USA and the 4% achieved at MetroPCS during the same time period

.

Sprint has joined the 4G-LTE club while T-Mobile USA won't have 4G-LTE until 2013.
Sprint is the only company that still offers unlimited high-speed data to its post-paid customers. Verizon and AT&T are phasing out unlimited data and T-Mobile USA throttles data after 2GB is used.
Sprint and T-Mobile USA have essentially switched places in terms of customer satisfaction ratings. It even dropped below AT&T, a company that has historically had low customer satisfaction ratings. Despite not merging with AT&T, T-Mobile joined AT&T at the bottom of the 2012 American Customer Satisfaction Index.
Sprint only has 12 more months of suffering Nextel run-off and improved its Nextel retail postpaid contract subscriber retention rate from 27% in H1 2011 to 39% in Q4 2011, 46% in Q1 2012 and 60% in Q2 2012.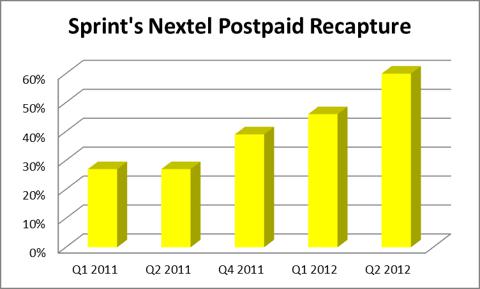 Sources: Sprint's Q1 2012 and Q2 2012 Earnings Releases
Disclosure: I am long S, AAPL. I wrote this article myself, and it expresses my own opinions. I am not receiving compensation for it (other than from Seeking Alpha). I have no business relationship with any company whose stock is mentioned in this article.
Additional disclosure: This article was written by an analyst at Saibus Research. Saibus Research has not received compensation directly or indirectly for expressing the recommendation in this article. We have no business relationship with any company whose stock is mentioned in this article. Under no circumstances must this report be considered an offer to buy, sell, subscribe for or trade securities or other instruments.