Depomed (NASDAQ:DEPO), a specialty pharmaceutical company, announced earlier this week that the FDA has accepted the NDA for Serada, a potential treatment for post-menopausal hot flashes.
Our take on Serada
With this announcement, several notable catalysts have been created for the company: On March 4th, 2013 the FDA Reproductive Health Advisory Committee is slated to discuss the application. The PDUFA goal date is set for May 31st, 2013. Our previous comments about Serada remain true today. In our report from October 2011, we explained that "we view the probability of regulatory approval being low, but remotely possible, given the depth of data Depomed could submit" and that "there has been one other precedent in recent history where a pharmacotherapy was approved under similar circumstances, with only some primary endpoints meeting statistical significance." In this article, we will outline our thoughts on these two points.
Comparing Serada to Elestrin: Seradud or Serenade?
In previous conference calls, management has quietly alluded to another drug that was approved for hot flashes by the FDA, that did not meet statistical significance in some primary endpoints in late-stage trials. That product is Biosante's (BPAX) Elestrin.
Elestrin was approved by the FDA in 2006. At the time, only higher doses of HRT were on the market, and post-WHI, the FDA was looking to approve lower-dosage forms. In fact, since WHI, it has been the position of the FDA that patients should take the lowest dosage possible of HRT for the shortest duration of time. In the image below, you'll find an advertisement for Elestrin, which appropriately notes the FDA position, on the left. On the right of the image below, you'll find something peculiar. Elestrin is approved in two dosage forms, 1 pump versus 2 pumps. 1 pump of Elestrin works only after 5 weeks of use, while 2 pumps of Elestrin only works after 3 weeks.
Click to enlarge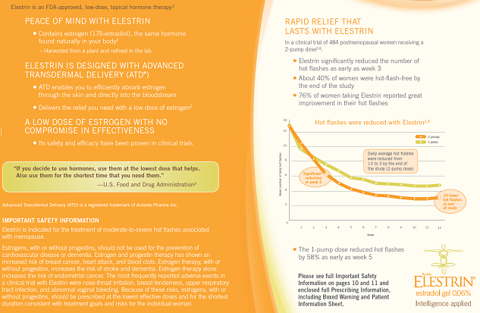 In its Phase III trial, Biosante found that low-dose, 1 pump, Elestrin, wasn't statistically significant at Week 4, in reducing the severity and frequency of Hot Flashes. Yet, retrospective analysis of aggregated data demonstrated statistical significant reduction in frequency and severity, starting at Week 5. This is important, because in this particular instance, the FDA approved a product that clearly did not meet the requirements listed in the Guidance to Industry.
You'll notice that in the Guidance to Industry, the FDA clearly requires statistical significance out to 4 and 12 weeks for both severity and frequent reduction. But scanning over the Elestrin label, you'll find that Elestrin at the 1-pump dose did not meet those requirements.
So how is it that a company can miss a primary endpoint, fail to reach the requirements listed in the Guidance to Industry and still manage to get approval by the FDA? Most biotech commentators think this feat is impossible. First, it was quite clear to the FDA that estradiol (the main ingredient of Elestrin) is efficacious. Estradiol is not a unique compound, it is well known to be effective. Second, a retrospective meta-analysis of the Phase II and III trials for Elestrin demonstrated efficacy at Week 5 (versus the required Week 4 listed in the Guidance to Industry). Third, 2006 was fresh post-WHI, the seminal study that first demonstrated some of the detrimental adverse events of hormone use. You'll notice that the label for Elestrin, and all HRT products, includes 8 black box warnings. At the time, the FDA was probably looking to find treatment options with a decreased adverse events profile and by approving a low-dose, transdermal product, the FDA was mitigating risk by providing a safer treatment option, that - just about - demonstrated efficacy.
Depomed wants to implicitly draw a parallel with Serada and Elestrin, to the FDA as well as investors. Similar to Elestrin, Serada had phase III trials that failed to meet their primary endpoints. But similar to Elestrin, Serada demonstrated meaningful efficacy in a subsequent retrospective meta-analysis. And similar to Elestrin, Serada may also be a safer treatment option and sought after alternative to HRT that the FDA may be willing to approve. Similar to estradiol (Elestrin's main ingredient), gabapentin (Serada's main ingredient) is well understood by the FDA, with several million patient-years of data. Similar to Estradiol, gabapentin's efficacy has been well documented for vasomotor symptoms in the medical literature. As an example see the recent meta-analysis published in JAMA.
One important distinction to note between Elestrin and Serada is that in the case of Elestrin, the higher dosages, the 2 and 3-pump doses, did demonstrate statistical significance for all primary endpoints. With Serada, there was no particular dosage arm that demonstrated statistical significance across all endpoints.
NAMS Position Statement and Recent Research
While the submission of the NDA and the acceptance of the NDA were small catalysts that investors could have capitalized on, the most significant catalyst regarding Serada will be the Advisory Committee meeting.
To understand what to expect from this AdComm, investors should be keenly aware about HRT, the WHI, and currently available therapies (excellent summary here).
While some investors may naively assume that the FDA is desperately seeking alternatives to HRT, it is also important to note that NAMS has recently released a position statement that supports the use of HRT, in certain instances. This stands in a stark contrast to their previous position and the position of the FDA, which recommended the lowest dose of HRT for the shortest amount of time possible. (See NAMS 2012 Position Statement & NAMS 2012 Patient Information.)
Any FDA advisory committee would include thought leaders, and industry experts, some that are probably members of NAMS. Thus we feel that this recent statement by NAMS may stand to be a slight negative towards Serada's application and approval. If HRT use is acceptable in some instances, according to new data, then the FDA may not feel pressured into approving an alternative like Serada.
Furthermore, more recent evidence from a Danish study published in the BMJ alludes to a cardio-protective effect from HRT in women earlier in their course of menopause than those from the WHI.
Final Thoughts
We do not believe that this application is futile, we believe the company can make a legitimate case for Serada's approval. While most pundits and analysts believe that the FDA has never approved a product that failed to meet a primary endpoint, we know that this is not true and they did approve the 1-pump dose of Elestrin. Likewise, we acknowledge that there are some differences between Elestrin and Serada, and we urge caution to those looking to make a direct inference of approval.
We also note that when Elestrin's lower dose was approved, the FDA may have been eagerly looking for alternative treatment options, whereas now, in 2012, NAMS and other industry experts are somewhat more comfortable using HRT in certain circumstances.
While NAMS may feel comfortable with HRT use, oncologist and epidemiologist have widely ascribed the decrease in breast cancer incidence to decreased HRT use post-WHI. HRT use is still quite controversial and ultimately, we believe that the FDA is still looking to approve non-hormonal alternatives.
Furthermore, it has come to our attention that, possibly, in the SPA for Serada, the FDA had a clause that mandated a statistically significant combined meta-analysis of the BREEZE trial data. If true, this could bode well for Serada, in that the company can claim that they have at least met this pre-defined requirement.
Overall, we believed that the chances of NDA acceptance were almost certain. We continue to believe that the AdComm would be split, and we believe that the chances of approval are very dependent on the results of the AdComm.
Ultimately, at prices around $6, investors are getting a free option to play Serada, and an opportunity to enjoy continued success with the Gralise franchise, with recent annualized run-rate approaching $25 million.
Disclosure: I am long DEPO. I wrote this article myself, and it expresses my own opinions. I am not receiving compensation for it. I have no business relationship with any company whose stock is mentioned in this article.
Additional disclosure: Please see our Disclaimer: www.chimeraresearchgroup.com/disclaimer/