In October 2011, I started writing a series called 'Stock Management the Sun Tzu Way', which would seek to apply the principles of military strategy from a 2,400 year old text and apply them to a modern day investment portfolio. While the series is not yet finished, twelve months has elapsed and so I feel it important to revisit the Sun Tzu Portfolio with a reflective article that examines how the portfolio performed over the preceding year. What were the best performing stocks, which were 'dogs', what were the individual stock and portfolio performance returns, and finally, what lessons did I personally learn along the way. All of these aspects are discussed below.
Portfolio Composition and Aims
In order to apply the theory of Sun Tzu's writings on strategy to a portfolio, I needed a portfolio based on American stocks (in order to have the articles published on Seeking Alpha). I therefore established the Sun Tzu Portfolio with the aim being to "find undervalued blue chips stocks with good fundamentals and a historical record of paying dividend income streams, with a view to holding for long term positions." The portfolio I constructed therefore looked as follows on October 13, 2011:
Alaska Air Group (NYSE:ALK), entry price $62.09

BHP Billiton (NYSE:BHP), entry price $75.86

Citigroup (NYSE:C), entry price $29.31

Caterpillar (NYSE:CAT), entry price $81.70

General Dynamics (NYSE:GD), entry price $62.53

PNC Financial Services Group (NYSE:PNC), entry price $51.97

Wal-Mart Stores (NYSE:WMT), entry price $55.20

Patriot Coal (PCX), entry price $9.69
Share weighting and number of shares hold at portfolio commencement date is as follows: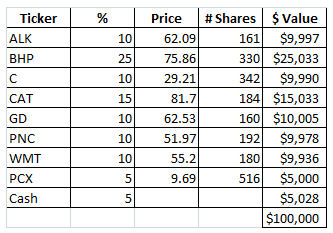 Some qualifying remarks up front to answer the immediate and obvious questions of "why the inclusion of Alaska Air Group as it pays no dividend" and why the inclusion of Patriot Coal which was (and is not) a solid blue chip portfolio"?
In terms of Alaska Air Group, I wanted to include a transport asset (my background is integrated logistics) and from the amount of traveling I have done, I found Alaska Air Group to be a solid company with future growth potential. Therefore I was willing to include it despite the fact it does not pay a dividend.

In relation to Patriot Coal, I will quote my rationale verbatim: "My one exception to my focus on reliable blue chips is to place a small stake in a speculative stock, in this case I am looking to include a position in PCX for the reasons outlined here. I believe the stock is a high risk high gain option that has an enduring market to supply with fewer fluctuations on demand compared with other commodities."
A final qualifying remark is that one of the reasons for doing this series was to see how my own stock picks and investing decisions would compare against the Fortune Magazine Top Ten Stock Picks annual series they run, and on which I have written on their performance in 2011 and 2012.
Portfolio Changes during the 12 Month Period to 13 October 2012
Playing an active hand in managing the portfolio and making the decisions relating to it has required a rebalancing of stocks at some points - sell a percentage of Caterpillar shares and purchase Chevron Corporation shares, selling off Citigroup and replacing with Morgan Stanley, and reinvesting a stop loss exit from Patriot Coal into PPL Corporation. These changes included are outlined below:
30 January 12 sold 34 x CAT @ $110.53 per share (Profit $970.23 / 35.29%)

30 January 12 bought 50 x CVX @ $102.54 per share

08 February 12 sold 350 x C @ $33.85 per share (Profit $1,576.89 / 15.88%)

10 February 12 bought 350 x MS @ $19.78 per share

14 February 12 sold 516 x PCX @ $8.00 per share (Loss $882.03 / -17.44%)

07 September 12 buy 250 x PPL @ 29.18 per share
The rationale for these changes is included below:
Caterpillar:
I am going to take some profit to rebalance the portfolio and reinvest these earnings. I am aiming to sell 18.5% of my Caterpillar shares this week, with a target sell price between $110 and $112 per share. I still assess CAT to be a core stock within the portfolio, but noting that the stock is up 36% from its purchase price, I think it is time to take some of that profit and reinvest it elsewhere to further diversify the portfolio.
Chevron Group:
My reasons for Chevron is for the value I see in the company, its investment in the Gorgon Project in Western Australia, and for its strong, consistent history in paying dividends. These reasons are covered in more detail in my recent article on CVX.
Citigroup:
I'm going to run with Morgan Stanley as my major financial institution stock, balanced against the medium weight PNC. I think this is a better balance given the current global economic conditions, and I see more upside for MS. That said if there was a fundamental change in C once the European debt liabilities play out, I would always revisit the stock. Note that my outlook is predominately longer term view, but there is plenty of upside for traders with a short outlook to profit from swings in current volatility.
Morgan Stanley:
The other potential value is in the old Wall Street blue blood of Morgan Stanley. In the same period (23rd August to 01st February) the stock has gained 23%, is paying dividends, cutting costs where possible, and is set to take the lead underwriting role in the IPO for Facebook. No doubt the last point may have something to do with forecast EPS growth of 68% over the next 12 months…
Patriot Coal:
I took a stop loss exit on Patriot Coal at $8.00 per share, when the stock didn't pull back from lows driven by global demand. I missed an opportunity to exit the stock, when it was at $13.36 per share (up 37.9%) two weeks after I bought it; but then again my strategy was a long position." [Postscript: PCX filed for Chapter 11 on 9 July 2011, and is currently trading at $0.17 per share.]
Alaska Air Group: Conducted a 2:1 stock split on 19 March 2012, shares held changed 161 to 322.
Performance: Capital Growth and Dividends
The portfolio holdings and weighting per stock at close of business on 12 October 2012 is as follows: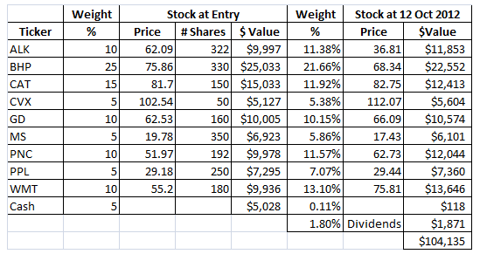 The shares component of the portfolio produced an overall return of 5.79% (average) at close of trade on 12 October 2012, and the individual performance per stock is shown below:
Sun Tzu Portfolio as at Close of Trade 12 October 2012

In addition, the portfolio generated dividends of $1,871, representing an additional return of 1.80% on the original seed funding. Gross dividend returns per stock are detailed below, followed by dividend yield per stock:
Gross Dividend Yields Sun Tzu Portfolio

Dividend Yield On Cost Per Share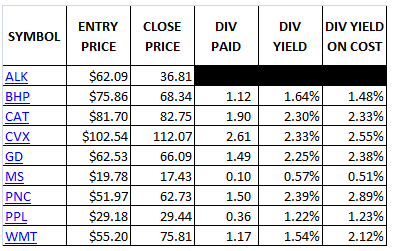 Reflection
Looking back at the portfolio and decisions made, there are some general observations that I would like to make on my decisions regarding selection and performance:
Alaska Air Group: I actually made a statement during the year that I would exit the stock, as it didn't meet the requirement of paying a dividend. I didn't exit the position though as I failed to set an automatic stop loss (I have documented this in articles or on instablogs real time when I have made these decisions) and therefore had to let the position ride, which subsequently rebounded to deliver a healthy 18.55% return on investment. The importance of good stock selection within a sector was reinforced with this pick, as I have come to learn how tight operating and profit margins are within this industry, and Alaska Air Group is a performer that is the exception to the rule (in my mind).
BHP Billiton: Never be emotive about a stock (easier said than done). I have held a negative position in the stock for much of the period; the stock peaked at 10.81% on 4 November 2011, and hit negative territory down 0.74% just four weeks later. It went as low as ~16.70% in September 2012 when iron ore pricing collapsed, and closed out the year down 9.91%. I have, however, indicated from day one (and written numerous times) that BHP forms a core part of my investment portfolio for exposure to a leading global diversified miner.
Caterpillar: A bellwether stock it has traded as high as 37% above market entry price, but closed the period only up 1.29%. It was wise to take some profit at a 35.29% gain and reinvest those funds in Chevron Group which provided a return of 9.29%.
Citigroup: My decision to exit was based upon concerns about exposure and the effect the euro crisis might have on the stock. However, had I remained with the position, it would have generated a greater return (the stock today is up 27.06%) than the position I followed instead which was Morgan Stanley, which returned a disappointing 11.88% loss.
PNC Financial Group (up 20.70%) and Wal-Mart Stores (up 37.34%) have delivered the best returns during the period. PNC has performed consistently well and pays a good dividend. Wal-Mart has reinforced the point that it is a business that delivers a sound return during boom times, but has the potential to perform better during times of financial stress for consumers, who then shop at discount stores like this to stretch their dollar further.
Summary
In undertaking this activity over the last 12 months I have learned a considerable amount about stock selection, crystallized my own thoughts with respect to my investing strategy, and learned from the experience and at times 'mentoring' from other contributors and readers on Seeking Alpha. Documenting these decisions in a public way through writing eliminates the tendency to be dismissive of what is actually occurring in the markets (i.e. it's on the record), and the engaging interaction with readers and contributors places a real time emphasis on decisions made, and in supporting one's investment thesis.
While the overall return for this portfolio is less than the S&P 500 over the same period, it's still a significant improvement on what one can hope to recoup were they just to have the money sitting within a U.S. bank account or term deposit. Given pressure and volatility existent within the market at present, I am content with the return I was able to deliver, and quietly confident that I can improve on this in my next effort (plus at least it is not as bad as the returns these professionals generated).
I also wanted to provide a transparent plain language platform that younger investors just starting out could monitor, in order to see what types of decisions they need to make on a regular basis, and hopefully gain the confidence to start developing their own investment strategy. I have received some positive feedback from younger readers over the course of the year so hopefully I am meeting my aim there.
More broadly than just on writing this series, I have been fortunate enough to converse regularly with a number of the more prominent contributors on Seeking Alpha. Paulo Santos has pushed me on a number of my positions within the commodities sector, and these robust discussions have driven me to learn way more than I would have through some less engaging comment threads; for this I am appreciative. James A Kostohyrz has educated me at the macro level for strategic thinking within the finance sector, and his writing style has helped me no end to develop my own. David Van Knapp's writings on dividend growth investing has introduced me to one of the liveliest (and most engaging) investor communities on Seeking Alpha, and more recently Caiman Valores has been extremely helpful in mentoring me with respect to conducting detailed analysis within the financial and commodities sectors, and in developing my writing style further. I came to Seeking Alpha for the analysis and 'outside-the-box' thinking that many of the contributors offer contrary to the mainstream media; but I have learned significantly more from the positive engagement that exists between contributors and readers, and for this I keep coming back to read and to keep on writing on Seeking Alpha.
Disclosure: I am long BHP. I wrote this article myself, and it expresses my own opinions. I am not receiving compensation for it (other than from Seeking Alpha). I have no business relationship with any company whose stock is mentioned in this article.
Additional disclosure: In addition to BHP I have exposure to a broad range of Australian and international stocks through managed funds held in Australia.