I pointed out in a Seeking Alpha article on August 14, 2012 that the Semiconductor Industry Will Stay In The Red For All Of 2012. In the article I noted the issue was not the mobile space, memory, processors, tablets, customers, thin computers, iPhone5, or 28nm manufacturing. The problem was purely economic, connected with the European crisis, the "wait-and-see" buying plans for high-tech items and automobiles (which contain the most semiconductors), and a plethora of other FUD (Fear Uncertainty Doubt) factors that influence purchasing habits.
In that article, I noted the correlation between our Proprietary Leading Indicators (PLIs) with semiconductor sales, as shown in the chart below, was the basis for the forecast that global semiconductor revenues will be in the red for all of 2012.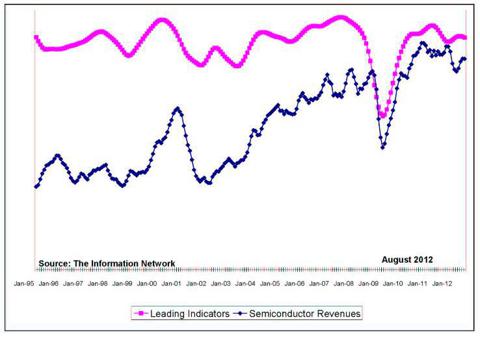 Let's take a look at the possibility of a recovery in 2013.
The World Semiconductor Trade Statistics (WSTS) forecast for 2013 shown in the table below indicates that the overall semiconductor industry will be up 7.2% in 2013. In all fairness, the WSTS forecast was made in early June 2012 and the global economy has degraded since then.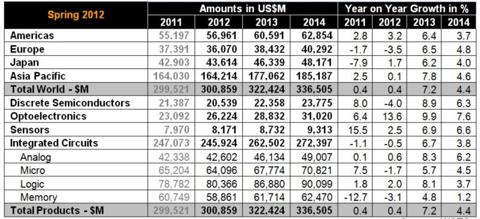 Based on additional macroeconomic data, we calculate that the global semiconductor market could increase only 1.5% in 2013, as shown in the chart below.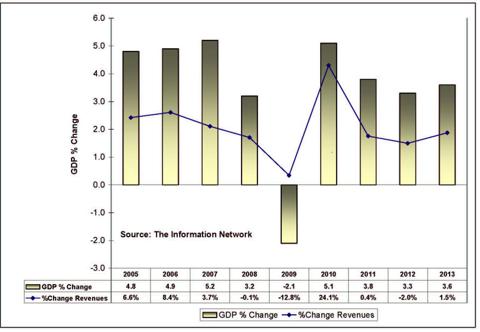 According to our analysis, global semiconductor sales could decrease 2.0% in 2012 and increase 1.5% in 2013. There is, however, the possibility for a snap-back in revenues for 2013, irrespective of macroeconomic factors, such as what occurred in 2010. A growth of 21.4% was recorded in 2010 primarily because the industry declined 12.8% in 2009, due to the global economic recession. In 2010, the semiconductor market was driven by pent-up demand as system makers scrambled against depleted inventories to obtain parts.
For 2013, the semiconductor is coming off a small decrease of up to 2%, as I said above. However, there are several mitigating factors that can initiate a snap-back for 2013:
Supply Constraints
Supply in the NAND spot market is tight as major -chip suppliers including Samsung Electronics (OTC:SSNLF), Toshiba (OTCPK:TOSBF), SanDisk (SNDK), Micron Technology (NASDAQ:MU), and SK Hynix (OTC:HXSCF) intend to focus on orders placed by their system clients. The five leading NAND flash companies have been enjoying brisk demand coming from the smartphone and tablet sectors.
While the PC market continues to grow at a slower pace, the market for mobile devices, especially smartphones and tablets, is exploding. Suppliers to Apple Computer (NASDAQ:AAPL), for instance, have provided a very limited amount to their other customers, particularly those without long-term contracts as they focus on filling Apple contracts. Apple holds on to 30% of the global NAND demand and therefore has a significant pull on the market. Toshiba, Hynix and SanDisk reportedly supply NAND flash chips for the recently-launched iPhone 5.
Windows 8
Another factor is Windows 8, which could push tablet computing into the mainstream including corporate computing. Currently, tablets are primarily used as media terminals - connecting to the internet. With Windows 8, users can readily do compute intensive tasks through Microsoft's (NASDAQ:MSFT) Office.
In addition to traditional x86-based Advanced Micro Devices (NASDAQ:AMD) and Intel (NASDAQ:INTC) machines, Windows 8 can now run on ARM-based (NASDAQ:ARMH) hardware - the same type of kit as the iPad or any Android tablet.
However, there will be a major difference between the x86 and ARM-based tablets. Windows RT won't support traditional desktop apps (except for a bundled, cut-down version of Microsoft Office and other basic Windows apps). Everything else will be done through the Metro interface.
In 2012, we expect desktop PC shipments to fall 6% in 2012 and notebook PC shipments to rise only 1.5%. In 2013, desktop shipments could fall 10.5% and notebook shipments could rise 4% thanks to the release of Windows 8-based mobile PCs.
Disclosure: I have no positions in any stocks mentioned, and no plans to initiate any positions within the next 72 hours. I wrote this article myself, and it expresses my own opinions. I am not receiving compensation for it (other than from Seeking Alpha). I have no business relationship with any company whose stock is mentioned in this article.