Johnson & Johnson (NYSE:JNJ)
Johnson & Johnson is often considered a pharmaceutical company, but JNJ is much more than that. JNJ is a collection of more than 200 subsidiaries that are commonly referred to as the Johnson & Johnson family of companies. The company operates in three major segments, within the consumer sector the business is known for producing BAND-AID, Tylenol, and Splenda, the pharmaceutical business, and medical devices and diagnostics. Johnson & Johnson reported earnings before the bell on Tuesday Morning.
JNJ reported diluted earnings per share of $1.05 on net revenue of $3.0 billion, including after-tax items of $553 million related to research and development costs from the discontinuation of phase III trials of bapineuzumab IV and costs associated with the acquisition of Synthes. If these one time items were excluded from Q3 earnings, diluted EPS would come in at $1.25 on revenue of $3.5 billion, representing an increase of 0.8% over Q3 2011. As an investor, I was looking for several things in the earnings report beyond simply the top and bottom line numbers to assess the direction of JNJ. I was interested in seeing what he effects of litigation would be on earnings, the impact of the Synthes acquisition, how pharmaceuticals have performed in the most recent quarter, and how the consumer segment has recovered from recalls and manufacturing issues.
Johnson & Johnson CEO Alex Gorsky was quoted as saying that "Our third-quarter results reflected continued sales momentum driven by strong growth of key products, successful new product launches, and the addition of Synthes to our family of companies. We advanced our pipelines with regulatory approvals for a number of new products, the submission of several new drug applications, and the completion of several strategic collaborations. I'm extremely proud of our talented and dedicated colleagues throughout Johnson & Johnson and I have great confidence in our ability to deliver sustainable growth and bring meaningful innovations to patients and customers around the world."
Consumer Front
Consumer sales for JNJ decreased 4.3% year over year to $3.6 billion for Q3. Operations actually increased slightly, however, had a negative currency impact of 5.3%. Domestically, sales declined 0.4%, and internationally sales increased 1.8%, which was more than offset by a 7.9% negative currency impact. Over the counter pharmaceutical sales actually increased roughly 6%, but these gains were offset by weakness in others. Consumer sales, as a whole, were disappointing, as investors have been expecting a recovery from the consumer segment as JNJ begins to put manufacturing and quality issues behind them.
A strong recovery has not yet taken place. Sales are increasing, albeit slowly, but the increased sales are being negatively impacted and affected by a stronger dollar. The company expects manufacturing volumes at its McNeil units to be impacted through 2013, while the company is under additional review and approval procedures. As the quality issues that plagued JNJ in recent years get further and further behind the company should be able to continue increasing revenue from their consumer division. While the results in this area did disappoint at this time, they leave room for the company to continue to improve in the quarters ahead to further strengthen and solidify the business operations at JNJ.
Pharmaceuticals
While consumer sales disappointed, pharmaceuticals may have been a bright spot for JNJ. Q3 pharmaceutical sales rose 7% year on year to $6.4 billion. Domestic sales rose 14.5% and international sales were roughly flat, as the operational increase of 8.2% was offset by an 8.2% negative impact from currency fluctuations. Sales of Remicade (14% increase), Prezista, and several recently launched or expanded use products also helped to boost pharma sales. Pharmaceutical sales for JNJ have been strong, while the company may not have transformational pipeline opportunities of some other companies patent expiration risks have been mitigated. JNJ's pharma business appears to be poised to continue steady growth in years ahead with the pipeline opportunities it has.
Medical Devices
Possibly of greatest interest to me was what the potential contribution of the Synthes acquisition to 2012 earnings could be. Medical Devices and Diagnostics saw sales of $7.1 billion for Q3 of 2012. This represented an increase of 12.5% year over year. International sales rose 14.4% (offset 6.5% by currency fluctuations), and domestic sales rose 18.3%. Sales were significantly impacted by the Synthes acquisition which contributed roughly 18% of domestic sales growth, and 12% to international sales. While Synthes added strong growth to the segment, earnings related to the Synthes acquisition were neglibile as they were essentially offset by costs associated with integrating the Synthes business, but JNJ expects to benefit from synergies between Synthes and existing businesses in the quarters and years ahead. The Synthes acquisition, which was initially expected to knock $.20-$.25 off of earnings for 2012 is now expected to contribute $.03-$.05.
Litigation
JNJ reached a number of settlements, primarily over marketing of Risperdal, over the past three months to eliminate pending litigation and allow the company to focus on operations going forward. A statement from the company said that they were settling to "resolve the concerns of the attorneys general under state consumer protection laws and to avoid unnecessary expense and a prolonged legal process". Reaching a settlement now, helps to hold down litigation costs and prevents uncertainty from clouding the future of JNJ shares. While the call did not directly address litigation and associated costs, management did acknowledge that has been a challenge. Although this has been a challenge, guidance out of JNJ management seemed to indicate that litigation and settlement costs may come have a slightly lower impact than previously expected. Management guided for a slightly higher income from their royalty, litigation, divestiture, and investment account. While litigation and settlement costs remain a dark cloud hanging over Johnson & Johnson, the cloud may not be as dark or as large as investors may have feared.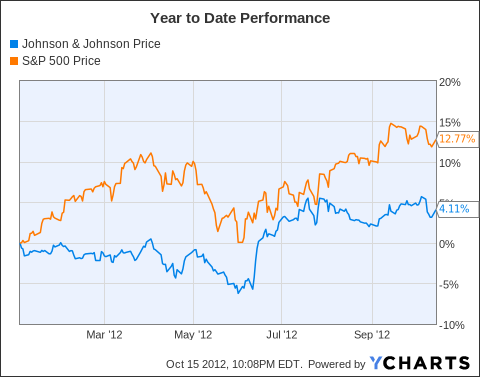 Year to date, Johnson & Johnson shares are up just over 4%, and shares have risen 1% today in response to the earnings report. However, shares have underperformed the S&P 500 by roughly 8.5%. JNJ pays an annual dividend of $2.44, and yields 3.55% based on the current price of $69.35. The company has roughly $3.0 billion of net cash on the balance sheet, and is generating consistent cash flow. JNJ also expects to see operating margins for 2012 continue to improve.
Rather than constantly receiving bad news out of the JNJ camp, investors have recently received good news with positive developments in the pharmaceutical division (and a lack of product recalls in the consumer segment).
The earnings report out of JNJ Tuesday morning was mixed for investors. Consumer products are coming back, but are not all the way back yet. The McNeil units which caused the majority of the JNJ consumer recalls in recent years have been meeting milestones associated with the additional FDA monitoring, and may be able to begin ramping up production volumes in the quarters ahead. Pharmaceuticals are performing well but are seeing pressure from patent expirations and litigation. Over the coming quarters a number of opportunities exist in the pharma pipeline exist to continue the incremental growth of this unit. Medical devices are also performing well, but are under pressure from lower procedure volumes. JNJ should also begin seeing an accretive contribution from the Synthes acquisition over the next quarter.
Management has effectively focused on eliminating the quality problems that have plagued JNJ in recent years, and focusing on present and future operations. JNJ is a stalwart holding of dividend growth investors, and with the company's quality products, strong brands, and clean balance sheet the dividend growth will continue for years to come. Management reiterated their commitment to sustaining and continuing to increase the dividend and target a long term dividend payout of roughly 45% (where they are now, excluding one time items). The generally positive earnings report should provide JNJ investors with some comfort that their shares will continue to grow, and investors on the sideline should watch for the stock to pull back to $68 before buying in.
Disclosure: I am long JNJ. I wrote this article myself, and it expresses my own opinions. I am not receiving compensation for it (other than from Seeking Alpha). I have no business relationship with any company whose stock is mentioned in this article.