Investing is not easy. It requires doing your homework, managing risk, understanding fees, taxes and costs. It requires a consistent strategy constantly refined for changing market conditions. And most importantly, it requires executing that strategy effectively to build wealth over time.
Today we highlight another tough business, a business that also requires a winning strategy, constantly adjusting to the marketplace and disciplined execution. Faced with challenging dynamics in the essential operating costs of labor and fuel, set back by uncontrollable geopolitical events that send profits and stock prices crashing and inextricably linked to global economic pressures, the airline industry is not the easiest business.
But people love to travel. People dream of island paradises, exploring far away cultures and seeing with their own eyes all the wonders of the world. The question is not, "Will people travel?" or even, "Will people fly?" Because the answer, simply, is that they will. The real question is, "With whom will they fly and why?"
While recognizing that the industry is a tough business, we believe that after a somber analysis of the market, paying particular focus to the changing behavior of the consumer, you'll agree that there is an investment to be made in an airline (or two).
The airline industry is volatile, oftentimes unprofitable, riddled with cost structure issues (fuel and labor unions) and almost uniformly covered negatively in the media (fees, delays, nasty union disputes, customer feedback). The industry has a high capital requirement and significant ongoing cash needs to repair, maintain and continuously modernize the fleet. Airlines at the macro level are highly sensitive to global economic conditions, regulation and geopolitical events (think 9/11).
All that aside, there is still money to be made in airlines. The industry still produces revenue in excess of $200 billion and profit in excess of $3.5 billion. Traffic and cargo growth rates are at or above 5% and the global fleet is growing at an above global GDP pace.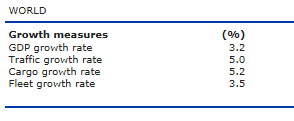 Source
Approximately 170 airlines in operation today fly international routes. Of those 170, United Continental (NYSE:UAL) and Delta (NYSE:DAL) have combined market share of 52% as of July 2012. Domestically in the US, there are approximately 345 businesses operating with a scant four [Delta, United Continental, Southwest (NYSE:LUV) and AMR Corporation (AAMRQ.PK)] having combined market share of 50.5% (Source: IBIS World). The competition for the rest of the market is fierce.
From a financial standpoint, airlines operate on extremely tight margins. Many airlines have significant pension liabilities and pay high wages to union workers. There is also the increasing and volatile price of oil, which if not properly hedged, can swing an airline out of profitability. Labor and fuel together account for 55% of total expenses for a typical airline. Other expenses grouped below consist primarily of contract carrier arrangement expenses and selling commissions, along with other small line item expenses such as profit sharing, restructuring expenses and general miscellaneous.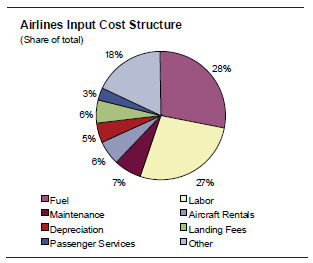 Playing the big players in the industry is a roll of the dice. Tracing Delta's 52-week range shows an 84% low-high swing at the time of this publication. The factors that impact the profitability and market value of the Deltas and United Continentals are simply unpredictable. The big firms have weak balance sheets and high debt. These firms will focus first on profitability by cutting costs, shrinking capacity and conserving cash, not expanding market share.
With so many issues facing the airline industry in terms of global macroeconomics, financial structures, volatility and competition, how then can one possibly make a play in this industry? We recommend taking a common sense approach and finding the winners who have the competitive advantages to differentiate themselves from their peers and win market share. These are the companies that have opportunities to grow as the big firms struggle with profitability and continue to disenfranchise their customer base. The investment should be based on growth potential, not existing market share.
First is to understand the consumer to determine where growth will come from. Who are the people that drive revenue?
Analyzing this chart in context of the uncertain economic times both at home (high unemployment, slow growth recovery) and internationally (European uncertainty and austerity, slowdown in Chinese growth), it is clear that affordability will be a driver for the growth of any airline. Accounting for nearly 70% of revenue, the leisure segment is far and away the most significant customer base for airlines. The consumer has changed since 2007 - the $1,000 first class ticket from the home town to NYC for vacation seems an unneeded luxury. Flying is no longer about experiencing the technological marvel or the luxurious lifestyle of jet setting at 40,000 feet. And it's not about the extra services or creature comforts while on board. Flying is about getting from point A to point B as quickly and with as little hassle as possible.
The typical consumer simply cannot afford the same level of ticket prices as she could 5 years ago. Competing on price will be critical to maintaining and growing the leisure traveler revenue segment.
In the emerging markets, a middle class is emerging that wants to travel. Raised on the internet and having seen what the world has to offer on their tablets and laptops, these individuals want to explore the world. They are not wealthy, but they have the means to travel and will be the participants growing the market. They are less interested in the experience of flying and more concerned with the destination they've seen on the LonelyPlanet.com. Again, competing on price will be the differentiator.
Given the macro considerations and establishing price as the key metric for growth, we are recommending our pick among the budget carriers, Spirit Airlines (NASDAQ:SAVE). The company's been on a hot streak in the markets of late, a streak that we expect to continue.
Spirit Airlines is a no frills budget carrier. The company began by primarily offering routes from Florida to the Caribbean and has quickly expanded west and north throughout the U.S. and further south into South America.
We like Spirit Airlines for two primary reasons - first, they are upfront about their strategy with both investors and consumers. This is significant for consumers as it both sets expectations and it draws in their target market. As consumer behavior changed from the highs of 2007 to the "New Normal" of 2012, having positioned its brand as a leading budget carrier made Spirit the obvious choice as "new" individuals sought budget travel options. Spirit offers its value proposition front and center-buy just a ticket for cheap; if you want the bells and whistles they're available, for a fee (Spirit increased its non-ticket revenue per passenger by 19.8%, from $43.04 to $51.57 from 6/30/2011 to 6/30/2012). The key is a consistent, clear and honest message up front with the consumer.
Second, we like Spirit for its solid financials and growth. Q2 2012 profit came in at $35.3 million, a 35.4% increase over same quarter revenue in 2011. In an environment of rising fuel costs, operating margins improved by 1.5% to 16.3% at the same time as top line revenue increased 25.5% year over year to $346 million.
This tremendous growth in revenue, margins and profits all happened with an average base fare per segment of $81.06 as of year end 2011. As of 6/30/2012, that average had reduced 2.6% to $78.97. While Spirit management points to its ability to keep fares low, competitors such as Delta are lamenting in regulatory filings that it couldn't raise its fares enough (top of pages 11, 14 and 28 here).
And we expect this growth to continue. Spirit launched 10 new routes in the second quarter of 2012 and recently announced 11 new routes on the Dallas/Fort Worth hub alone. Management forecasts capacity to increase 22% year-over-year for the third quarter and increased its projections for fleet size by 33%, from 150 planes to 200.
Spirit is up 34% year to date, but has recently pulled back from 52-week highs in May 2012. We think the price today is still attractive around $17-18. We expect Spirit to generate more profit and thus higher stock prices based on more customers on more planes flying more routes, all driven by the execution of their low cost, low fare model that's winning against the large carriers.
Spirit is not alone in the budget airline world. Ryanair (NASDAQ:RYAAY), with its fiery CEO Michael O'Leary, is another successful budget airline. We like Ryanair also as a contrarian play on Europe, as the economic uncertainty there should reward the budget carriers at the expense of the bigger Lufthansas (OTCQX:DLAKF) of the region. Air Asia is also deserving of a look. It's the leading budget carrier in Asia and should benefit directly from both the emerging middle class throughout the Asian Pacific. Boeing forecasts demand in the Asian Pacific growing to 12,030 new airplanes, a strong indication of the growth potential for this carrier.
In conclusion, we recommend common sense. Airlines compete in a mature, highly competitive, high risk industry. However, there is and will be demand for the services these airlines provide. As an investor, the key is to discern the evolving dynamics in consumer behavior and allocate resources to the airlines best poised to take advantage of these changes. We recommend Spirit Airlines as the leading growth opportunity among budget airlines. They have a lower cost structure, better margins, a strong balance sheet and are growing revenues, profits and capacity. In this competitive landscape, Spirit is poised to win.
Disclosure: I have no positions in any stocks mentioned and no plans to initiate any positions within the next 72 hours. I wrote this article myself and it expresses my own opinions. I am not receiving compensation for it. I have no business relationship with any company whose stock is mentioned in this article.