Nokia (NYSE:NOK) is valued as a binary call option on Windows 8 success. The market expects steep unit sales declines as Nokia has made some big mistakes. However, this trend is accelerated by expected declines of Nokia Average Selling Prices. I believe that an improvement in product mix will contradict the latter. My model for Nokia ASP evolution and my DCF show the share price can triple. Lately, analysts have struggled with the Nokia valuation.
Most have capitulated and followed the steep share price decline with arcane valuation techniques. The stock is often valued on a deep discount to its Sum-Of-The-Parts calculation, leading to a target price of 0.3x Book Value. This implies that Nokia will keep bleeding its assets as if it has become a German Landesbank in the CDO crisis. I believe there is more value in Nokia as the brand name combined with a decent OS will convert a part of its large installed base into smartphone adoption.
Android opportunity is gone
Stephen Elop is often blamed for the Nokia slide. I believe that is a bit unfair. By appointing Elop to CEO, Nokia glued itself to Microsoft (NASDAQ:MSFT) and instantly wrote off billions of Symbian R&D. The move also made 40k R&D FTEs obsolete. Symbian originated from another era and always ran behind the trends. Nokia should have opened up to Android long before. The Fins were too stubborn and kept throwing good money in the Symbian pit. With a timely Android adoption, they could have secured a 15-20% smartphone market share and would still have made low double digit margins. On its low invested capital, that would have been plenty to make an ROI far above cost of capital. The Android opportunity has now passed as Nokia-Android can't catch up with Samsung, nor can anyone else with Android OS.
Large installed Nokia base is opportunity
Nokia missed the first inning of the smartphone race. Apple (NASDAQ:AAPL) iOS and Android (NASDAQ:GOOG) divided the cake as Nokia was held up in the locker room. According to Statista, there are still 260 million Symbian phones in the global market. Despite the iPhone success, that is still 70 million more than iOS users. The vast mass of Symbian users have not stopped breathing because they had no access to an App store or market. I believe Nokia still stands a chance as these Nokia users upgrade to a smartphone. A study from Internet2go indicates that operator loyalty is more important than the choice of OS. The even larger pool of "stupid phone" users also have other priorities than the early iPhone adopters. Last year, Nokia still had a 27% market share in global handset shipments. The Nokia share will decline further, but I believe the ASP will increase on product mix effects.

The table shows the product mix and the resulting ASP of 54.5 EUR for 2011. Total handset sales of 417 million units resulted in EUR 22.7 billion.
Windows 8 does not have to beat iOS or Android
Microsoft will have to invest in the App developers community to stimulate more choice. A common platform for Phones and Tablets is a good start. The mobile OS is a very competitive market, but Nokia is a strong quality brand, especially in the emerging markets. It is clear that the late adopters care less about phone design or the availability of 5 million Apps. The core Apps like Facebook and some popular games will satisfy most needs.
Windows 8 market potential from Nokia Symbian base
The early reviews of Windows 7.5 and 8 are positive, but no analyst dares to forecast a market share above current low levels in 2 years' time. It is indeed highly unlikely that iOS or Android users will switch back. Fortunately, there is a big pool of legacy Nokia users that still have to upgrade. The Symbian market will evaporate over the next years. Most of the existing 260m Symbian units will upgrade to a new smartphone by 2015. I believe that Nokia can retain 25% of those to the Windows 8 Lumia platform. This implies that they lose 75% of their customers that have so far appreciated the Nokia quality. That still equals 22m units of Windows 8 sold annually over the next 3 years.
Windows 8 market potential from Nokia "stupid phone" base
Nokia "stupid phones" will see a sharp sales decline by 2015. It is hard to imagine that Nokia still sold 340m "stupid phones" in 2011, although mainly in emerging markets. Apple analysts have been salivating over this market potential. However, the gap between a 32 EUR Nokia phone and a 650 USD iPhone seems impossible to bridge on an average salary of 3000 USD. Apple is reluctant to launch an iPhone mini as it will cannibalize its overall ASP. Nokia has less trouble with lower priced smartphones. I estimate that also 25% of these sales will be converted to the Windows 8 label by 2015. This will increase the Windows 8 market share above the current pessimistic expectations.
The ASP will increase in 2013 and support sales

It is clear that the share of smartphones in the handset market will increase and that there is still a large potential of Nokia users that have to make this switch. The ASP will decline for the individual Nokia products, but the change in product mix is pushing up the overall Nokia ASP. Although the units sold decline significantly, sales in EUR will not decline from 2012 into 2013. I expect EUR 16 billion handset sales for 2012.
Nokia ASP will continue to rise till 2015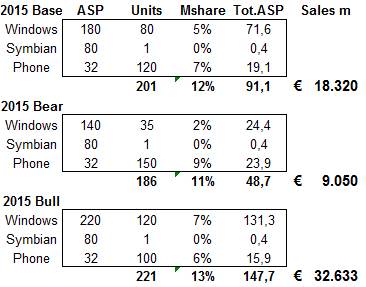 The market consensus is too pessimistic on the future Nokia ASP. Every 32 EUR phone that is swapped for a smartphone will increase the ASP by a factor 7.8. This will create a lot of value further down the valuation horizon. This is not captured in short term ratios that are used to explain the share decline. I have calculated 3 scenarios with base case, bear case and bull case estimates.
Nokia sales trend normalizes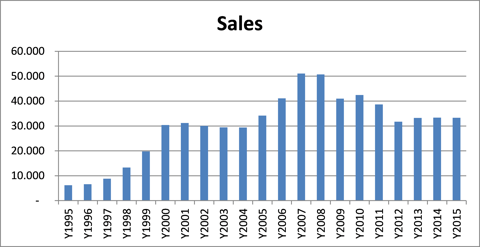 Nokia now reports its handsets sales under Devices and services, which also includes the Navteq business. I have isolated Navteq sales as it distorts the Handset sales. Nokia's market cap now equals the amount it paid for Navteq. Nokia-Siemens is the network equipment JV and has also weighed down margins over the last couple of years.

EBIT Margins recover to 5.6% by 2014
I don't expect a huge success of the Windows 8 franchise. But the Microsoft link will enable Nokia to right size its cost base. Like Apple, Nokia is an asset light model that has very little owned production capacity.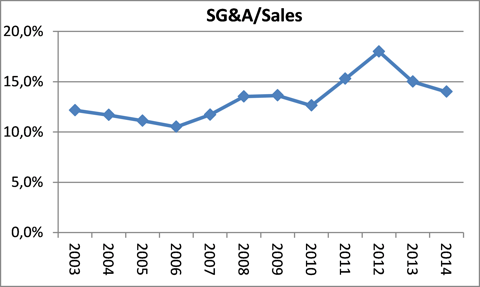 Apple makes 35% margins with this model and will struggle to keep that level. Nokia makes losses because it is overstaffed. The company already reduced FTEs by a third to 80k. The company is still too heavy and will cut another EUR billion from its payroll over the next year. As the restructuring costs decrease and the cost savings take effect, SG&A on sales should decrease below 15%.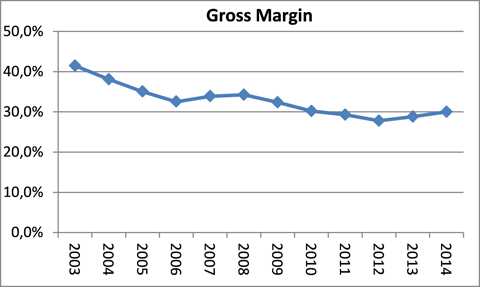 I do not expect a huge improvement in gross margins. Nokia made 40% margins when it was market leader. As a challenger, it will have to price competitively in order to build market share. This is why I do not believe that Nokia will make double digit EBIT margins ever again. The gross margin stabilizes as non-performing models disappear.
Conclusion and DCF valuation
Nokia lost more than 90% of its market value over the last 5 years. There is no doubt that Nokia totally missed the App train and inflated its cost base. Nokia sales and profitability will not return anywhere near its previous highs. My DCF shows that with only a marginal improvement in mix and cost base, the share price will triple. However, the next couple of months will be critical. If the windows 8 Lumia products flop for some reason, the bear case takes over. My Bear DCF shows that this risk is already priced in. I use a Lumia 710 and love the robust Windows 7.5 OS. It doesn't have the good looks of iOS, but can do everything an iPhone can for a third of the price. I experience better Wifi and mobile connection than my last iPhone 4S. The Nokia newsfeed will be easier to follow now. In the past, Nokia bombarded the market with 35 models at the same time, now the Lumia is the key to share price appreciation.
Bear DCF and P&L
Disclosure: I am long NOK. I wrote this article myself, and it expresses my own opinions. I am not receiving compensation for it (other than from Seeking Alpha). I have no business relationship with any company whose stock is mentioned in this article.