I have made a pact with myself -- I will never short Salesforce.com (NYSE:CRM). Why? The stock is irrational, but I have no clue when this will change. In my mind, I can't find a fundamental catalyst that will cause the valuation to compress and the stock to fall. So I'm going to hunt other game.
Short Selling Nirvana:
Netflix's (NASDAQ:NFLX) stock beautifully represents the risk / reward of short selling irrational stocks.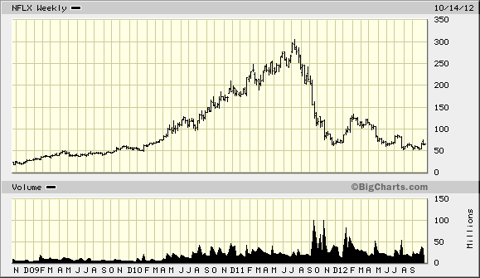 For about 2 years, Netflix marched unrelentingly higher despite frequent heartburn over the stock being "over-valued" or "unjustifiable." This analysis was ultimately correct, but many short sellers got their face ripped off during the interim. It was also nearly impossible to determine when this inflection point will occur. In fact, it was only when Reed Hastings shot his company in the foot with a 60% price increase and announced a split of the DVD and streaming business. This caused the decline, but who had this turn of events in their short thesis?
The flip side is that once the story "broke," there were massive short selling gains to be had (-83% from top to bottom, to be precise). Once the irrationality bubble pops, valuation compresses quickly as investors can no longer use momentum as their investment crutch.
Valuation Is Crazy, But It Doesn't Matter (For Now):
Until there is a fundamental catalyst to cause the P/E ratio to compress, it will be very hard to short Salesforce. You'll need a major slowdown in bookings or revenue growth. But this is unlikely for a few years because: 1) the company has a great set of products, 2) the addressable market is large and growing, and 3) the company's aggressive acquisition binge will extend the revenue "story" for a few more years.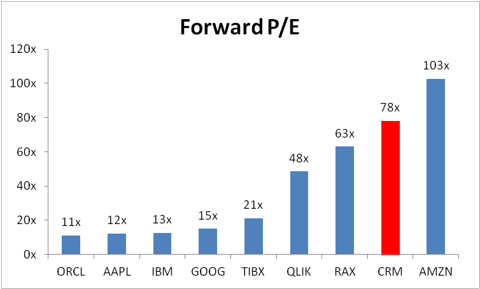 When compared with other high-tech names, only Amazon (NASDAQ:AMZN) trades at a higher multiple (which is also unfathomable). But Amazon, Salesforce, and Rackspace (NYSE:RAX) have had monster rallies over the past 2 years. With the overall market trading closer to 14x forward earnings, it's certainly tempting to short stocks at such insane valuations. But I am not going to fall into this temptation because I can't predict the negative fundamental catalyst with enough precision or confidence.
Control Your Environment:
As an investor, I focus on putting the odds in my favor by doing a lot of homework and staying disciplined. However, I find it very hard to put the odds in my favor when dealing with irrationality. Like Keynes said, "the market can stay irrational longer than you can stay solvent."
There are so many other ways to make money in this market, so I am going fishing in another pond.
Disclosure: I am long RAX. I wrote this article myself, and it expresses my own opinions. I am not receiving compensation for it (other than from Seeking Alpha). I have no business relationship with any company whose stock is mentioned in this article.