By Michael Waterhouse
While the volume picture for health service providers is still slowly improving as macroeconomic conditions ease, the reimbursement pressure story, regardless of the election outcome, remains a headwind for the mostly no-moat industry.
We think the health service providers we cover are fairly valued. Our outlook for tepid reimbursement growth, margin pressure, and rising capital expenditures leads us to believe that current share prices reflect a similar view by the market. We think the high level of financial leverage and consistent threat of Medicare and Medicaid payment litigation at many of these companies justify a high level of uncertainty and the need for a high margin of safety. However, occasionally these companies offer somewhat compelling valuations for high-risk-tolerant investors.
We think HCA Holdings' (NYSE:HCA) recent market share gains will slow in 2013, but we expect the company can maintain low-double-digit EBITDA growth. Tenet Healthcare's (NYSE:THC) adjusted admissions growth should remain weak in 2013, and even though management has successfully boosted profitability, we think additional margin expansion will be difficult in 2013. Kindred Healthcare's (NYSE:KND) revenue will fall in 2013 as part of its planned termination of certain leases, but we think EBITDA margins for both Kindred and Select Medical (NYSE:SEM) will remain relatively stable. We consider narrow-moat dialysis providers Fresenius Medical (NYSE:FMS) and DaVita (NYSE:DVA) to have the best outlook of the providers we cover because of their geographically diversified business models and opportunities for additional cost savings, but these companies appear fairly valued, as well.
Although we're currently wary of recommending any investment in health service providers, narrow- and wide-moat industry suppliers should benefit from positive healthcare trends, including an aging population and expanding insurance coverage, with significantly less reimbursement uncertainty. We consider Covidien (COV), Becton Dickinson (NYSE:BDX), Baxter (NYSE:BAX), Medtronic (NYSE:MDT) and St. Jude Medical (NYSE:STJ) as a few examples of undervalued industry suppliers.
Growth Is Improving, but Headwinds Persist
Patient volume trends have improved since mid-2011, but we have modest expectations. At the six hospital operators we track, adjusted admissions and surgery procedure growth have improved slightly from late 2011, but slowed considerably during the last quarter. We expect patient growth will remain lackluster over the near term as unemployment, underemployment, negative home equity, and higher cost-sharing provisions with insurance companies continue to pressure patient healthcare utilization decisions.
We expect industrywide adjusted admissions will remain in the low single digits through 2013 thanks to ongoing macroeconomic headwinds. However, certain competitors, like HCA, are likely to continue to gain market share in specific areas through such methods as boosting emergency room volume. In 2014, an influx of uninsured patients gaining coverage as a part of the Patient Protection and Affordable Care Act could also benefit hospital volume growth, but we imagine increased utilization from this patient category will progress slowly because this population is probably younger and healthier than the average hospital customer.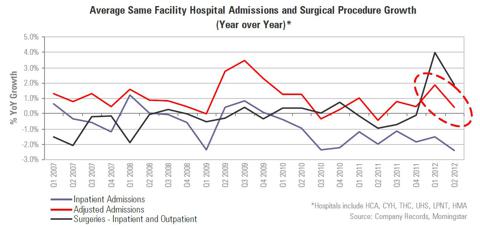 Patient mix also remains unfavorable, but positives are slowly transpiring. As recent results seem to confirm, most patient volume growth stems from less favorable patient categories, namely Medicare, Medicaid, and the uninsured. Although Medicare patient volume has been relatively stable, as would be predicted, there is a stark divergence in Medicaid and uninsured admissions versus privately insured individuals. Uninsured patients should vastly diminish in 2014 as they become enrolled in Medicaid and insurance exchanges under PPACA. The reduction of uncompensated care is a clear benefit for health service providers.
Commercial enrollment growth has remained positive, but the trend has slowed considerably, particularly in the second quarter of 2012. We think this is probably due to the slowdown in payroll numbers. Medicaid enrollment growth has slowed considerably since 2009, but is likely to remain positive as more uninsured individuals enroll in the program. We base our Medicaid growth estimate on the latest data provided by California, New York, Texas, and Florida, which constitute more than one third of the total Medicaid market. The Bureau of Labor Statistics estimates that Medicaid coverage reached 16.5% of the population in 2011, up from 15.8% in 2010. This trend has reduced the uninsured population, however, which fell from 16.3% of the population in 2010 to 15.7% in 2011. The uninsured population also declined thanks to the higher age limit for dependents on family health insurance plans under healthcare reform, but this gain offers little benefit for service providers, which primarily care for the elderly. Regardless, the decline in uninsured is an encouraging trend for health service providers, although the overall proportion of uninsured individuals remains at a historically high level.
Health service providers should witness limited utilization boosts from uninsured patients gaining coverage in 2014. We imagine Medicaid enrollment growth will approach zero and could possibly turn negative in 2013, but should rise considerably in 2014 as the individual mandate goes into effect. The Centers for Medicare and Medicaid Services predicts more than 19 million of the 22 million individuals expected to gain health insurance coverage in 2014 will enroll in Medicaid. However, since the elderly make up an outsize portion of health provider volume, we see limited upside for the provider industry upon coverage of this younger and healthier patient demographic in 2014. Instead, we think the main benefit to service providers from PPACA comes on the reimbursement side from the reduction in uncompensated care. Texas and Florida, however, have both suggested not participating in Medicaid expansion under PPACA, which could saddle HCA and Tenet with the ongoing burden of uncompensated care due to their large market presence in these states. We think this is a particularly troubling development for these companies because PPACA reduction in uncompensated care is probably the most favorable component of the law for service providers.
High unemployment, higher cost-sharing provisions with employers, and government-based pricing pressure should keep future reimbursement growth constrained. Revenue per adjustment admission growth has remained in the low single digits since 2009--a trend we expect to continue for a considerable period. We think most of this trend results from government payment pressure in Medicare (including Medicare Advantage) and Medicaid, and as HCA has recently noted, declining patient acuity. In addition to slowing Medicare payments under PPACA, hospitals and other service providers have faced Medicare payment cuts from budget neutrality and documentation and coding adjustments from CMS. The 2% Medicare sequester cut poses another significant reimbursement challenge. Additionally, lower tax revenue and state budget pressure have led many states to curtail Medicaid spending despite growing enrollments in the program. Also, we expect the weak economy and higher cost-sharing provisions will continue to subdue healthcare utilization and the demand for complex procedures.
With the exception of Medicaid, recent healthcare spending growth has tracked patient enrollment. As seen in the following figure, private-sector healthcare spending growth has remained depressed. While commercial enrollment numbers fell during and after the recession, private insurance pricing has been strong, with some health service providers reporting mid-single-digit reimbursement growth from commercial payers. Despite more significant reimbursement pressure as a result of healthcare reform, Medicare spending has avoided significant spending swings thanks largely to stable patient healthcare utilization from this patient segment throughout the recession. We project Medicare spending growth will remain in the midsingle digits as slowing reimbursement growth and cuts to Medicare Advantage from PPACA are partially offset by the aging baby boomer generation. Similarly under PPACA, Medicaid spending should rise considerably in 2014 as a large portion of the uninsured population becomes enrolled in the program. CMS expects Medicaid spending will rise 18% in 2014.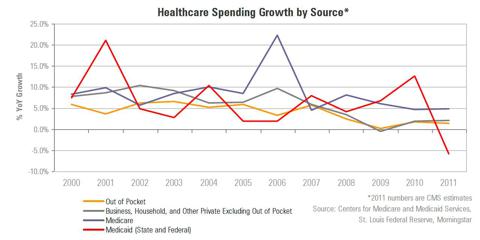 Potential Medicare Sequester Is Large but Manageable Hurdle
The 2% Medicare sequester in 2013, which arose from the failure of the congressional bipartisan supercommittee to reach a consensus deficit reduction plan, presents a large challenge for the health service industry. Excluding the effect of the sequester, Medicare reimbursement growth will fall below expected treatment cost growth again in 2013, based on final and proposed rules from CMS, In our view, the healthcare provider industry will receive more favorable payment growth from CMS in 2013 than it did in 2012. Skilled nursing facilities, in particular, faced an 11% Medicare rate cut in 2012 on budget neutrality adjustments. Based on the current CMS estimates, we predict reimbursement growth will be essentially flat for most service providers in 2013 if the sequester occurs. Although we expect the sequester would cause some margin erosion, we think the possibility of essentially net zero Medicare reimbursement growth from the sequester is fairly manageable, especially through controlling supply and salary costs in an overall environment of relatively modest inflation expectations. Based on initial statements, commercial pricing should remain strong in 2013 as well. For the service providers we cover, we currently model a 50% probability of the Medicare sequester cut, which could be postponed or changed after the upcoming presidential election. Therefore, implementation or avoidance of the sequester could lead us to slightly decrease or increase our fair value estimates for the service providers we cover.
While the aging population supports stable admissions growth, Medicare reimbursement growth will probably not track inflation through 2019. Aside from the near-term sequester, most Medicare reimbursement headwind will come after 2014, especially from 2017 to 2019, in our view. Not only are there mandatory Medicare rate cuts under PPACA each year, but additional factors, such as productivity, budget neutrality, and document and coding adjustments, are likely to shave off additional reimbursement growth as well. Our thesis contends these slowing Medicare reimbursements, including Medicare Advantage, will probably offset most of the benefit from the decline in uncompensated care under PPACA. Medicare value-based reimbursements also begin in 2013, but we don't expect this program will significantly alter payments for service providers under our coverage at this time. However, the proportion of value-based payments could expand at a later date, which would introduce greater risk to health provider operations, in our view. As part of the value-based program, CMS will withhold and pool the annual portion of the value-based payments, which will then be distributed based upon multiple criteria. For 2013, CMS will evaluate quality of care through patient assessment surveys and 12 measures of clinical performance. The extent of the bonus payment will vary from hospital to hospital, depending on relative performance to peers and internal improvement.
Despite Medicaid payment pressure, health providers can find some solace in ongoing Medicaid volume growth. Medicaid spending has diminished as the additional payments under the Federal Medicaid Assistance Percentages program expired in June 2011 and numerous states, including Texas and Florida, have scaled back their Medicaid benefits based on budget constraints. Regardless, improving state revenue and more uninsured patients enrolling in Medicaid is positive news for health providers, which would otherwise face higher uncompensated care liabilities. The ideal trend for service providers, however, remains the early shift of uninsured and Medicaid patients into private insurance.
Although uninsured patient growth has slowed considerably along with Medicaid, uncompensated care is another headwind. Thanks to PPACA, however, uncompensated care should substantially diminish as most uninsured patients transition into healthcare exchanges and Medicaid.
Weak Demand, Low Inflation Should Slow Margin Erosion
Hospitals effectively cut operating expenses during the recession and held costs in check into 2011. However, most of the low-hanging fruit, such as increased use of outpatient clinics and physician performance initiatives, has probably been plucked. As we predicted, operating costs began to outstrip revenue growth in the second quarter of 2011, and EBITDA margins have slowly receded from their peak. Current profit levels will be difficult for private companies to sustain, in our view, as Medicare reimbursement pressure, state budget limits on Medicaid, and uninsured visits continue to pressure hospital operations. While an improving patient mix shift to privately insured patients as the economy improves and the reduction of uncompensated care in 2014 should enhance profitability, we think government and private insurance pricing pressure will cause reimbursement growth to trail rising expenses. However, a sudden fall in Medicaid and uncompensated care, a strong recovery in commercial patient volume, and little to no inflationary pressure could possibly allow margins to persist at current levels longer than our expectations, which would likely lead us to change our near-term view.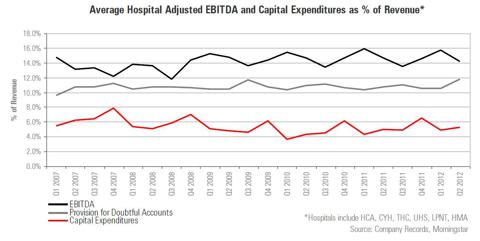 Capital spending has improved since the depths of the recession, but remains near decade lows as a percentage of sales. Suppliers with equipment focused on improving operating efficiency, such as healthcare IT systems, should continue to receive a higher prioritization in capital spending budgets over the near term. Hospital shifts to less capital-intensive operations, like outpatient clinics, may slow the pace of capital spending, but we think weak patient demand is the primary driver of constrained expenditures. In the meantime, acquisitions of outpatient facilities and physician groups will probably remain a priority to gain access to higher-margin facilities and expand cost controls. Regardless, future margin pressure combined with rising capital spending requirements will squeeze free cash flow for these operators, in our opinion.
Additional Reforms Are Possible
We think PPACA will remain in place as a result of the recent Supreme Court decision and the low probability of repealing the law. We consider the law's reduction of uncompensated care combined with an influx of newly insured patients into the healthcare system as a positive for the health service industry, while other components of the law, including lower Medicare payments and greater oversight of insurance premium increases, mostly mitigate such benefits.
Primarily a no-moat industry, health service providers remain the least well positioned to navigate future changes in the healthcare industry. Regardless of political outcomes, we think the reimbursement outlook for the health services industry remains weak. A bipartisan interest in controlling the federal budget and slowing healthcare cost growth puts the service provider industry at center stage for additional reforms, in our view. The industry also faces additional operational challenges as healthcare delivery changes. As the industry transitions to reimbursement measures based on quality of care and integrated care models become more common, provider networks will probably shrink as players look to curb spending costs through unnecessary utilization and improved patient outcomes. Health service providers should gain influence as they consolidate share in specific regional markets, but we think this industry transition shifts a large portion of patient outcome financial risk from the insurance companies to the service providers. This dynamic for greater accountability at the service provider level creates a new level of operating uncertainty for these companies, in our view.
Disclosure: Morningstar licenses its indexes to certain ETF and ETN providers, including BlackRock, Invesco, Merrill Lynch, Northern Trust, and Scottrade for use in exchange-traded funds and notes. These ETFs and ETNs are not sponsored, issued, or sold by Morningstar. Morningstar does not make any representation regarding the advisability of investing in ETFs or ETNs that are based on Morningstar indexes.