Generating positive returns in your portfolio takes a range of strategies. A simple form of options trading can add one more tool for your portfolio management. Covered calls, when executed properly, will generate steady income and boost portfolio yields over time. This strategy may even be used in an Individual Retirement Account depending on your broker and options trading level.
Investors using a covered call own shares in an underlying stock and sell a call option for each 100 share block they own. The sale of the call option raises portfolio income through the collection of an options premium. When the call option has a high time value, the option premium boosts overall portfolio yield.
In return for the boost to their portfolio yield, they give up the rights to share gains during a specific duration. The option and the obligation to sell shares will remain open until the contract expires at a specific date.
Investors in MAKO Surgical Corp. (NASDAQ:MAKO) and Questcor Pharmaceuticals, Inc. (QCOR) stock should consider an out-of-the-money covered call strategy to boost portfolio income and profit from any potential price gains.
The Mako November 2012 expiration covered call with a $15 strike price could yield a potential profit of 13.7% over the next 31 days when holders of the stock sell the call option for a premium of $1.55. If the stock trades above $15, shares will automatically be sold at the expiration date. If shares trade below $15, the seller of the call gets to keep the $1.55 option premium for portfolio income of 11.4%. If shares fall to $13.19, the investor reaches a break-even point on the trade.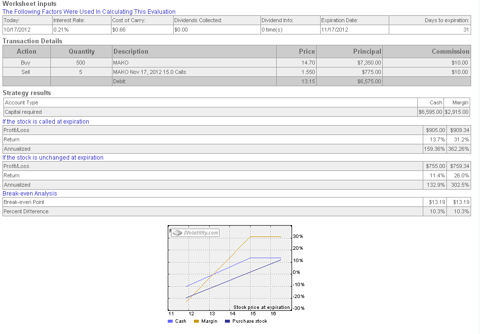 QCOR investors may consider a covered call trade with a November 2012 expiration as well. By selling the $26 strike price call option against shares they hold, they will receive a premium of $2.05 for taking the position for 31 days. If shares are called, the profit will be 8.6%. If shares trade below $26.00, then the investor keeps portfolio income of about 8.4%. The break-even price on the trade is around $23.94.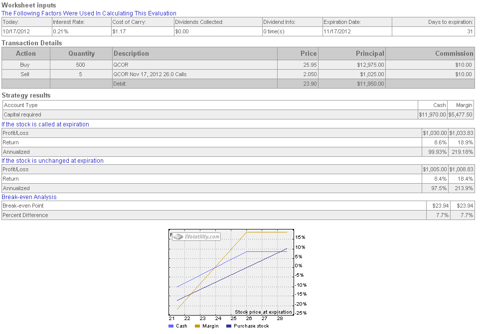 These trades should be considered as hypothetical examples and as part of a larger financial strategy. Exercise your own due diligence surrounding the underlying stocks and do not enter into any options trade without understanding the complexities of the transaction. The calculations provided above are generated through an online calculator provided by the Options Industry Council.
Disclosure: I have no positions in any stocks mentioned, and no plans to initiate any positions within the next 72 hours. I wrote this article myself, and it expresses my own opinions. I am not receiving compensation for it (other than from Seeking Alpha). I have no business relationship with any company whose stock is mentioned in this article.