Since the iPhone 5 rollout last month, a lot of negative press has swirled around Apple Inc. (NASDAQ:AAPL). A few authors have indeed made some great points about Apple's weaknesses. However, for a trend setter that is leading one of the greatest secular trends in modern human history, I choose to focus on its big picture in the next few years. Here I'm presenting nine big-picture views of Apple plus one short-term technical factor to explain why I'm adding to my AAPL position at current price level.
1. Apple Is A Driver Of Global Trade And Economy
A few months ago, JP Morgan estimated that Apple's iPhone 5 could add 0.25-0.5% to the U.S. GDP growth in Q4. On Monday, retail sales for September came in much better than expected at 1.1% growth. Economists believe that part of the strength was due to Apple's iPhone 5 sales contributing much to the 4.5% growth in electronics sales. No wonder Forbes' Abram Brown asserted that "the iPhone is today less a shiny gizmo than a driver of the U.S. economy."
Apple product sales have accounted for 17% of the Chinese export growth in 1Q12, 7% in 2Q12 and 27% in 3Q12. In 4Q12, Barlays figured that they will account for 32% of the Chinese export growth and represent 4% of its total exports.
Over the last weekend, China reported export growth of 9.9% and here is what Societe Generale's Mr. Gao had to say about iPhone 5:
"We believe the release of iPhone 5 was the major cause behind the sudden pick-up of Taiwan's trade activity with the mainland."
2. Huge Market Potential - Mobile Computing Is The Future
Total global mobile revenues are projected to hit $1.5 trillion this year, which is over 2% of global GDP. Mobile data will represent 28% of the mix. The number of smartphone users in the U.S. alone is poised to increase from 116 million in 2012 to 192 million in 2016. Global mobile internet device market will grow from 2 billion units in 2010 to 10 billion in 2020. Some predicted that by 2020, mobile phones will become primary personal computing devices in place of personal computers. And, "you won't own your mobile, your mobile will own you."
Clearly, mobile devices are increasingly integrated into our daily lives. This drives an exponential growth of demand for smart mobile devices, which will particularly benefit innovative industry leaders like Apple.
3. Mobile Budget Has Become Non-Discretionary
Mobile phones have increasingly become an indispensable component of the consumer budget. Americans spent an average of $760 on cellular services in 2010 compared to only $210 in 2001. That was a growth of 15% per year compared to only 2% growth for the annual household expenditures. As a result, mobile phone expenditures are increasing as a percentage of total household expenditures. Consumers are cutting discretionary expenses (such as clothing and dinning) but increasing mobile phone expenditures. In other words, mobile spending has to a large extent become non-discretionary to consumers.
Mobile service providers are not the only ones to benefit from this consumption trend. The reason consumers find mobile services indispensable to them is because the smart mobile devices are providing more and more intelligent features that make their lives easier. As a result, consumers might go as far as cutting dinning or leisure trip budget to buy or upgrade their iPhones and iPads. Also do not forget that a portion of the smartphone bills goes to subsidizing iPhones.
4. iPhone 5 Demand And The Apple Brand Are Stronger Than Ever
The latest proof is the ChangeWave survey. 32% of respondents said they were likely to buy an iPhone 5, up significantly from 21.5% last year on the iPhone 4S model. 90% of iOS 6 or iPhone 5 users said "no problem at all" or "haven't experienced any problem" with the new Apple Maps. It is imaginable that consumers' confidence in Apple products can be boosted when the map problems are fixed one day.
5. iPad Will Dominate Markets Through The 2010s
iPad accounted for 68.3% of global shipments in the second quarter of 2012, up from 57.6% back in 4Q12. In 2011 some predicted that iPad will command a 60% market share by 2020, with nearly 140 million units shipped. Recently Piper Jaffray projected that 176 million units of iPad will be sold in 2015, out of 301 million units for all tablets. By 2020, tablets will have overtaken PC in terms of units shipped and iPad is expected to still lead the pack.
6. Apple Has Lion's Share Of Global Mobile Profit
As Apple Insider reported back in May, global mobile profit skyrocketed from $5.3 billion in early 2010 to $14.4 billion in early 2012. And the beneficiary of that mobile profit explosion has almost exclusively been Apple. Apple had 73% of global mobile profits with just 8.8% unit share.
7. Consumers Of Apple Products Are Affluent
According to comScore (via ReadWriteWeb), 40.7% of iPhone owners have a pretax household income of above $100K, compared to 25.8% for Android smartphone owners. This will help Apple maintain iPhone's app monetization capability and its broad developer base. It also implies that there is room for Apple to grab market share in the lower-income segment. Apple can either lower iPhone pricing or introduce lower-end iPhones in the future to penetrate the lower-income market.
8. Great International Potential
In 2Q12, Apple's sales in China reached $7.9 billion, compared to $13.2 billion for the Americas. iPhone sales grew fivefold year over year in the Greater China region. Once it signs a deal with China Mobile, Apple could potentially double its iPhone sales in China. Apple has only recently opened its fifth retail store in mainland China, a country of 1.3 billion people.
As other emerging economies follow China's footsteps of growth in the years ahead, there is a huge potential for Apple's international growth. Apple's retail store growth trend also revealed its focus internationally. See the following chart (click to enlarge).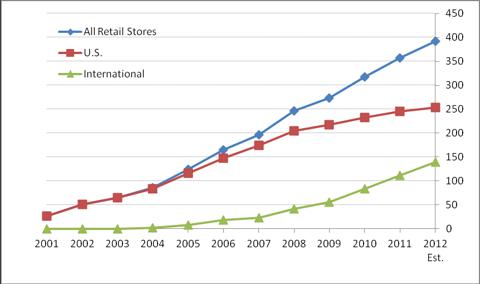 9. iPad Mini And iTV
While others see lower profit margin coming with the introduction of these new products, I see them as Apple's continuing streak of growth and innovation.
iPad Mini offers a way for Apple to penetrate the lower-end market and capture incremental growth. It enhances consumers' perception on the completeness of the iPad product line in such a way that whatever your need is there is a right model of iPad for you. It broadens iPad's consumer base, which helps strengthen the developer base. The consumer and developer bases might thus be mutually strengthening in a potentially virtuous cycle.
Some are concerned that the iPad Mini model might cannibalize the full-sized iPad products. However, like Steve Jobs put it, "if you don't cannibalize your business, someone else will." Moreover, cannibalization can be minimized with carefully-designed pricing and product-feature differentiation.
iTV will revolutionize how you control and consume your contents in your living room, along with means to seamlessly transfer your contents among your devices which include the iTV and your mobile devices. It extends Apple's mobile device ecosystem and can potentially incentivize consumers to not only dish their old TVs but also buy or upgrade to newer iPhones that control and communicate seamlessly with their iTVs. It promises to be Apple's new game changer that will bring in new growth for its shareholders.
Granted, Apple might have to start with a set-top-box-based solution mainly due to the resistance from the content industry. But it still means a new source of incremental growth that might eventually evolve into a game changer in the long run.
10. Near-Term Technical Factor
Back in May, AAPL only fell as low as its 120 day EMA. Currently, AAPL's 120 day EMA is only slightly below $620. Given the stock has recently dropped to the low $620s and bounced back strongly in recent sessions, it seems likely that the stock has bottomed out. So, it is a good time to buy AAPL now.
On September 28 when AAPL was trading at $670 level, I recommended buying AAPL aggressively when it falls to the $620 level. Given the current strong price action, I'm not sure if we are going back to the $620 level. But on the same stock talk, I also made clear that AAPL is a buy in the $640-660 area.
If Apple manages to deliver great Q4 result and Q1 outlook next week, there will even be near-term potential for profit. Conversely, in case Apple disappoints, any further weakness would offer an additional buying opportunity.
Note that these were mainly short-term trading tips. If you have a longer-term horizon, AAPL is a buy at any of the recent market prices.
Afterword
I wouldn't be surprised if someone chooses to spin some of the factors presented above in a negative way. Along this line, a valid question any Apple investor might ask is if you should listen to the naysayers. The answer depends on your time horizon.
If you have a short-term trading position in AAPL, it probably pays for you to heed the negative press when the stock is making new highs on a daily basis. But as for now, with the stock having "corrected" 8% or so from the recent high, it is simply the time to ignore all the naysayers and build a long position that you can sell for a profit in the coming weeks or months.
On the other hand, if you are in for the long haul, I feel little to worry about for the next couple of years. The reason is because that the late Mr. Steve Jobs has laid a solid foundation for continuing innovation in the next year or two.
It does appear murkier if Apple can continue to out-innovate its competitors beyond next year or two. However, the company's longer-term prospects might also get boosted by (A) iPad's growth potential as both a consumer device and an enterprise tool, and (B) any success of iTV rollout along with its evolution to become an ubiquitous component in your living room.
Disclosure: I am long AAPL. I wrote this article myself, and it expresses my own opinions. I am not receiving compensation for it (other than from Seeking Alpha). I have no business relationship with any company whose stock is mentioned in this article.