On Tuesday Annaly Capital Management, Inc (NYSE:NLY) declared in a press release that it was initiating a repurchase of up to $1.5 billion of its outstanding common shares over a 12 month period. The share price, which had lost around 6% in value in recent weeks, immediately rallied from an intraday low of $15.45 to close at $15.77.
Its recent price movements: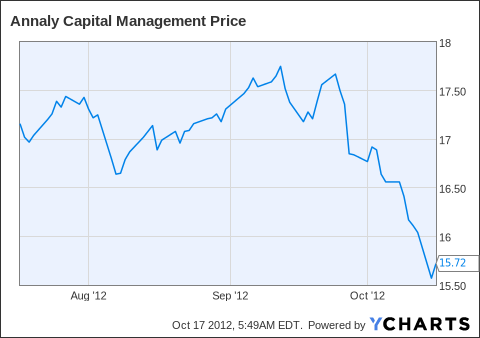 Annaly has been incredibly successful over time with a satisfying 99% total return over the last five years. Its dividend yield, ranging from 14%-15%, as well as share price gains keyed to steadily lowering interest rates have driven its success.
In fact mortgage REITs have done fantastically well as a whole. The niche raises investment money by selling shares and borrowing at low costs. They then buy Mortgage Backed Securities (MBS) and make their profits on the difference of their borrowed rate and the mortgage rates. The last few years the economy has provided a sweet spot of dirt cheap borrowing tied to a high mortgage rate spread. These mREITs have been practically printing money.
However, as I wrote in this article, the September Fed announcement of QE3 changed the game. The Fed began buying $40 billion a month of MBS on the open market. Tied with other US government programs, Uncle Sam is now buying in the neighborhood of $80 million of agency backed MBS every month. This has created a massive demand imbalance.
This is a killer for mREITs like Annaly which deal with MBS. These securities are auctioned off constantly by several agencies. More money in the game drives the prices for those mortgages higher which drives the effective interest rate lower. That is good for mortgage originators that can offer more mortgages at lower rates. For investors like Annaly, those higher investments and lower returns are killers.
Wellington Denahan-Norris, co-CEO of Annaly, said in a recent interview on Bloomberg:
"Having such a large non-economic competitor is certainly posing a unique set of challenges."
Bloomberg reported in its article that their research indicated yields at auction of Fannie Mae-guaranteed debt had fallen to 1.68 percent just after the announcement of QE3 in September. That is from a March 2012 high of 3.24%. The rate has returned to 2.11 percent as of 15 October. In any case return rates of just around 2% is a 35%-40% cut in revenue for mREITs like Annaly.
That would not be so bad if this was temporary. After all, mortgages normally are paid off over years and this would just be a simple blip. Defensive mREITs could simply collect their revenues and hold off investing in new mortgages for a time until the environment stabilized. Unfortunately financial institutions are reporting accelerated prepayments as borrowers are actively refinancing at the new, lower mortgage rates. And of course, Fed Chairman Ben Bernanke announced that QE3 was an unlimited program which would go on as long as needed.
Last week I wrote an article warning mREIT investors to consider moving out of mREITs. Then Tuesday Annaly announced the stock buyback plan and I need to reassess Annaly's situation.
I have always admired Annaly's management but simply been critical of their economic situation the last four weeks. Obviously management realized as well as I the unpalatable economic facts. Receiving investment capital back from the surge of early payoffs left them with no economically profitable option. They recognized that their own stock price was selling at a sharp discount to book value.
They can now buy back up to 10% of the outstanding shares. This immediately removes my greatest fear about Annaly: that troubled dividends would lead to share price loss and therefore capital loss. In one swoop, Annaly's action should limit the possibility of investor capital loss. Even more important, at the same time it should be able to maintain a higher dividend since it will not be reinvesting in the more expensive, lower returning mortgages available today.
Annaly's share buyback plan is an elegant solution to the economic realities it faces. In my book, other mREITs should copy Annaly's share buy back plan.
Disclosure: I have no positions in any stocks mentioned, and no plans to initiate any positions within the next 72 hours. I wrote this article myself, and it expresses my own opinions. I am not receiving compensation for it (other than from Seeking Alpha). I have no business relationship with any company whose stock is mentioned in this article.